/ Source: The Associated Press
President George W. Bush and Israeli Prime Minister Ehud Olmert's lofty Mideast peace goals are going out with a whimper.
Wrapping up three years of close cooperation, the two leaders met for probably the final time Monday and pledged to leave behind a productive peace process for their successors when they leave office. In brief comments to reporters before their hourlong talk in the Oval Office, both gave off an air of nostalgia, thanking each other profusely for their friendship and dedication to peace.
"We've been through a lot together during our time in office," Bush said. "We strongly believe that Israel will benefit by having a Palestinian state, a democracy on her border that works for peace."
Turning to Olmert, he said: "I want to thank you for the friendship, and thank you for your vision. And I just want you to know that I believe that vision is alive."
Olmert said, "A two-state solution is the only possible way to resolve the conflict in the Middle East."
A year ago, to great fanfare, Bush announced the resumption of peace talks, after a seven-year hiatus, at a Mideast summit hosted in Annapolis, Md. Summit participants set an ambitious target of concluding a final peace deal by the end of 2008.
Despite frequent negotiating sessions, Olmert and the Palestinian president, Mahmoud Abbas, have little to show for their efforts and seem no closer to a peace agreement than they were before the summit.
"It was then, and remains now, an illusion," said Aaron David Miller, a former adviser to both Republican and Democratic secretaries of state. "A conflict-ending agreement is still beyond reach — you have big gaps, weak leaders and political constraints on both sides."
Better now than before
Bush invited Olmert to Washington as part of his final round of talks with world leaders before he leaves office Jan. 20. Olmert, who in September announced plans to resign amid corruption charges, will step down after a successor is chosen Feb. 10.
Olmert has become increasingly candid of late, saying Israel will have to withdraw from almost all of the West Bank and parts of east Jerusalem to make peace with the Palestinians. But he has come under fire for waiting until the end of his term to say so and to act on his words.
Bush also has been criticized for taking a hands-off approach to Mideast peacemaking until the final push late into his tenure, especially in comparison with the active mediation of his predecessor, President Bill Clinton.
Regardless, Miller, a public policy scholar at the Woodrow Wilson Center, said the situation on the ground is far better now than it was when Clinton departed and a violent Palestinian uprising raged.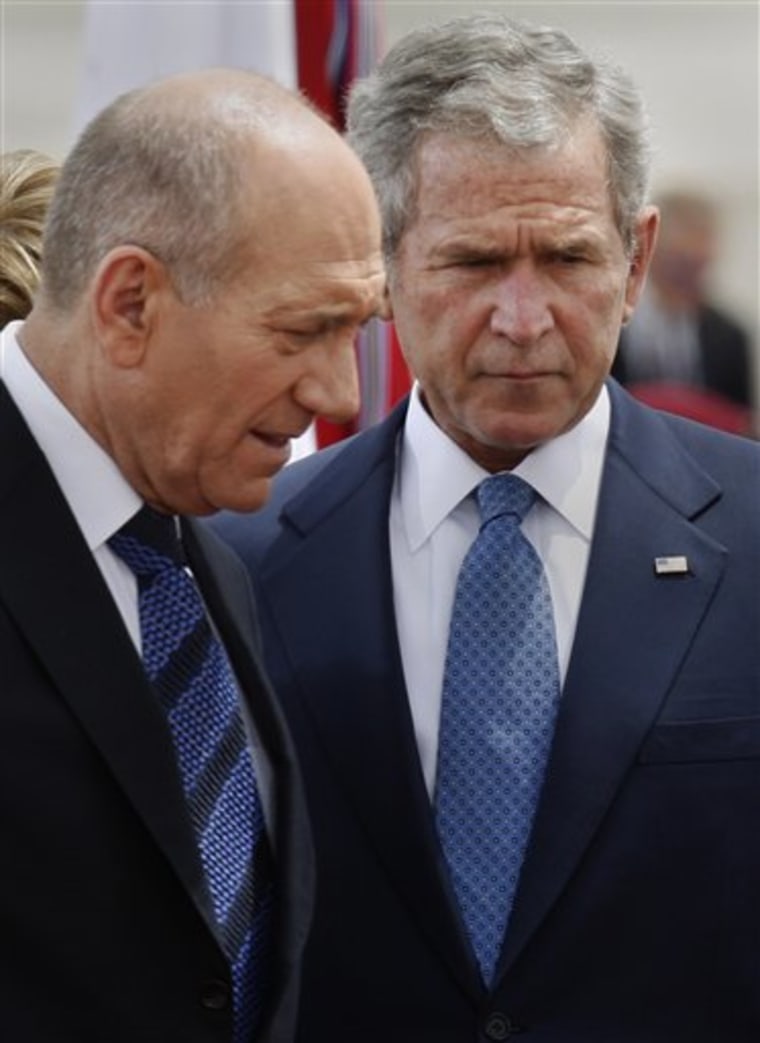 "The Bush administration leaves its Arab-Israeli diplomacy certainly in better shape than they got it," he said. "But that's a far cry from the ambitious goals and objectives that they set out without being prepared to do the work that was required to really move things forward."
That task now lies in the hands of President-elect Barack Obama, who probably will try to balance between the Bush and Clinton approaches. But with hardline opposition leader Benjamin Netanyahu seemingly poised to win Israeli elections in February, and the Hamas militant group's continued control of the Gaza Strip, the future of peace talks appears murky.
Other challenges face region
Besides the peace process, the ongoing threat from Iran's nuclear program also was a central topic of discussion between Bush and Olmert. Israel sees Iran as its biggest national security threat, because of its development of long-range weapons and Iranian President Mahmoud Ahmadinejad's repeated calls for the destruction of the Jewish state. It believes Iran will be capable of building a bomb by 2010.
The U.N. Security Council has imposed three rounds of economic penalties on Iran, which insists its nuclear program is peaceful and designed to produce energy. Both the U.S. and Israel say they hope diplomatic pressure resolves the standoff, but they have not ruled out military action.
While Bush's policies have been heavily criticized around the world, he remains wildly popular in Israel, where he is seen as a staunch defender of the Jewish state.
Olmert, who along with his wife, Aliza, later dined privately with the president and first lady Laura Bush, showered the president with praise "as a human being, as a friend, as a courageous leader."
"On behalf of the people of Israel, I want to thank you. The importance of your leadership is greatly appreciated in our country," Olmert said. "And I'm sure that when the history books will be written, the contributions that you made to the safety and security of many people will be greatly appreciated."