/ Source: Forbes Traveler.com
It was day four on a backpacking trip through Utah's Grand Staircase-Escalante National Monument when I came upon a field of stone spheres sitting in the sun. "Moqui marbles!" my guide shouted, stooping to inspect one of the tens of thousands of rock balls strewn randomly ahead.
At our feet, exposed but untouched in the sand, was a field stocked with one of nature's most bizarre geologic creations: Born in bedrock, moqui marbles are symmetrical iron oxide concretions that range from pea-size to spheres as big as softballs. The natural phenomena—also called shaman stones or thunder balls—erode over time out of solid stone, breaking free after eons entombed underground to roll into the light of day.
Rare rock formations like moqui marbles can stop a hiker in mid-stride. Indeed, you don't have to be a geologist to pause and appreciate the natural artwork of a skyscraping cliff or a tight canyon of multicolored stone.
For this story—"Stunning Rock Formations"—we highlight 20 geologic sites across the globe. From Hopewell Rocks in New Brunswick to the famous chalk arches of Etretat in Normandy, France, these wonders represent some of the world's most famous geology—igneous, sedimentary, metamorphic or otherwise.
In Grand Staircase-Escalante, where slot canyons, hoodoos, cliffs and sandstone arches fill a 1.9-million-acre preserve, the bare land tumbles out of view like an art gallery designed by gods. "In the American West you can see the bare bones of the Earth," said Steve Kasper, a guide with REI Adventures who led the Grand Staircase trek.
Kasper, a veteran guide and lifelong geology buff from Truckee, Calif., travels to rocky corners of the West year-round for REI Adventures, bringing groups to hike, backpack and climb from Lake Tahoe to the deserts of Death Valley. He grew up in the East but was changed forever at the sight of Mount Whitney in the Sierra Nevada Mountains during college. "There was something elemental and simple, something that connected with me, when I saw that geology," he said of the 14,505-foot mountain.
One day during my Utah trip, I followed Kasper into a slot canyon near the Escalante River. We hiked a dry tributary streambed then squeezed through a gap in sandstone 100 feet deep but almost too narrow for my hips to fit, a sliver of sunlight falling into the tight stone.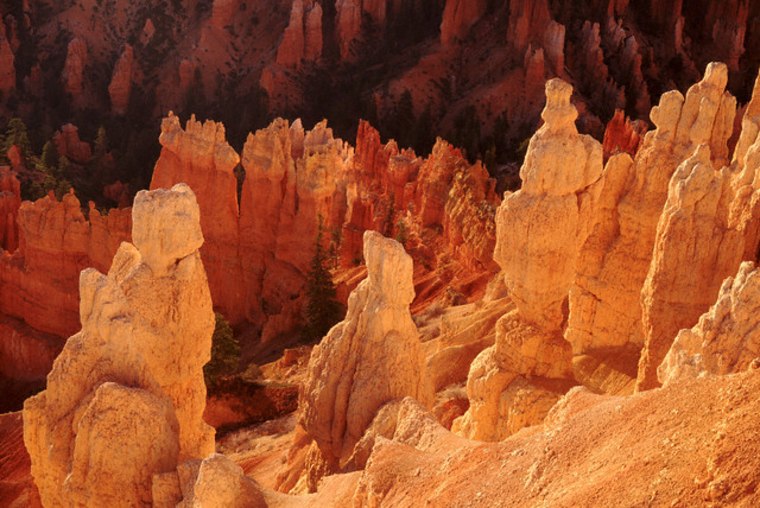 The geologic world we see today—from rock canyons to moqui marbles—is billions of years in the making. For time incomprehensible, magma flowed and rocks took form. Minerals aggregated. Floods cut earth to shape basins and canyons, now carved artwork of dirt and crumbling stone.
At sites like Mono Lake, an alkaline body of water in northern California, calcium carbonate deposits called tufa towers stand erect like arms reaching to the sky. The lake is among hundreds of sites in the West where travelers come with a primary purpose of looking at rocks.
Another site, Devils Tower, a 1,000-foot-high monolith of columnar basalt, stands like an immense tree truck against the Wyoming sky. Climbers reach and jam on the hundreds of cracks that lace the Tower's exterior, ascending for hours while hikers watch below.
Around the world, formations like Wave Rock in Western Australia are renowned tourist destinations. The 50-foot-tall wall of granite curls as a crashing wave, sacred to Aboriginal natives and a main attraction for travelers passing through the agricultural town of Hyden.
In Northern Ireland, Giant's Causeway is a seaside grouping with tens of thousands of interlocking basalt columns. Visitors photograph the innumerable hexagonal posts, which tumble like stair steps into the sea.
Click to the slideshow to see the stunning photos of tall mountains and tight canyons, from Utah to Northern Ireland—a journey through space and geologic time.