/ Source: The Associated Press
In spite of the global economic crisis, European ministers on Wednesday pledged $12.8 billion (10 billion euros) to an ambitious list of 30 space missions, including one to put a robotic rover on Mars.
European Space Agency Director General Jean-Jacques Dordain said the agency's 18 member states agreed to underwrite projects that include creating a network of satellite "sentinels" to monitor climate change, updating the successful Ariane 5 rocket that blasts satellites into space, and conducting a raft of experiments on the international space station.
The Enhanced ExoMars mission now due to blast off in 2016 — three years behind schedule — will cost the agency just under $1.28 billion, but financing fell short of that target, reaching just over $1.1 billion.
At the end of a two-day meeting, the ministers decided governments have until the end of next year to make up the shortfall.
Dordain said he also would negotiate financing with the United States and Russia, which also hope to take part in the mission.
Scientists say the Mars shot could be crucial to discovering life on the Red Planet because it will be equipped with a drill capable of boring 2 meters (6 feet) under the inhospitable surface.
"We are pretty sure that if there are some processes of life they are not on the surface, they are subsurface," said Professor Ralf Jaumann of the Free University of Berlin. "Drilling is crucial to checking this."
While missions such as communications satellites and a satellite navigation network to rival the United States' GPS system reached their funding targets — because they have clear economic benefits on Earth — the Mars mission is proving a tougher sell.
"There is no perspective in getting a commercial market on Mars, not yet," said Dordain.
Delegates stressed that pumping money into space would have economic benefits at home.
"In Germany, there is debate about finding a solution to the economic downturn," said German state secretary for economics and technology Peter Hintze. "I am convinced that investment in innovative technology can make a huge contribution to Europe regaining its economic strength."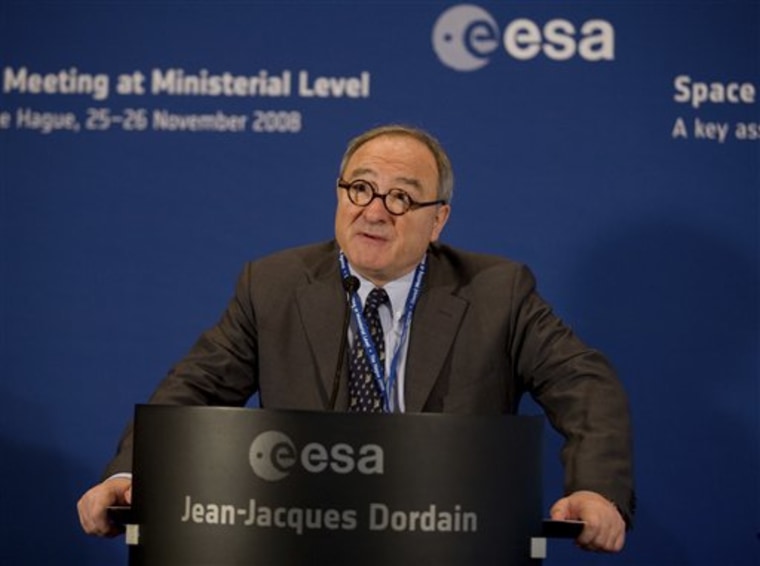 Germany was the single biggest contributor, pledging $3.5 billion to upcoming missions, including a string of experiments at the agency's Columbus laboratory, which is orbiting Earth hitched to the international space station.
The ministerial meeting also agreed to increase the agency's annual science budget of around $448.38 million by 3.5 percent for the next three years.
"I think it's a really convincing expression of faith that Europe should be out there on the final frontier," said the agency's director of science, David Southwood.