/ Source: The Associated Press
Stranded airline passengers lingered in Chicago's airports Monday as a storm tapered off after delivering a wintry mix to Illinois including snow, gusty winds and ice that led to at least two traffic deaths.
More snow is expected later in the week, followed by colder weather. The heaviest snow fell Sunday and early Monday across central Illinois. The National Weather Service said 7.5 inches of snow fell around Bloomington, and a number of rural schools were closed Monday.
State Police handled dozens of accidents across the state Monday, even in southern Illinois, where snowfall was modest — less than 2 inches in most cases.
"At one point we had over two dozen troopers already at crash locations with over 50 additional calls pending," said Ralph Timmins, Illinois State Police master trooper.
Snow wasn't as heavy in the Chicago area, where a couple of inches fell, but low visibility and gusty winds caused flight delays Monday at Chicago's two main airports.
Delays at O'Hare International Airport, one of the world's busiest, averaged about 30 minutes, and 50 flights were canceled Monday, Chicago Department of Aviation spokesman Gregg Cunningham said. Those cancellations were in addition to 50 other flights canceled at O'Hare on Sunday as the storm rolled into Chicago.
At Midway International Airport, delays were around 15 minutes with no cancellations, Cunningham said.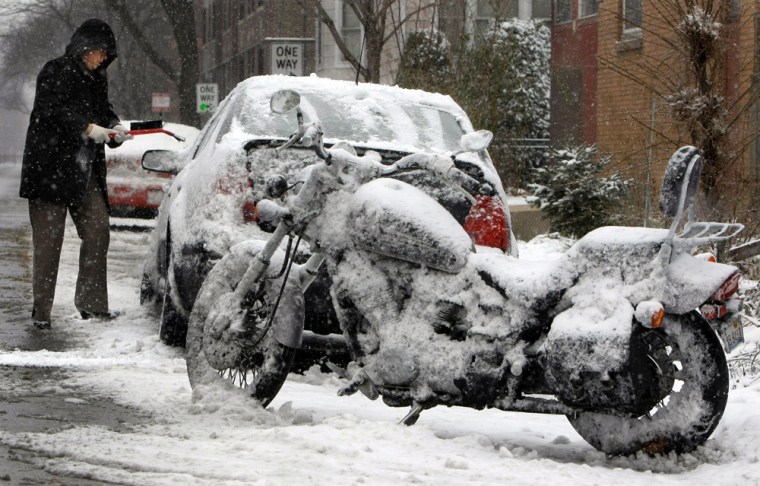 The season's first winter storm provided the first big test for a new $450 million O'Hare runway and air-traffic tower, which opened on Nov. 20. A federal analysis appeared to show that it helped reduce flight delays, as aviation officials hoped it would.
Icy roads led to fatal accidents just outside Champaign and near Lincoln on Monday, according to police.
The National Weather Service forecasts rain turning to snow Wednesday and into Thursday, followed by "much colder air behind that at the end of the week," with lows in the teens and highs ranging from the mid-20s in northern Illinois to the lower 30s in the south, meteorologist Chuck Schaffer said.