/ Source: The Associated Press
U.S. automakers drew fresh skepticism from lawmakers Thursday in a rocky confrontation over their pleas for an expanded $34 billion rescue package they say they need to survive. Congressional analysts said one bailout plan under consideration would fall short of what the carmakers want.
With time on the current Congress running out, opposition to the bailout appeared to be as strong as last week — before Detroit's Big Three auto chiefs returned to Capitol Hill with more detailed plans on how they would spend the money.
Several lawmakers in both parties are pressing the automakers to consider a so-called "pre-packaged" bankruptcy in which they would negotiate with creditors in advance and downsize, then file for Chapter 11 protection in hopes of emerging quickly as stronger companies. The Big Three have publicly shunned the notion, saying it would kill sales by destroying customers' confidence — but executives have indicated in recent days that it might ultimately be necessary.
The executives all agreed in Thursday's hearing that a multibillion-dollar bailout deal would include a supervisory government board that could order major restructuring of the companies if deemed necessary for survival — similar to the results in many reorganizing efforts under bankruptcy law.
United Auto Worker union President Ron Gettelfinger, aligned with the industry in pressing for the aid, told senators at a Banking Committee hearing that any kind of bankruptcy, even a pre-packaged one, was not "a viable option." Gettelfinger said consumers would not buy autos from bankrupt companies, no matter the terms of the arrangement.
He also warned that in the absence of action by Congress: "I believe we could lose General Motors by the end of this month." He said the situation was dire and time was of the essence.
Republican Sen. Bob Corker of Tennessee said the government shouldn't lend money to Chrysler LLC because it would just be funding the automaker so it can stay in business until its private owners can sell it.
Corker said Chrysler's owner, Cerberus Capital Management LP, won't put any more money into the Auburn Hills, Mich.-based automaker.
Chrysler CEO Robert Nardelli says he's not thinking about a sale and is working to make the company viable on its own. He told the Senate Banking Committee in Washington that the company's plans for alliances and consolidation include deals to make vehicles for other manufacturers and make better use of Chrysler factories.
Meanwhile, Rep. Barney Frank, D-Mass., who has been dealing with both the financial bailout and the auto rescue proposal as chairman of the House Financial Services Committee, said President-elect Barack Obama needs to play a more significant role on economic issues.
"He's going to have to be more assertive than he's been," Frank said at a Consumer Federation of America conference in Washington. "At a time of great crisis with mortgage foreclosures and autos, he says we only have one president at a time. I'm afraid that overstates the number of presidents we have. He's got to remedy that situation."
At the Capitol, the Big Three CEOs told the senators they hoped to make amends for past blunders. "We made mistakes, which we're learning from," General Motors chief executive Rick Wagoner said. Ford CEO Alan Mulally also acknowledged big mistakes, saying his company's approach once was "You build it, they will come."
"We produced more vehicles than our customers wanted, then slashed prices," he said. But as a result of these past mistakes, "we are really focused," he said.
Congressional Democrats have urged the administration to tap into an already enacted $700 billion financial bailout program to help the auto industry. The Bush administration has said that it has no intention of doing so, and would prefer aid be taken from an earlier $25 billion program to help the industry retool its plants to make their vehicles more fuel-efficient.
But congressional budget analysts have privately told top Democrats that tapping that program wouldn't come close to covering the $34 billion that carmakers now say they need to survive.
It would yield only $10 billion to $15 billion in short-term loans, the analysts claimed, according to congressional officials who spoke on condition of anonymity because they were not authorized to disclose the analysis.
The Big Three executives made the trip from Detroit in new-model hybrid autos made by their respective companies, two weeks after a botched appeal for $25 billion in which they were chided for flying on private jets to beg for money.
Chrysler's Nardelli promised that his company, recipient of a previous government-subsidized rescue loan in the 1970s that it repaid, would repay taxpayers by 2012 and would devote itself to manufacturing "fuel-efficient cars and trucks that people want to buy."
The Big Three executives said they would be willing to work under a federal oversight board as a condition for receiving financial aid from the government.
Dodd and several others on the panel asked them if they would agree to a setup like the one established for the U.S. bailout of Chrysler Corp. in 1979.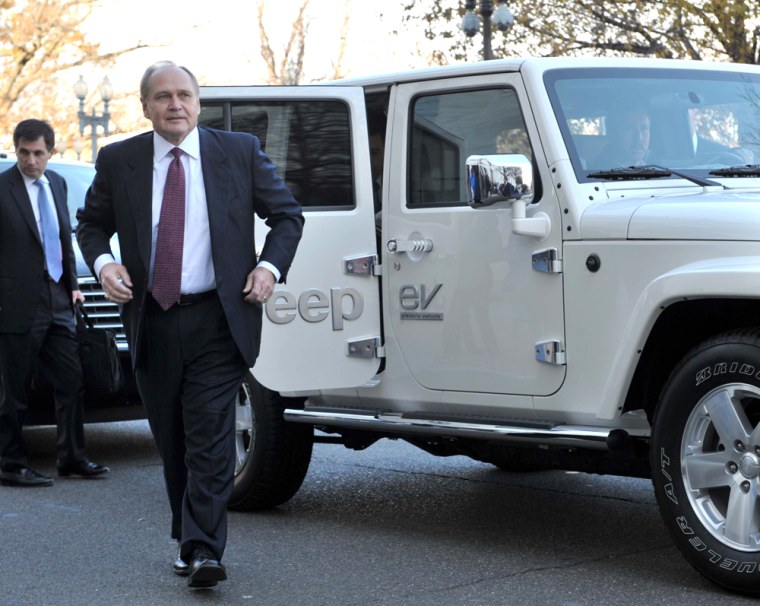 Sen. Mike Crapo, R-Idaho, said such an oversight board would be "basically a federal restructuring trustee" with some of the same powers as a bankruptcy court.
"I did not hear any objection from any of the three of you to the establishment of an oversight board or whatever we call it, of a federal oversight entity that has the literal authority to impose restructuring conditions and to enforce those as a matter of law as these dollars are utilized. Am I correct?" Crapo asked.
The three answered in the affirmative, although Ford's Mulally said, "I probably need to think about that a little bit. It sounds right, but I just don't know all of the implications of that."
Sen. Richard Shelby of Alabama, the senior Republican on the panel, complained that the pricetag on the package had jumped since the trio last appeared just two weeks ago. He pressed the automakers to explain why, and to justify how such aid would not simply "prop up a failed business model for a few months ... and how are you going to pay it back to the taxpayers?"
Banking Committee Chairman Chris Dodd, D-Conn., supports helping the industry, but said that detailed plans submitted earlier this week on how the companies would use low-cost federal loans to reorganize still left a lot of questions unanswered.
But Dodd also said that doing nothing "plays Russian roulette with the entire economy of the United States."
Treasury Secretary Henry Paulson has said that the main $700 billion bailout program is intended only to be used for the financial industry.
Gene L. Dodaro, the top official at Congress' watchdog agency — the Government Accountability Office — agreed with Dodd that the $700 billion package set up in October "is worded broadly enough" to permit it to be tapped for the automakers.
Dodaro testified that the Federal Reserve also has the authority under existing law to make loans to the domestic auto industry if it so chooses.
Dodd said that both Paulson and Fed Chairman Ben Bernanke had been invited to testify at Thursday's hearing, but had declined.