/ Source: The Associated Press
Knut the superstar polar bear turns two on Friday looking nothing like the button-eyed ball of white fluff who captured hearts around the world.
The star of the Berlin Zoo is a fully grown bear with yellowish fur who, at 440 pounds, has grown too big for his enclosure.
Worried fans are lobbying for him to stay, but the zoo officials says he will have to move if it does not build a new enclosure for him, which appears virtually impossible due to lack of space.
Knut lives in a small section of the current enclosure, home to Knut's parents, Tosca and Lars, and two older females. Bear keeper Heiner Kloes said Knut, who will reach sexual maturity around the age of six, urgently needs enough space for him and a fertile mate.
The zoo's two eligible female bears will be too old to have cubs by the time Knut is ready to reproduce. Scientists estimate that there are between 20,000 and 25,000 polar bears in the wild, according to the International Union for Conservation of Nature, and the species is listed as a threatened species under the U.S. Endangered Species Act. Canada and Russia have listed polar bears as a species of concern, citing shrinking habitats.
"The survival of the species is more important than any individual," Kloes said. "I won't hang on to Knut if it means keeping him with an old lady," Kloes said, noting the zoo is already filled with enclosures for other animals.
With Knut likely on the way out, the zoo is keeping his birthday low-key. It planned a cake made of vegetables rather than a big party like the one it threw last year for the Vanity Fair "coverbear" who shared the front of one issue with Leonardo DiCaprio.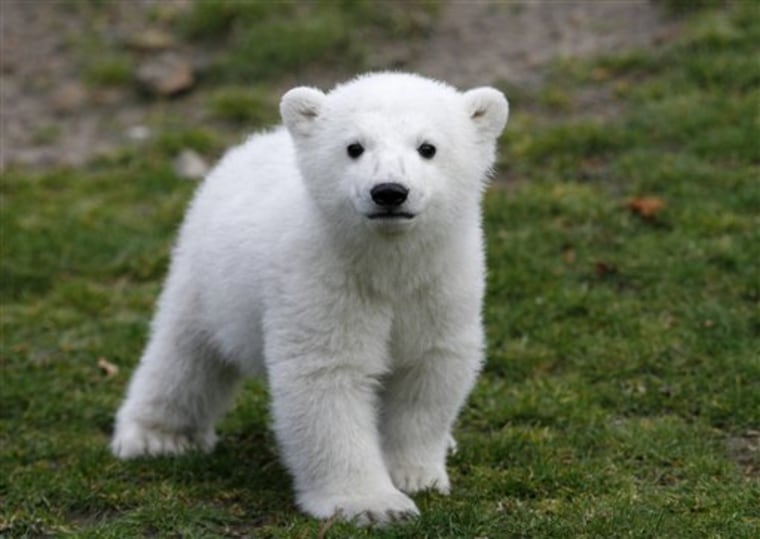 The zoo has credited Knut with a 27 percent increase in visitors in 2007 and profits of nearly $8.6 millionfrom the products with Knut's image, including stuffed animals, T-shirts, mugs and DVDs.
Knut has also had to contend with competition. Nuremberg city and zoo officials introduced their own cub, Flocke, in April with the fanfare of a movie premiere or record release.
A week later, Stuttgart's Wilhelma zoo presented Wilbaer, another adorable white ball of fluff.
But that has barely affected Knut's status as the Berlin Zoo's main attraction.
Doris Webb, 65, has followed Knut since he was first presented to the world by the keeper who raised him by hand after he was rejected by his mother. Since April she has gathered more than 21,000 signatures in support of keeping him in Berlin.
"We want to show how important it is for Berlin, for the people here — and for Knut himself," she said.
The zoo in the city of Neumuenster owns Lars the bear and has the right to his son Knut. That zoo's manager, Peter Druewa, told The Associated Press Thursday that if Berlin can't accomodate Knut's needs, he will have to find a place that can.
"If Berlin doesn't want to build a new enclosure — or expand one of the existing ones — we'll need to find a new place for him," Druewa said.
But there is no shortage of potential suitors who would be happy to offer a suitably roomy new home for him and a future mate.
Web site Unibet is even running odds on the zoo likeliest to get the bear, with Zoom Erlebniswelt in Germany the top contender, followed by Tierpark Neumuenster in Germany and Sweden's Orsa Bjornpark. Also tipped, but at longer odds, are zoos in Norway, Finland, Denmark, Estonia and the decidedly unpolar Spain.
Torbjorn Wallin, chief executive of Orsa Gronklitt AB, which runs the Orsa bear park 200 miles  northwest of Stockholm, said his company has been in talks with Berlin Zoo about Knut's future for 18 months.
Wallin declined to discuss financial details, but said a suitable mate, rather than money, had been the focus of discussions.
Wallin said other zoos and parks had shown interest too.
"Of course there are others — it's the world's most famous animal," he said. "It's as if Madonna would move to Stockholm."
A bittersweet birthday
At the celebrity polar bear's birthday party, Knut was serenaded by fans at the Berlin zoo as he demolished a birthday treat of fish and vegetables.

A crowd of about 200 erupted into "oohs" and "aahs" and sang "Happy Birthday" as Knut — porting a shaggy, brownish coat — lumbered out into his enclosure.

The bear tore into his birthday present from keepers, a cloth bag bearing his name and the number 2 that was full of fish and a birthday cake of frozen vegetables. Then he turned his back on the crowd and slunk off toward some rocks.

Judy Lydecker, 62, a social worker from Winsted, Connecticut, and a member of a Knut fan club called the "Wild Herd," said she flew in for the occasion.
"It's hard for me to put my feelings for Knut into words," she said. "We have a very strong connection. I was here for his birthday last year, too."

"I've been a Knut fan from his first hours," said Berlin optician Gudrun Berger, 52.
"I've visited him dozens of times," she said. "He feels like my own baby."