/ Source: The Associated Press
The election of an ambitious new president in hard times is evoking comparisons with President Franklin Roosevelt, and the 75th anniversary of FDR's New Deal is sparking renewed interest in how Americans survived the Great Depression.
Now historic preservationists and tourism officials are hoping for increased tourism in places associated with the New Deal, like the town of Arthurdale, W.Va., which was built in the 1930s as a planned community for the rural poor.
"Arthurdale looks pretty much the way it did then," said Martha Ballman of the West Virginia Preservation Alliance. "It's just so intact."
The alliance won a $100,000 grant this year to develop New Deal tourism across the state. Part of the challenge, however, is that the New Deal's legacy is so vast: It includes everything from bridges and murals in government buildings to humble retaining walls and walking paths.
"You may know you're a New Deal site, but how do you know you're a tourist attraction?" Ballman said. "It's all over the place, so the questions we're asking are, 'How can we make this more tourist-friendly? How can we beef it up?'"
The National New Deal Preservation Association, based in New Mexico, has seen an increase in calls and e-mails and a demand for maps of New Deal sites, according to spokeswoman Kathy Flynn.
And FDR's retreat in Warm Springs, Ga., known as the Little White House, is the most visited of any of Georgia's 63 state historic sites, attracting 100,000 people a year.
"The current political and economic climate is part of the reason there's so much interest," said Kim Hatcher, spokeswoman for the Georgia Division of Natural Resources, which oversees state parks and historic sites. The president sought relief from polio on his visits to the springs.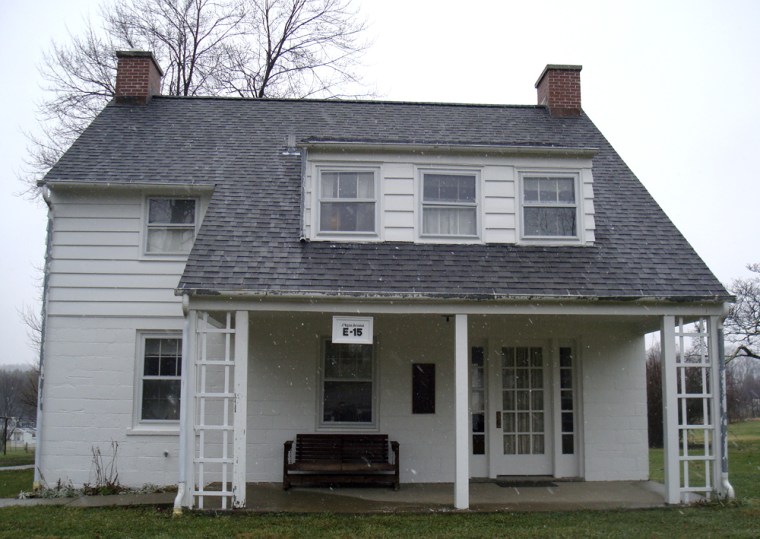 The story of Arthurdale is not as well known as sites like Warm Springs, but the town hopes to draw more tourists to visit a model home, museum and craft shop offering books, calendars and even colorful postage-stamp pins bearing first lady Eleanor Roosevelt's likeness.
Located near Morgantown in northern West Virginia, Arthurdale was the first of 100 New Deal resettlement homesteads for the poor and unemployed around the country. Each home in the planned community had electricity, indoor plumbing, a refrigerator and a coal-powered furnace — tremendous luxuries for rural America in the 1930s.
Of Arthurdale's 165 original houses, 160 remain, and one of them has been fully preserved. It is still furnished with a loom in the living room, a massive coal-fired furnace in the hallway and a coal-fired stove in the kitchen. Atop an old radio is a small clock one of the original residents brought with her as a child, and in the kitchen cabinets are Depression-era glassware and containers for "Arthur Dale Meat Products," the ground beef and sausage the homesteaders packaged and sold.
Arthurdale's small museum shows off some of the homesteaders' lesser known skills. They not only learned to weave their own linens and throw their own pottery, but they also fashioned target kites with images of enemy aircraft for the Army to shoot at.
Eleanor Roosevelt took a special interest in Arthurdale, regularly visiting to hand out Christmas presents and high school diplomas, and even calling on individual families.
"I can still see her in my mind's eye, coming around the house, and my mother telling us, 'You kids sit on that couch and don't you move,'" recalled Maryanne Wolfe, who was born in Arthurdale in 1938 and now lives in nearby Reedsville.
But the cooperative economics of the New Deal homestead communities mostly failed, and the government sold its stake in the towns in the late 1940s. Wolfe's husband, Joe, who also grew up in Arthurdale, said that by the 1940s, the utopian dream that created Arthurdale had mostly been forgotten; residents simply got on with life.
"When I was going to school, we didn't talk much about how Arthurdale was started," he said. "My parents were homesteaders, but they didn't talk about how they came to be there or anything."
West Virginia got two other homesteads as well, Eleanor in Putnam County and the lesser known Tygart Valley Homesteads in Randolph County. Only Tygart Valley is believed to have repaid the government for its investment.
Interest in the CCC Museum at Quiet Dell, which has about 250 pieces of New Deal memorabilia on display, has also grown recently, according to director Robert Anderson.
CCC was the acronym for the Civilian Conservation Corps, which employed 4.5 million people nationwide between 1933 and 1942, planting 3 billion trees, forging roads and laying foundations for new communities by raising bridges, dams and telephone poles. About 55,000 men passed through the corps in West Virginia, building bridges, fire towers and state park infrastructure.
"There's a mystique around the program," Anderson said. "Back in the '30s, it really helped salvage the country from disaster."