Every year we reporters and editors gather in our smokeless newsrooms to debate the top stories of the year and come up with endless "top 10" lists.
This year, on the business desk at least, there was no need for debate because there was really only one story: a financial crisis that crept in with the new year and then grew into a monster, dominating the presidential campaign, cocktail parties, newspaper front pages and this Web site.
The meltdown, which is rooted in the runaway loan practices of the housing boom years, has spread around the world and drawn comparisons with the Great Depression with its severe market downturn and accompanying financial panic. Millions are likely to lose their homes, jobs or both before it is all over, and retirement savings have been decimated for generations of investors. Even those who have not been directly affected can't help but be spooked, casting a cloud of uncertainty over the nation's critical retailing sector.
And, thanks to trillions — trillions! — of dollars of federal money committed to dig us out of the hole, we will be paying for it for years to come.
Here is a look at the 10 top elements of the big story.
1) Credit crunch: In the freewheeling days that led to the current crisis, lenders grew so lenient that borrowers were able to qualify for home loans without providing basic information, such as proof of employment. Credit rating agencies failed to alert investors to the risks of  bought securities backed by those mortgages.
Things began to unravel as more people who had taken risky loans found they could not keep up with payments, and went into foreclosure. Home prices plummeted, and the complex securities backed by mortgages began to implode.
As some financial institutions buckled and others collapsed, there was an abrupt and damaging change of course. Many businesses suddenly lost access to the routine credit used for everyday expenses like payroll, while consumers found it harder to get loans to buy cars or homes. This credit squeeze played a major role in bringing the economy to a standstill in the final quarter of the year.
2) Wall Street's dramatically altered landscape: The first serious sign that the housing meltdown would ripple through the financial industry came in March, when Bear Sterns made the surprise announcement that it needed funding from rival JPMorgan Chase, backed by the Federal Reserve, in order to keep operating.
That turned out to be just the beginning.
Within days, JPMorgan had announced a plan to buy Bear Stearns outright at a shocking price of just $2 a share in a deal engineered by the Fed. (The price was later boosted to $10 a share.) Two months later, government regulators seized IndyMac in one of the nation's biggest bank failures.
In September, things really unraveled in a momentous few days as the government took control of mortgage giants Fannie Mae and Freddie Mac, Merrill Lynch was acquired by Bank of America and — in a key turning point in the crisis — Lehman Bros. was allowed to collapse after Treasury Secretary Henry Paulson declined to intervene. Lehman's bankruptcy filing, the largest in U.S. history, set off one of many waves of panic in financial markets.
The list goes on: The Fed rescued insurance giant American International Group Inc., taking an 80 percent stake in the company and eventually committing $150 billion. In the nation's biggest bank failure, Washington Mutual was seized by the Federal Deposit Insurance Corp., which engineered a sale of its assets to JPMorgan Chase. In October, struggling Wachovia was acquired by Wells Fargo.
As one analyst put it, a decade's worth of consolidation took place in just a few weeks,  annihilating yesterday's stalwarts and leaving a few megabanks with unprecedented dominance. The mayhem already has cost tens of thousands of job losses.
3) $700 billion bailout: Desperate to stop the panic and avoid something even more disastrous, Paulson went to Congress in mid-September and asked for an astounding $700 billion — an amount equal to nearly a quarter of the government's annual budget — to rescue the financial sector.
The plan, which was little more than a memo at first, came under fire from hard-hit Americans demanding to know why taxpayers should be saddled with the bill for bailout out mismanaged companies.
In one of the most dramatic moments of the crisis, the House of Representatives rejected the bailout package, sending the stock market plummeting and the entire effort into a tailspin. In the end, Congress approved the package after adding billions of dollars in additional tax breaks. President George W. Bush quickly signed it into law. Paulson later made a stunning about-face, canceling the debt buyback plan and investing much of it directly into banks instead.
4) Unemployment skyrocketing: The crisis has cost nearly 2 million jobs and sent the unemployment rate soaring to 6.7 percent, a 15-year high. While many of the job cuts have come in hard-hit sectors like construction, financial services and the auto industry, the job losses have spread to other fields such as restaurants, retailers and casinos. Economists expect the jobless rate to keep rising, with many expecting it to hit or exceed 9 percent next year.
5) Dow plummeting: Investors have panicked, sending the Dow Jones industrial average down more than 5,000 points from its peak in October 2007. As the crisis worsened in the fall, stocks plunged 25 percent in a matter of weeks. The topsy-turvy market endured many days of triple-digit losses, only to swoop back up in fevered, short-lived rallies. Investment portfolios have been decimated, forcing many Americans to put off or drastically rethink retirement plans.
6) Gas prices yo-yoing: In midsummer it looked like the big story of the year was going to be the skyrocketing price of oil, which pushed U.S. gas prices to record levels, well over $4 a gallon. Surging oil prices sparked a surge of interest in fuel-efficient cars and alternative energy sources, such as solar and wind power.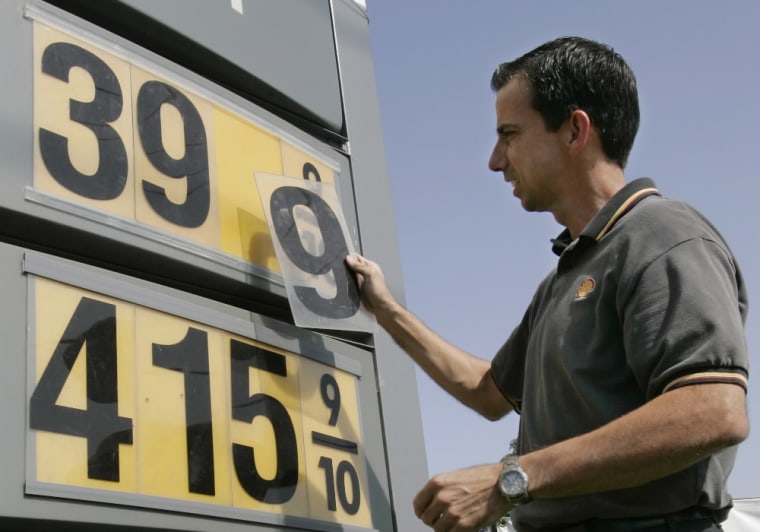 But as the global economy weakened, the price of oil plunged. By mid-December gas was well under $2 a gallon in most places, offering some relief to Americans struggling to pay bills. Still, the steep drop in prices is adding to fears of a potentially dangerous bout of deflation, or broadly falling prices.
7) Real estate meltdown: The foreclosure epidemic has devastated families as well as banking institutions. Countless workers who depended on the once-hot housing industry — including builders, Realtors, plumbers and electricians — face the loss of their jobs or income.
Even many of the most responsible homeowners who used conservative financing have been sucked into the housing crisis as home values have fallen sharply and sales activity has dried up. Stricter lending standards are making it harder for first-time homeowners to purchase a home, even if they are willing to take a bet that home prices have stabilized.
8) Presidential election: In mid-September, as financial titans were crumbling and the nation was close to panic, then presidential-candidate John McCain told supporters: "The fundamentals of our economy are strong, but these are very, very difficult times."
Rival candidate Barack Obama jumped on the comments as a sign that his Republican opponent was out of touch. As the presidential race played out against the backdrop of the financial crisis, Obama seized on the nation's economic woes, while McCain struggled to gain traction with the issue.
While the economy was cited as a key factor in Obama's victory, the incoming president now faces the enormous challenge of trying to repair it.
9) Auto industry woes: U.S. automakers were caught flat-footed by two of the big economic developments of 2008 — the sharp rise in gas prices and steep drop in the availability of credit. The industry also is saddled with high operating costs and stiff competition from foreign manufacturers who have been more adept at producing cheaper and more efficient cars, although they are not immune to global economic conditions.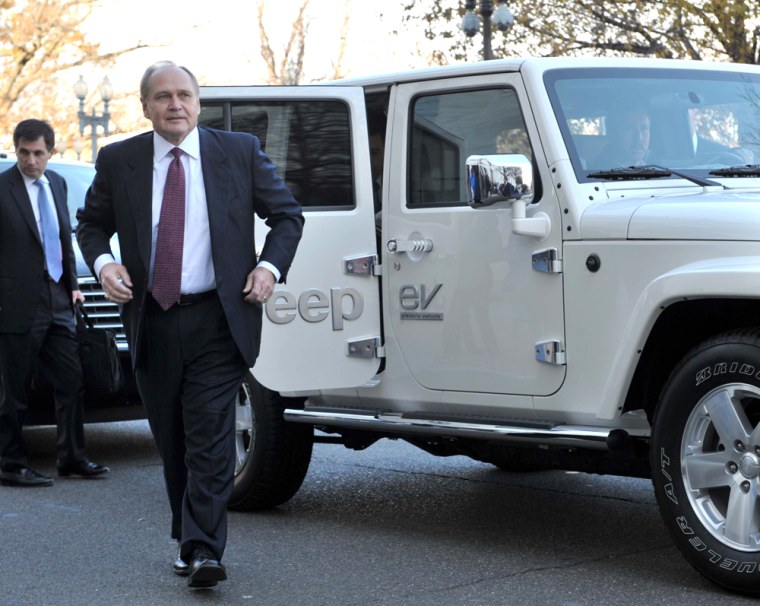 Bleeding money, the heads of Detroit's Big Three automakers trekked to Washington in November seeking federal aid to keep themselves afloat. After a disastrous initial appearance, they returned to Capitol Hill in early December, offering plans to turn around their companies, including a willingness to cut their own salaries. But Senate Republicans blocked a $14 billion bailout proposal, leaving it to the White House to prevent the manufacturing giants from collapsing.
10) Bernard Madoff scandal: The steep drop in the stock market spooked even the wealthiest investors, prompting more than a few to flee riskier investments for safer ground. That exodus may have been the final downfall for money manager Bernard Madoff, a longtime Wall Street fixture who is now accused of running an enormous Ponzi scheme.
Prosecutors allege that Madoff, 70, defrauded investors of up to $50 billion by using money from new investors to pay old ones. Potential victims include charities, banking institutions, celebrities and ordinary investors.
The scheme appears to have come unraveled when too many investors sought to withdraw funds, and authorities allege he didn't have the money to pay them.
Looking ahead to 2009, it is clear that many more chapters are yet to be written in the story. An alarming number of families continue to face the threat of home foreclosures, and the employment picture is looking grimmer by the month. More than a half-million jobs disappeared in November alone, the worst month for jobs since 1974. Most analysts are predicting a dour holiday season for retailers, and the nation's financial and auto industries remain in dire straits.
On Dec. 1, the National Bureau of Economic Research confirmed what many Americans had already guessed: the nation is in a recession, and has been since December 2007. The question for 2009 is, how do we get out of it?