/ Source: The Associated Press
Consumers reduced their spending at retail stores again in November while the costs of goods before they reach store shelves also continued to drop, more bad signs in a recession that appears to be deepening.
Businesses also cut their inventories by the largest amount in five years, the government said Friday, a sign the recession will force further cuts in production.
The numbers came as White House spokeswoman Dana Perino said the Bush administration is considering using the Wall Street rescue fund to prevent U.S. automakers from failing.
General Motors Corp. and Chrysler LLC executives have said they could run out of cash within weeks without government help. Ford Motor Co., which would also be eligible for federal aid under the bill, has said it has enough cash to make it through 2009.
Meanwhile, the Commerce Department reported Friday that retail sales dropped by 1.8 percent in November. The decline, which was slightly below the 1.9 percent dip that had been expected, was the fifth straight monthly drop, a record stretch of weakness.
The downturn was led by a 2.8 percent fall in auto sales, which had been expected since automakers had reported that November was their worst sales month in more than 26 years.
The Producer Price Index, which tracks costs of goods before they reach consumers, fell 2.2 percent last month as gasoline and other energy prices retreated, according to the Labor Department. That followed a record 2.8 percent plunge in wholesale prices in October, and November's price drop was larger than the 2 percent decline economists expected.
Falling prices might sound good for buyers, but a prolonged, widespread decline would do serious economic damage, dragging down incomes, clobbering home prices even more and shrinking corporate profits.
The Commerce Department also said businesses slashed the inventories they hold on shelves and back lots by 0.6 percent in October, three times the 0.2 percent decline economists expected. It was the biggest cut in inventories since August 2003.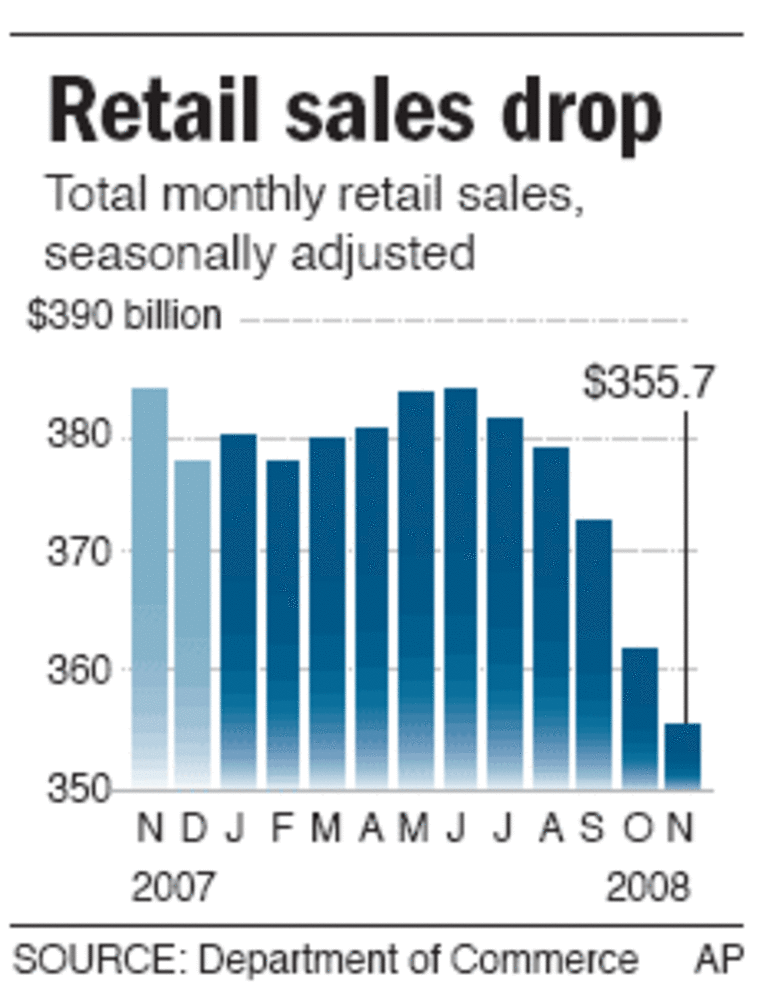 Inventories are closely watched signals of business confidence. When companies are reducing their stockpiles because they are worried about future sales, it can further depress overall economic growth.
The reports come a day after the Labor Department said initial jobless claims rose to the highest level in 26 years, though the work force has grown by about half over that time.
The latest economic data illustrate the negative cycle currently bedeviling the economy: consumers tighten their belts as the unemployed — and those who fear for their jobs — spend less, reducing retail sales and leading companies to cut back further.
Most Americans expect the jobs situation to get even worse, according to a poll released Thursday by the Pew Research Center for the People & the Press. More than 60 percent believe unemployment will increase next year, and 73 percent plan to cut back on holiday gifts this year.
The jobless claims data were worse than already downbeat projections. Initial applications for unemployment benefits rose to a seasonally adjusted 573,000, the Labor Department said Thursday. That was nearly 50,000 more than economists were expecting and up from a revised 515,000 the week before.
Adding more damage to the already ravaged labor market, Bank of America said Thursday it expected to cut as many as 35,000 jobs over the next three years, including some from investment bank Merrill Lynch, which it agreed to buy in September.
Separately, the U.S. trade deficit rose unexpectedly in October to $57.2 billion, partly because of dampened demand for American exports. Analysts had been expecting a decline because of falling oil prices.
Besides Bank of America's announcement, more layoffs in other industries were announced Thursday. Tool maker Stanley Works said it plans to cut 2,000 jobs and close three manufacturing facilities.
Sara Lee Corp., known for food brands such as Jimmy Dean and Hillshire Farm, said it will cut 700 jobs as it outsources parts of its business.