She may live in an epicenter of the U.S. housing crisis, but Vickie Lewis is far from any stereotype conjured up in coverage of the record number of Americans whose homes are in foreclosure.
She is not a real estate speculator, house flipper or rental-property investor. She did not lie about her income or buy more house than she could afford. She was not lured into an adjustable mortgage with a teaser rate that later went through the roof. She has never tapped her equity with a second mortgage or a refi. She even has about 20 percent equity left in her home.
No, what happened to Vickie Lewis could happen to anyone: She got sick, lost her job and fell behind on her house payments.
So for the past four years, Lewis, 48, has seen her name on dozens of legal documents and spent hours in court as her mortgage holder, Washington Mutual Bank, pursued foreclosure on the only home she has ever owned. And she has no more idea now than when this began where or how it all might end.
Millions face similar limbo this year
Lewis has become one of millions of American homeowners who will spend at least some of this year in foreclosure limbo, unsure if lenders will give them a second chance, or if lawmakers or the court system will intervene to help keep them in their homes. The situation has gotten so bad that federally owned Fannie Mae and Freddie Mac have ordered mortgage servicers to halt foreclosure sales on owner-occupied homes through the holiday period.
"I just want to be able to keep my house," said Lewis, quietly desperate as she shared coffee and cake with visitors gathered around the dining table in the modest home at issue — a low-slung, 1,400-square-foot, three-bedroom rambler in a gritty neighborhood of this city in northeast Florida.
The bank's efforts to keep that from happening should serve as a cautionary tale for all homeowners, said Lewis' attorney, April Charney. She considers Lewis' struggle to save her home part of what began as a "giant Ponzi scheme" by the financial sector that has now progressed to a "looting of the country."
The foreclosure crisis has hit especially hard in Florida. Of the 1,823,245 U.S. homes in foreclosure in November, 274,033 — or just over 15 percent — were in the Sunshine State, according to RealtyTrac, an online real estate database.
Lewis is one of scores of clients represented by Charney, an attorney with Jacksonville Area Legal Aid who has developed numerous foreclosure defenses that have kept many of the troubled borrowers she represents in their homes for years.
Charney's defense of Lewis has been based largely on claims that Washington Mutual did not follow federal regulations by offering her a "reasonable opportunity to get current" and "a face-to-face meeting" before three monthly mortgage installments went unpaid, among other requirements.
According to court filings, prior to foreclosure, WaMu never discussed any options with Lewis other than demanding all back mortgage payments in full. The bank is now demanding the entire balance, which had since ballooned by thousands of dollars with the addition of "illegal and outrageous" charges for attorney's fees, collection costs and insurance, the filings allege.
Washington Mutual's attorney in the case, Jeff Gano of the Florida Default Law Group, declined msnbc.com's requests for an interview. Washington Mutual spokeswoman Sarah Gaugl also had no comment on Lewis' case, including the allegations that the lender ignored federal rules.
Washington Mutual's version
But court documents filed on behalf of the bank allege that Lewis was habitually late in paying her mortgage and that WaMu "tried repeatedly to work out an arrangement" with her to get the loan up to date.
Charney scoffed at those claims. Late payments before the foreclosure are "a non-issue. If they accept the payment, it's waived every time." Further, she argued, WaMu acknowledged in court documents that messages hung on her door and phone calls were used to notify Lewis about her options, something that is supposed to be done only via first-class mail. Lewis maintains she never saw the notices or received any phone calls that weren't demands to pay up.
As Lewis' case dragged on, Seattle-based Washington Mutual became the largest bank in U.S. history to fail; it was seized by the Federal Deposit Insurance Corp. and sold to JPMorgan Chase. Within weeks, WaMu's new owners had received a $25 billion injection of cash, courtesy of U.S. taxpayers, while Vickie Lewis received yet another court date and a fresh vision of the sheriff placing her belongings out on the street.
Charney said lenders' disregard for federal loss mitigation procedures and default loan servicing rules is just one sign of a larger problem: a mortgage-lending industry that ran wild for years under scant government review, inflating appraisals, overstating borrowers' credit and income and creating such a maze of trusts and securities that the ownership of millions of mortgages is now almost impossible to establish.
None of that had anything to do with Lewis when she put down the little money she had on her $72,900 brick-front home and got a 30-year, FHA-backed mortgage in 1999. She was working as a nursing assistant and activity director at area care homes and hospitals. At a then-respectable 7 percent fixed interest rate, her payment on the mortgage was less than $600 a month with taxes and insurance.
And for years, she made that payment, she said, even pitching in an extra $50 in some months to reduce her loan balance.
A neighborhood in decline
The neighborhood was nicer then, recalled Lewis' boyfriend of five years, Darrell West, who grew up nearby. Now, he said, other nearby homes in foreclosure have fallen vacant, attracting vandals and drug users. He said he also has seen prostitutes waiting at nearby bus stops.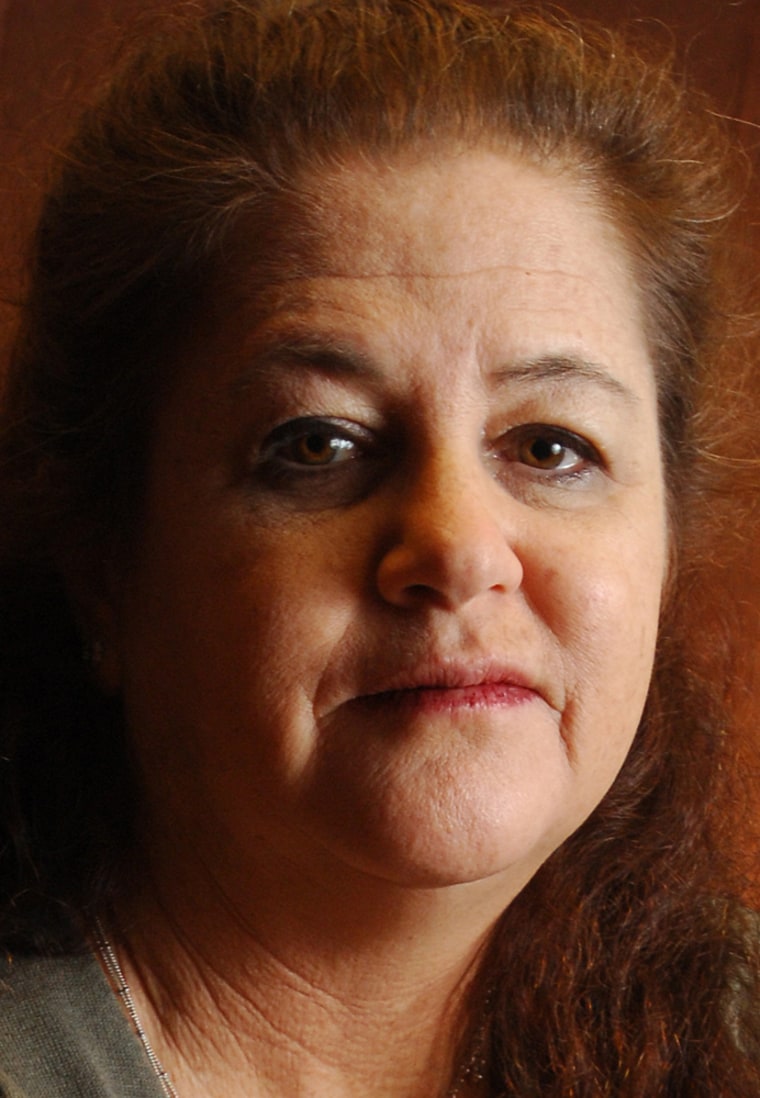 Disaster struck in 2003. "My dad died, then I got laid off," Lewis said. Back injuries and other health issues forced her to apply for disability, then "I had a nervous breakdown." Even though she was unable to work, Lewis said she made her mortgage payments for nine months, until May 2004.
Although Social Security later ruled that she had become disabled as of August 2003, she did not start receiving benefits until May 2005, she said. By then, WaMu had begun foreclosure proceedings.
Musical mortgage checks
Behind four payments, Lewis said she tried to negotiate with the bank. "I explained to them that I just lost my job," she said. "I sent them a full check (for a month) and almost a half of another month. They said no, they cannot take it because it's not the full amount. Then I did it again and they sent it back again."
Despite repeatedly calling her home, driving by to take pictures and sending piles of documents demanding payment, "They don't act like they want to work with me," Lewis said.
When WaMu representatives did respond to her pleas for a catch-up payment plan, which Charney said was after foreclosure began, they demanded "all this little bitty stuff, my bank statements, stuff from Social Security." And they asked for the documentation at least four separate times, she said. Finally, Lewis said, she was told that she couldn't afford even a restructured mortgage because her Social Security income was less than $1,100 a month, so the legal machinery rolled on.
'I can make the payments'
"But I can make the payments and keep up with them; I have help," Lewis said, noting that she shares the home and its expenses with West, her son, J.T., and his wife, Shannon, and their two sons, William, 4, and James, 2.
As the case has languished in Duval County's legal system, Lewis has continued to make payments that Washington Mutual refuses to accept to a trust fund, which now holds thousands of dollars that could be used to help bring the loan up to date.
"They should have given me a chance," Lewis said. "I was trying."
If the bank does prevail in the foreclosure case, the FHA will pay off the loan from its insurance pool and Lewis' house will become the government's problem.
The FHA program is intended to provide a chance at home ownership for low-income and credit-challenged buyers. There's a built-in expectation that FHA borrowers may have more trouble staying current on their payments than so-called prime borrowers, and so the borrowers pay hefty insurance premiums that protect the lenders for the life of the loan.
Extensive FHA rules
That is why the FHA demands that lenders follow its extensive rules about dealing with borrowers who are in default. "FHA's loss mitigation retention efforts are highly successful," FHA spokesman Lemar Wooley wrote in an e-mail. "Generally, 90 percent of homeowners that participate in loss mitigation retention efforts remain in their homes after 24 months."
But Washington Mutual was not among lenders that federal housing officials considered to be using loss mitigation tools "most effectively" in their latest rankings.
Policy issues aside, "Foreclosure is a much more expensive process than simply modifying the loan," said John Taylor of the National Community Reinvestment Coalition, which works with borrowers to stave off foreclosure. "It's totally within Washington Mutual's ability to modify this loan."
West, Lewis' boyfriend, agrees. "Look at how much money they're spending on court costs to try and get her out of here — and trying to make her pay for it," he said. "It would have been easier to let her pay."
At a court hearing on Tuesday, a judge listened to a number of oral arguments from the attorneys, including a new motion from Charney to dismiss the foreclosure on the grounds that "the plaintiff is Washington Mutual, but Washington Mutual doesn't exactly exist anymore." The judge then took the case under advisement. When he will rule is unknown.
"She still has no resolution," Charney said of Lewis. "The goal is that the judge will deny the foreclosure and they'll have to go back and unwind the deal and give her default loan servicing." Charney hopes that the fees and other charges can be eliminated, perhaps even the $22,819.68 in interest that WaMu says has accrued over the past four years.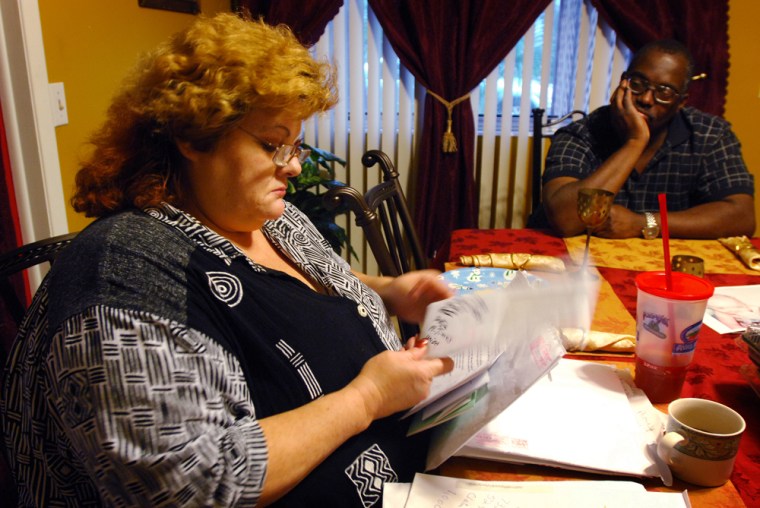 But as Christmas approaches, the economic misery in Lewis' household has increased. Just before Thanksgiving, West and Lewis' son were among dozens of workers laid off from positions they had held for five and seven years, respectively, at a nearby steel mill. They worry that they may never find jobs that pay the $1,000 a week they could earn in years of plentiful overtime.
The holidays just make it harder. "I'm Mom-Mom to a lot of people," Lewis said, casting a loving gaze at her young grandsons. She has a 3-year-old granddaughter too, and lots of other friends and relatives. "I used to put everything on layaway and have everybody a nice gift," she said. "Now they'll get some pajamas."
Next to go: Health insurance
For now, the men's unemployment insurance and Lewis' disability checks are paying the bills. The next concern is health insurance, which will run out soon for all but Lewis. They'll find a way via Medicaid or another program to keep the boys and Shannon insured, but West and J.T. figure to go without coverage until they land new jobs. That's a frightening prospect for West, who has several serious health issues of his own.
Lewis doesn't want to think about what she'll do if she loses the foreclosure case. She imagines she'll be forced to find a place to rent. But a house similar to her own, now worth about $120,000, would cost at least $400 a month more than her mortgage, she said.
That uncertainty is the worst part, Lewis said. "My nerves eat me up. I'm getting tired of it. It's just so depressing." Added West, "It's hard to live day by day, wondering, 'Is this going to be the day you've got to go?'"