/ Source: The Associated Press
For residents of towns and cities in southern Israel, anxiety about casualties inflicted by missiles from Gaza is mixed with satisfaction that Israel's military is trying to settle the score with their militant tormentors.
Schools and kindergartens were shut Tuesday in swaths of the country's south, a recognition that the range of Gaza militants' rockets has grown dramatically and now includes some of the country's major population centers. According to the military, at least 650,000 Israelis — a tenth of the country's population — are in rocket range.
A woman was killed Monday when a missile crashed into a bus stop in Ashdod, a port city of around 200,000 that is among the most distant targets militants have hit to date and only 25 miles from Israel's heart in Tel Aviv.
Four Israelis, one of them a soldier, have been killed since the Israeli offensive against Hamas began Saturday. Gaza officials say over 360 people have been killed in waves of devastating airstrikes aimed at halting ongoing rocket fire from the Palestinian territory.
'It's about time'
In the working-class border town of Sderot, which has been targeted by relentless Gaza rocket salvoes, residents were pleased with the military offensive.
"It's about time," said Victor Turjeman, a 33-year-old electrician. "We've been waiting for this for eight years."
Sderot has been pounded with several thousand projectiles since 2001. The rockets have killed eight, injured hundreds more and made daily life unbearable.
Turjeman said his four children have been traumatized by the near daily attacks, his home has been damaged and his brother had a heart attack after a rocket exploded nearby. He fears escalation, but said he was consoled that Hamas was finally being punished.
"We should keep pounding them until they beg for mercy," Turjeman said. "As far as I'm concerned, all of Gaza can be erased."
Life under rocket fire, which has become nearly second nature for residents of Sderot, came as a shock to residents of cities newly in range — like Ashkelon, population 120,000.
"It's complete insanity. It devastates the daily routine of life. Where do I sleep? What do I do with my girls?" said Alona Dar, a 33-year-old mother of two, who skipped work Tuesday to care for 15 children of co-workers in an Ashkelon shelter.
Defense Minister Ehud Barak extended a zone of military control around Gaza to include Ashkelon and other communities Tuesday, meaning that for their own safety residents were now essentially subject to the military's orders.
Warning system
The military has also expanded the range of its rocket warning system to include Beersheba, another major southern city. Residents were instructed to prepare shelters and practice emergency measures.
Beersheba appeared normal on Monday, with streets, bus stations and malls alive with people. But the front page of a local newspaper, "24 Minutes," blared with the headline: "Opening the shelters."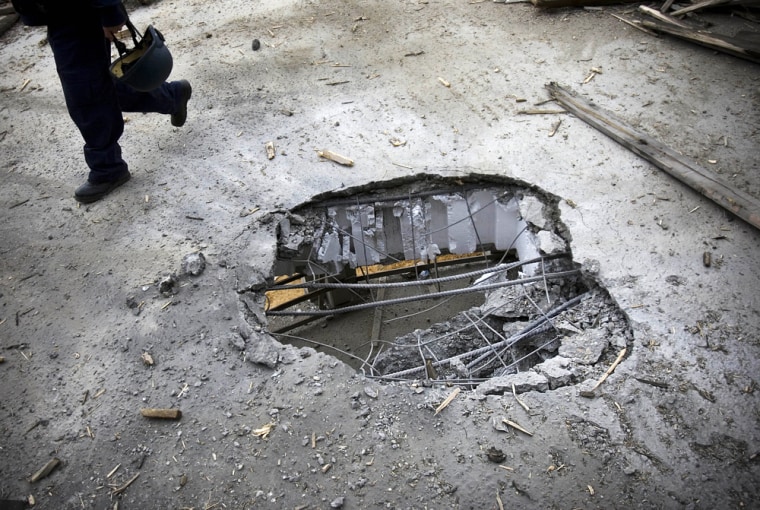 Ortal Levy, a 30-year-old mother of two, said she had never even entertained the notion that her city could be within rocket range. Now she was moving a phone into her bomb shelter and making room for beds.
Mazal Ivgi, 62, who was reading a newspaper outside the central bus station, said she still found it hard to believe the city would be hit. "But when the first 'boom' comes, we'll also have to get used to a new situation," she said.
'Our despair was ignored'
David Buskila, the mayor of Sderot, said his 24,000 citizens were still scared but also glad something was being done.
"We felt abandoned for so long, that our despair was ignored. We felt like we weren't even a part of Israel," he said. "Now we feel like the army is actively protecting us."
Israel Katz, a social psychologist at Hebrew University in Jerusalem, said that was a natural reaction: "These are people who feel vulnerable and all of a sudden they feel empowered. It's the same kind of satisfaction that a child who has been picked on gets when he hits back," he said.
In Ashkelon, Yitzhak Daboosh shook his head in disbelief as he contemplated the site where a rocket killed a construction worker Monday — the city's first rocket death.
"These missiles have no address. Only God is watching over us now," said Daboosh, 58. "We've been through a lot of things here, a lot of wars. But something like this? Never."