Nasser Barakat, a 21-year-old university student in Gaza, says it is impossible for civilians to stay safe during the Israeli invasion of the Palestinian territory because of the randomness of the attacks.
"There (used to be) main targets — like the police station, ministries, everything that belongs to the government. So we would stay away from those," he said Wednesday in a phone interview with msnbc.com, referring to past conflicts with Israel.
This time, he said, the strikes have been hitting gas stations, mosques and homes. "It seems everywhere is dangerous," he said. "… So everyone is feeling unsafe. The streets are empty."
Barakat, a senior studying business administration at Islamic University in Gaza City, said the random nature of the attacks has increased since the first Israeli bombardment on the morning of Dec. 27.
With final exams looming, he said he was walking to the university to pick up some notes when several blasts rocked the city, the closest just 500 meters away.
"They were hitting … the government ministries. … I was running. Everyone was running," Barakat said. "There was smoke everywhere. It was chaotic."
With that, routines ground to a halt. Like most residents of Gaza, Barakat said he now spends most of his days just trying to survive the persistent attacks by Israel's military and a deepening humanitarian crisis in the territory.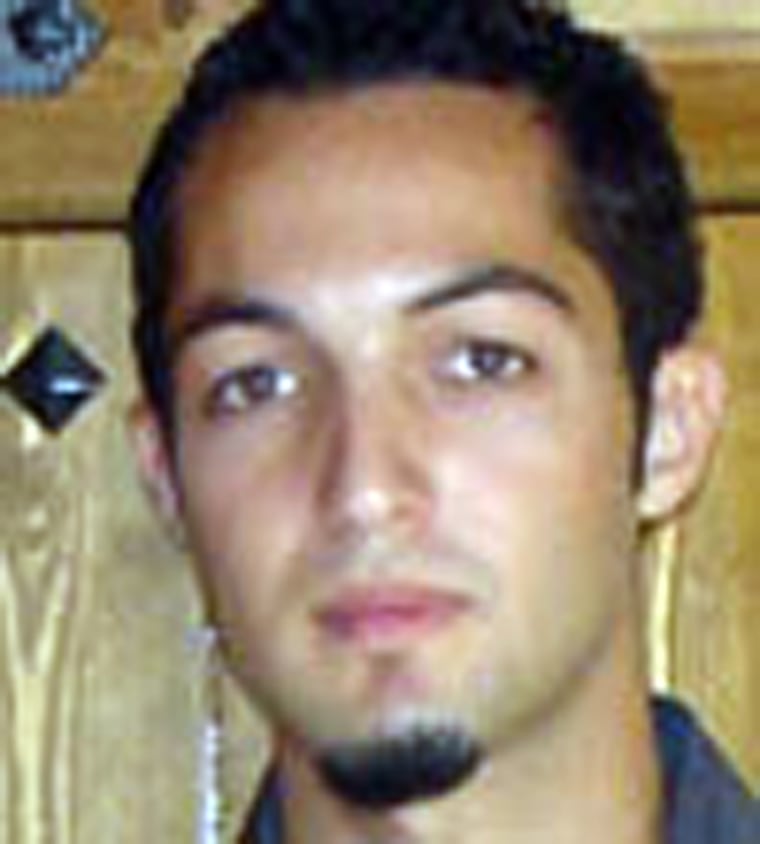 Barakat is one of a handful of young Palestinians who had been contributing to a blog about life in Gaza. The bloggers, all of whom are participants in a cultural exchange project organized by the U.S. nonprofit Mercy Corps, have had a hard time keeping up the blog since the Israeli offensive began due to power outages. But Barakat and a second student, Ziad, who spoke on condition he only be identified by his first name, shared what they are witnessing through phone conversations Wednesday with msnbc.com.
Safe location?
The day after the initial bombing, Barakat's family —his parents, two brothers and two sisters — left their home near the ministry buildings and moved in with his aunt in the belief that her home was in a safer location. But giving the widening attacks, he said they no longer are confident that is the case.
The strikes have knocked out power throughout the area, and Barakat said he and his family has been without electricity for five days. Water supply is irregular, he said.
Barakat said he is the only member of his family who leaves the house, leaving only to work for a local film company that is documenting the conflict and to buy food at stores that are open only a short period each day.
"There's no bread because there has been no wheat in Gaza for the last month," he said. "Now we're mostly eating rice. We try to get some (other food) from the market, which is open a couple of hours a day, but what they have runs out right away."
With the university badly damaged and shut down indefinitely, Barakat is unsure when he will be able resume his studies. He was planning to graduate this coming spring and hoped to pursue a master's degree.
Very dark, dangerous
He has increased his hours working for the film company, which is one of only a few businesses that has more work during the crisis. He said that when he returns home at 7 p.m. the streets are deserted.
"There are no taxis, so a media car takes me home. In the streets, nothing is moving," he said. "There's no electricity, so it's very dark and it's too dangerous to be out alone."
Ziad, 21, an engineering student at Al-Azher University in Gaza City, said he has been hunkered down with his sister and mother in their apartment building near the Palestinian government complex since the start of the Israeli offensive. Most people fled the apartment building when the bombing started, he said, because of its proximity to likely Israeli targets, but his family stayed, along with two others.
The building has been without power or running water for eight or nine days, Ziad said. Residents are forced to leave for necessities, such as water, which they carry over from a nearby building.
"There are two to three hours in the morning when we can go buy food, get water, and go to other buildings to charge our (cell phones) so we can communicate and find out if our families are OK ... if there are no planes overhead," he said.
Even then, Ziad said, the trips are nerve-wracking.
"You cannot know whether there is someone next to you or in the next building who will be targeted," he said. "… We live in constant fear of this.'
At night, Ziad's family and the other two families — 16 people in all, including five sisters under 11 — sleep in one apartment on the second floor, which they feel is safer from bombing than the upper levels of the building.
"Imagine you wake up two or three times a night to hear the bombing, you hear what's going on (with casualties) on the radio. It's devastating," he said. "Right now we are at a level where we can't stand any more. Emotionally, we are broken."