/ Source: The Associated Press
The number of laid-off workers who are continuing to draw unemployment checks has jumped to the highest in more than a quarter-century and is likely to keep climbing this year — fresh evidence that people are finding it increasingly difficult to get a new job amid a deepening recession.
The Labor Department's report Thursday also said first-time applications for jobless benefits dropped to 467,000 last week. But economists largely described that decline as a distortion, reflecting the government's difficulty in making seasonal adjustments over the holiday period. Even with the dip, the figure still signaled trouble in the labor market. A year ago, initial claims stood at 330,000.
Persistent economic woes — housing, credit and financial crises — along with a flurry of layoffs announcements in the opening days of 2009 all point to another terrible year for jobseekers, economists said.
Job hunter Barbara Slavin of Los Angeles knows that frustration.
"Many of the jobs I applied for I was qualified for and didn't get them," laments Slavin, 67, who was laid off last month as an executive assistant for a local Girl Scouts chapter. "I got a lot of energy. I like to work, and I don't know anybody who can live on Social Security alone."
She has worked a variety of places over the years, including a catering kitchen, a corporate newsletter and a software company.
The government's report showed that the number of people continuing to collect unemployment benefits rose by a sharp 101,000 to 4.6 million for the week ending Dec. 27, the most recent period for which that information is available. It was worse than the 4.5 million level of claims that economists had expected.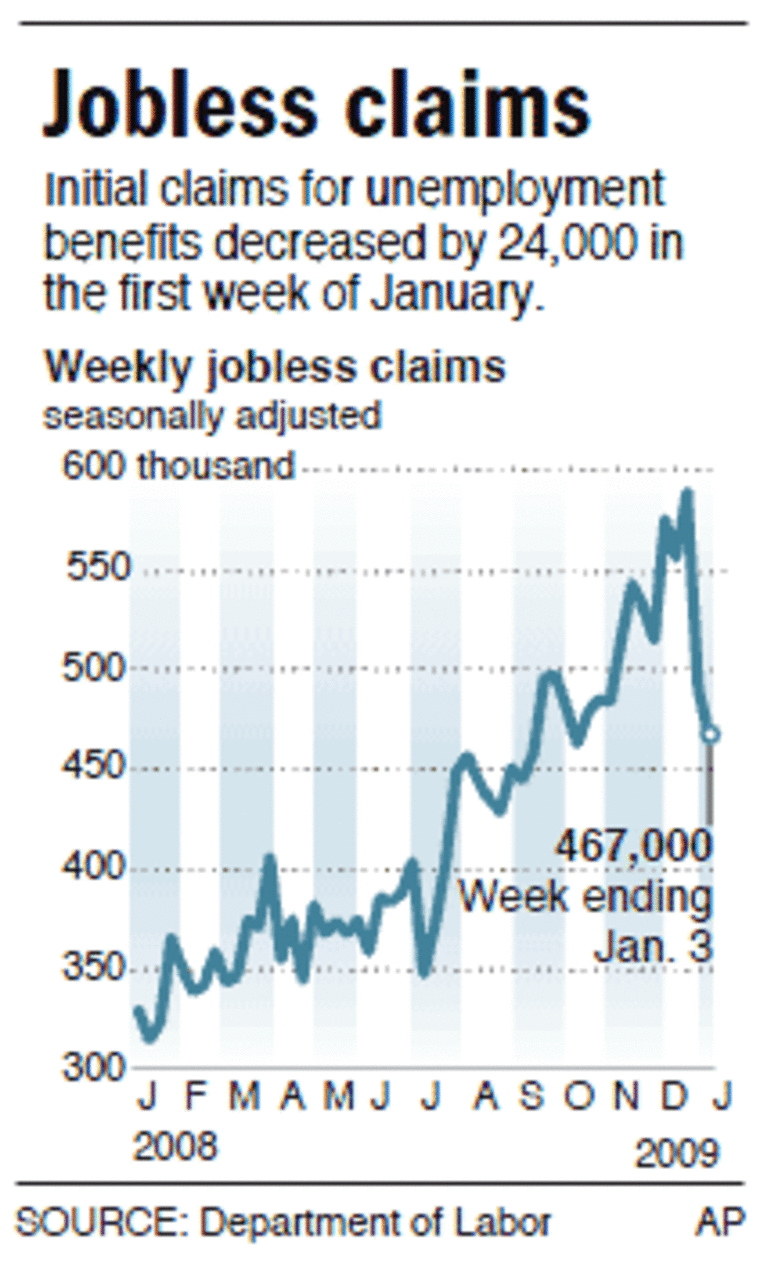 That increase left continued claims at the highest since November 1982, when the country was emerging from a deep recession, though the labor force has grown by about half since then. A year ago, this figure stood at nearly 2.7 million. The increase underscored the painful deterioration that has occurred in the jobs market.
"Workers getting laid off are not going to get hired any time soon," said John Silvia, chief economist at Wachovia.
Some economists believe the number of people drawing unemployment benefits could rise as high as 5.5 million this year — even if a new government stimulus package is enacted.
President-elect Barack Obama called for a bold approach to revive the economy.
"I don't believe it's too late to change course, but it will be if we don't take dramatic action as soon as possible," he said Thursday, the fourth straight day he talked about the economy, the No. 1 concern of most Americans.
"If nothing is done, this recession could linger," Obama warned. "The unemployment rate could reach double digits."
With employers throttling back hiring, the unemployment rate is expected to jump from 6.7 percent in November to 7 percent in December, which would be the highest in 15 1/2 years. The government releases that report Friday.
Obama, who takes over Jan. 20, is championing a massive package of tax cuts and government spending that could total $775 billion over two years. With add-ons by lawmakers, the package could swell to $850 billion, his advisers say.
With jobs disappearing, shoppers held tight to their wallets and pocketbooks at the end of 2008. The Federal Reserve said Thursday that consumers cut back on their borrowing on credit cards, and for such things as auto loans, at an annual rate of $7.94 billion in November, the biggest decline in 65 years of record keeping.
And retailers on Thursday reported dismal sales figures for December. Even Wal-Mart Stores Inc. finally buckled under the pressure of the sinking economy, with its sales rising less than analysts had expected. Among the many retailers that reported steep sales declines were Sears Holdings Corp., which operates Kmart and Sears stores, luxury retailer Saks Inc. and Gap Inc.
The job losses are hitting workers across the board. Drugstore operator Walgreen Co. said Thursday it will cut 1,000 jobs by mid-year, or about 9 percent of corporate management, through a combination of voluntary buyouts and layoffs.
Consumers and companies are folding under the forces of the collapsed housing market, a global credit crunch and the worst financial crisis since the 1930s. The recession, which started in December 2007, already is the longest in a quarter-century.
"Only government can break the vicious cycles that are crippling our economy — where a lack of spending leads to lost jobs, which leads to even less spending," Obama said.
This week alone, managed care provider Cigna Corp., aluminum producer Alcoa Inc., data-storage company EMC Corp. and computer products maker Logitech International all announced major layoffs to cope with a recession that has just entered its second year.
Pink slips are piling higher as companies scramble to cut costs even deeper. Electronic unemployment filing systems have crashed in at least three states in recent days due to the crush of Americans seeking jobless benefits.
For all of 2008, employers likely slashed payrolls by at least 2.4 million. That's based on economists' forecasts for a net loss of 500,000 additional jobs in December, as well as the job losses already reported every month last year by the government. Some, however, think the number of jobs cut last month will be higher — around 600,000 or 700,000. That information also will be out Friday.
If the conservative 2.4 million estimate of payroll reductions for 2008 proves correct, it would mark the first annual job loss since the previous recession in 2001. It also would be the worst year of job losses since 1945, when employers slashed nearly 2.8 million jobs, though the number of jobs in the U.S. has more than tripled since then.
On a more upbeat note Thursday, rates on 30-year mortgages this week fell to a new record low of 5.01 percent, a dose of good news for prospective home buyers — if they can manage to get a home loan.