/ Source: The Associated Press
Rescue teams returned empty-handed Tuesday from intense searches in choppy central Indonesian seas, where more than 230 people were missing after a ferry capsized in a cyclone over the weekend.
Hopes were briefly lifted when survivors told authorities they had seen dozens of passengers clinging to a fishing platform. But a police patrol scoured the area for six hours and found nothing, said Lt. Col. Zakarya Rahman, who headed the operation.
Air and sea patrols resumed at sunrise, two days after the 700-ton Teratai Prima disappeared with at least 250 passengers and 17 crew onboard.
So far, at least 34 people, including the captain, have been rescued and one body recovered. It has been more than a day since a survivor was found and the chance that anyone is still alive is slim, authorities said.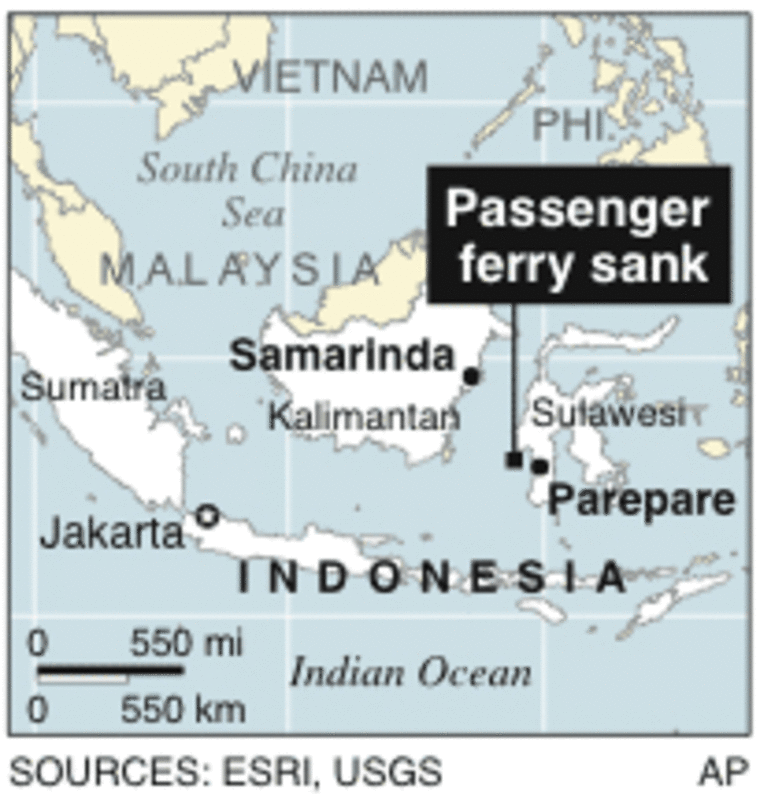 Many of the survivors floated in the tropical water for more than a day clinging to debris, some keeping up their energy by eating a floating cargo of bananas from the ship, officials said.
An investigation has been started to determine why the captain apparently ignored warnings not to cross the Makassar Strait because of tropical Cyclone Charlotte, Transport Minister Jusman Syafi'i Djamal said earlier Tuesday.
Compensation for victims' families
The government will compensate families $2,400, or roughly two times an average annual salary in impoverished Indonesia, for each victim of the accident.
The Teratai Prima, which radioed that it was in trouble just before dawn Sunday, capsized about 30 miles off the coast of western Sulawesi. It was headed for Samarinda on the Indonesian side of Borneo.
Boats are a major form of transportation in Indonesia, the world's largest archipelago with more than 17,000 islands. Poor enforcement of safety regulations and overcrowding causes accidents that claim hundreds of lives each year.
In December 2006, a crowded Indonesian ferry broke apart and sank in the Java Sea during a violent storm, killing more than 400 people.
More on Indonesia