/ Source: The Associated Press
It may be the final days of business for the Scandia Bake Shop. After almost 60 years of serving treats like julekake and Oslo rye bread, the Minneapolis store is worried it may have to shut its doors within the week, felled by shrinking sales, rising flour prices and a downright dismal holiday season.
"They come out in droves and you make most of your money between Thanksgiving and Christmas," said 60-year-old owner Gary Arvidson, who took over the business in 1993. "And then this year I was really counting on that and the economy went into the dumper."
Times are tough for small business owners, those whom politicians tout as the backbone of America. As the recession marches on, it's those businesses — which employ about half of the country's private-sector workers — that are particularly vulnerable to the squeeze.
To cope, small business owners — from neighborhood plumbers to graphic design firms — are paying employee salaries before their own, trying to renegotiate leases and pleading for customers on neighborhood blogs. But despite their best efforts, the customers aren't there.
"It's all feeding on itself," said Raymond Keating, chief economist at the Small Business Survival Committee, an advocacy group based in Oakton, Va. "People are scared. They're not quite sure what to do."
Not every small business is facing impending doom. But the economic quicksand brought on by the longest recession in a quarter century is getting worse as the nation's unemployment rate reaches a 16-year-high and banks become more careful about lending money. That's consuming even local favorites like Heinemann's restaurant chain in Milwaukee, Olsson's Books & Records in Washington, D.C., and The Music Mill, a popular performance space in Indianapolis.
Small businesses — defined by the government as having 500 or fewer workers — are a key portion of the country's commerce food chain. They account for more than 99 percent of all employer firms, according to federal statistics, pay nearly 45 percent of the country's private payroll and produce almost a third of the nation's export value.
That means when they hurt, everyone feels the pain. Closures affect communities, where friends are co-workers and customers, and the cost-cutting creates a hard-to-stop cycle. Charitable donations wilt. Storefronts sit empty. Cities and towns get less tax revenue, and have to cut their budgets. And people wind up spending even less as those who are unemployed — or those who worry they will be — trim their own budgets at the expense of other businesses, large and small.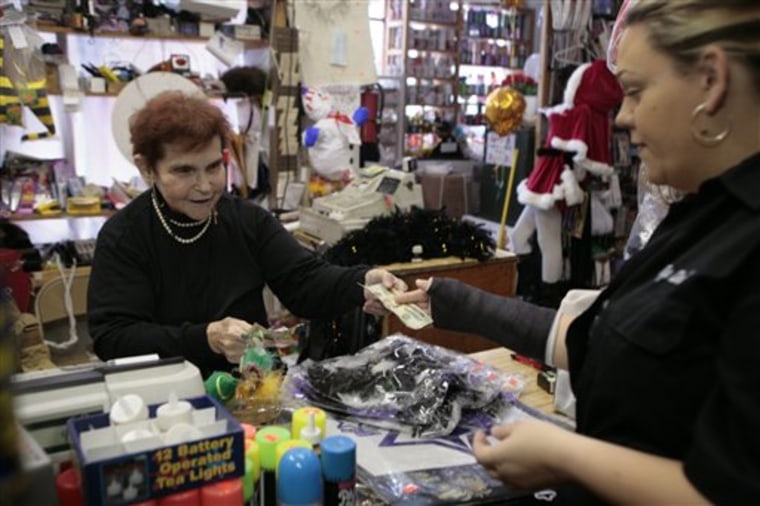 While falling sales and the credit crunch have made headlines, the small business owners left standing are facing problems as varied as the businesses they run. Manufacturing is slowing. Layoffs are looming. Financing is hard, if not impossible, to come by. Vendors are being skittish about extending credit for inventory. Rents are rising. And profits are falling — or vanishing altogether as sales slip.
Ajay Ekesa, 29, worries that his Kahawa Coffee House in Chicago may not last through the spring. He's spreading flyers around the neighborhood, opening his shop's space for community meetings and writing letters to a popular local Web site, asking them to publicize his plight.
"Right now I'm trying to do everything I can do," he said, adding that he's using his own money to pay the coffee shop's bills and the salaries of his two employees. "With every hour that I'm staying open, I'm not making money. I'm losing money, which doesn't make much sense."
That's why Bonnie Mihalic closed her eponymous costume and bric-a-brac store on New Year's Eve, after sales fell by 50 percent during the all-important Halloween season. When she shut down the Ventura, Calif. shop, she laid off her seven employees and said goodbye to loyal customers she had come to know during 30 years in business.
"They're like my children. Or my grandchildren," the 76-year-old said. "I'm heartbroken."
Now she's emptying her 10,000-square foot store and moving things to a warehouse. If she doesn't get rid of her stock, including hundreds of wigs, tiki torches, and leftover holiday decorations by the end of the month, she'll owe another $15,000 in rent.
It's not just communities that feel the pain. Small businesses that are pinching their pennies also thwart corporate America.
Just ask Wal-Mart Stores Inc., which blamed a pullback in spending by more cautious small business customers shopping at its Sam's Club stores for lower-than-expected December sales figures on Thursday. The surprise shortfall stunned investors in the world's largest retailer, which had been weathering the recession by catering to bargain shoppers.
The scrimping is spurring Office Depot Inc. — which gets about 80 percent of its business from corporate customers, most of whom operate small and home-based businesses — to change some of its merchandise, said Chief Executive and Chairman Steve Odland.
The office supply chain is bumping up the number of sheets in some reams of paper and repackaging items such as pens into smaller — and cheaper — packages.
"They say 'I just can't afford to buy a bulk pack of this,'" Odland said.
Officials said fewer customers were buying more expensive items like desks and file cabinets or computers.
"I do what I've got to do to keep the business running and the employees paid," said 36-year-old Parrish Walker, who owns Walker's Oak and More Furniture store in Fort Oglethorpe, Ga. "It's really having to think about every purchase and decision instead of buying willy-nilly."
Being deliberate about expenses is one way he's coping with the fact that sales are down more than 10 percent at the northwest Georgia store his father opened 15 years ago. He's also scaling back on inventory, making sure the schedules of his four employees are as efficient as possible and forgoing his own paycheck to make sure his workers get theirs.
More than 110 people lost their jobs this month when the Heinemann's restaurant chain, a Milwaukee institution for 86 years, shut the three restaurants that remained of what was once a 10-location chain.
"Their clientele was aging, and as they were aging and dying they weren't able to replace all those people with new people because younger people want chains they can recognize," said Jerry Kerkman, a lawyer for the company.
Customer Dennis Sell, 58, of Milwaukee, was a regular for more than a decade, ordering oatmeal pancakes and eggs, toast and sausage at Heinemann's on weekends before settling in for hours with a newspaper. He ate his last meal there on Saturday.
"I'm hoping it's a dream and I'll somehow wake up and hopefully none of this really happened," he said.
Carol Tomer wants to prevent Scandia and the bakery's 10 employees from enduring a similar fate.
Tomer, the lead pastor at Pilgrim Lutheran Church in St. Paul, started what she called some "krumkake activism" — named after the buttery Norwegian wafer cookies — to spread word of the impending closure to the Twin Cities' large Scandinavian community.
So far, about 1,000 people have signed a petition to keep Scandia open, and business appears to be steady thanks to the community campaign, said Arvidson, the owner.
After originally thinking he would shut his doors Saturday, he spent Friday stocking up on eggs, flour and shortening and said he planned to keep selling pastries until someone padlocks his door. Even so, he knows he'll have to downsize, since he can't afford the rising rent and was unable to refinance his home to help pay the bakery's bills because rising risk from the worsening economy has brought on a general reluctance to lend.
Arvidson said he's heartened by the extra customers and community support and said business has been triple what the store normally sees in the slow weeks of January. Still, he's uneasy.
"It's weird because you feel kind of like buzzards picking at the carcass," he said.