/ Source: The Associated Press
A man being sought in connection with the deaths of an Oklahoma woman and her four young children was captured in Texas on Tuesday night after a car accident, authorities said.
Joshua Steven Durcho, 25, was taken into custody in Texas' Hamilton County, said Oklahoma State Bureau of Investigation spokeswoman Jessica Brown.
A Texas Department of Public Safety communications officer in Waco, who declined to give his name, said Durcho was injured in a one-vehicle accident. Authorities checking his identity determined he was wanted by Oklahoma authorities.
Prosecutors earlier Tuesday charged Durcho with five counts of first-degree murder after an El Reno police officer conducting a welfare check found Summer Garas, 25, and her four children dead in her apartment Monday afternoon. The children ranged in age from 3 to 7.
The arrest came nearly 24 hours after surveillance video at a truck stop in Clinton, 60 miles west of Oklahoma City, captured Durcho's image and that of a white car authorities believe belonged to Garas.
No known motive
At a news conference earlier Tuesday, Brown said there was no known motive for the killings.
"We don't know if it's a domestic that went terribly wrong," she said. "I know they had their ups and downs in their relationship."
Prison records show Durcho was convicted of car theft as a juvenile and was sentenced to four years in prison in 2003 for unlawful possession of marijuana. He was released in February 2007, records show.
"He has been in and out of jail most of his adult life," Brown said.
Besides Garas, daughters, Kirsten Rust, 7; Autumn Rust, 6; and Evynn Garas, 3; and son, Teagin Rust, 4, were killed. Brown said they weren't shot but she didn't specify how the five were killed.
Summer Garas was a student at nearby Redlands Community College, where she was studying to be a legal assistant, school officials confirmed.
"From what I have heard, she was a very intelligent young woman and very well liked by her peers," said Meg Cannon, a spokeswoman for the college. "Obviously, we are going to miss her, and her family is in our thoughts and prayers."
Suspect contacted mother
Shelton Bryan, Durcho's stepfather, told The Oklahoman that Durcho sent a text message to his mother about 2:30 a.m. Tuesday and called a few hours later, saying he was OK and that he loved her. Bryan said during the short conversation, and Durcho's mother told him to surrender to authorities.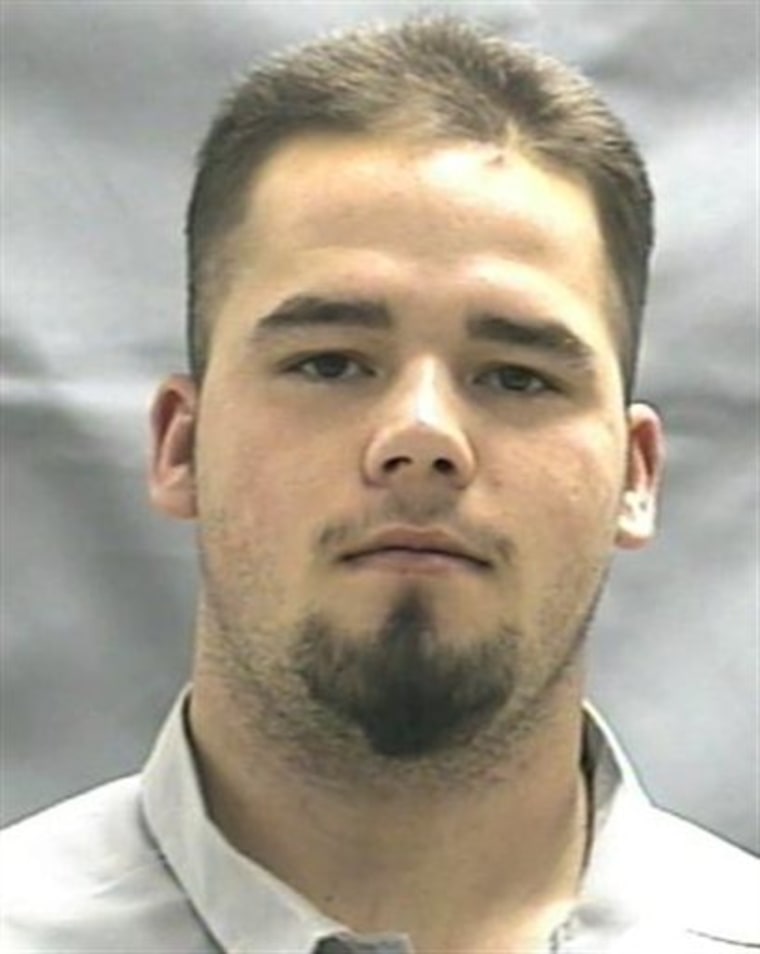 "I don't see a good ending to this unless he turns himself in," said Bryan, who added that the family contacted police about the call. "We don't want this to turn into something worse than it already is."
Bryan said the last time the family saw Durcho was about 8:30 a.m. Monday when he helped his mother with some work, a food delivery to Lucky Star Casino.
Attempts by The Associated Press to contact Bryan on Tuesday night were not successful.
James Franklin, whose wife is Summer Garas' former mother-in-law, said he had a message for Durcho.
"That was wrong, there is nothing that can justify killing a mother and four kids," Franklin said. "I have to deal with this the rest of my life. I can't see my grandkids."
Court records show that Summer Garas and her ex-husband Jason Garas were divorced on Dec. 10.
'They were just full of life'
Crystal Franklin, Jason Garas' mother, said she was devastated by the killings.
"I'm just numb, just not knowing what to think," she said. "The kids were just wonderful."
She said Summer Garas rarely locked her door and helped neighbors when they were in need.
"Summer never met an enemy," she said. "She didn't have an enemy, just loved everybody."
The slayings took place in a tidy apartment complex, with two-story buildings, surrounded by a white picket fence in El Reno, a suburb about 25 miles west of Oklahoma City.
On the front porch of the apartment unit where the killings took place there were several children's bicycles and toys, including a rideable plastic dump truck.
Crystal Franklin said Teagin was fond of monster trucks and had planned to go with his grandparents to a truck show in Oklahoma City.
"They were just full of life, a joy to be around," she said.