/ Source: The Associated Press
The white former transit police officer, who is charged with murder in the shooting of an unarmed black man on New Year's Day in Oakland, pleaded not guilty on Thursday.
Johannes Mehserle entered the plea in an Alameda County courtroom packed with supporters and family members of both the officer and the victim, 22-year-old Oscar Grant.
Newly released court documents allege that Johannes Mehserle, who was charged Tuesday, shot Grant while Grant had his hands behind his back and another officer was kneeling on his neck.
Meanwhile, about 50 people were evacuated from their homes after Mehserle's parents found two suspicious packages on their porch Wednesday evening, the Napa County Sheriff's department said.
Bomb squad officers evacuated the neighborhood while trying to determine the contents of the packages. When authorities could not determine what was inside, they destroyed them. The residents were then allowed to return home.
Mehserle and his family have received death threats since the New Year's Day shooting.
Alameda County District Attorney Tom Orloff made the rare decision to file a murder charge against a police officer for an on-duty incident.
"At this point, what I feel the evidence indicates, is an unlawful killing done by an intentional act and from the evidence we have there's nothing that would mitigate that to something lower than a murder," Orloff said at a news conference. He said he would not speculate on whether the charge would end up being first-degree murder or second-degree murder.
Caught on camera
Witnesses said Grant was lying face down on a train platform at a station in Oakland when the 27-year-old white officer shot him in the back. Grant and others had been pulled off a train after reports of fighting, as New Year's Eve revelers were shuttling home after midnight.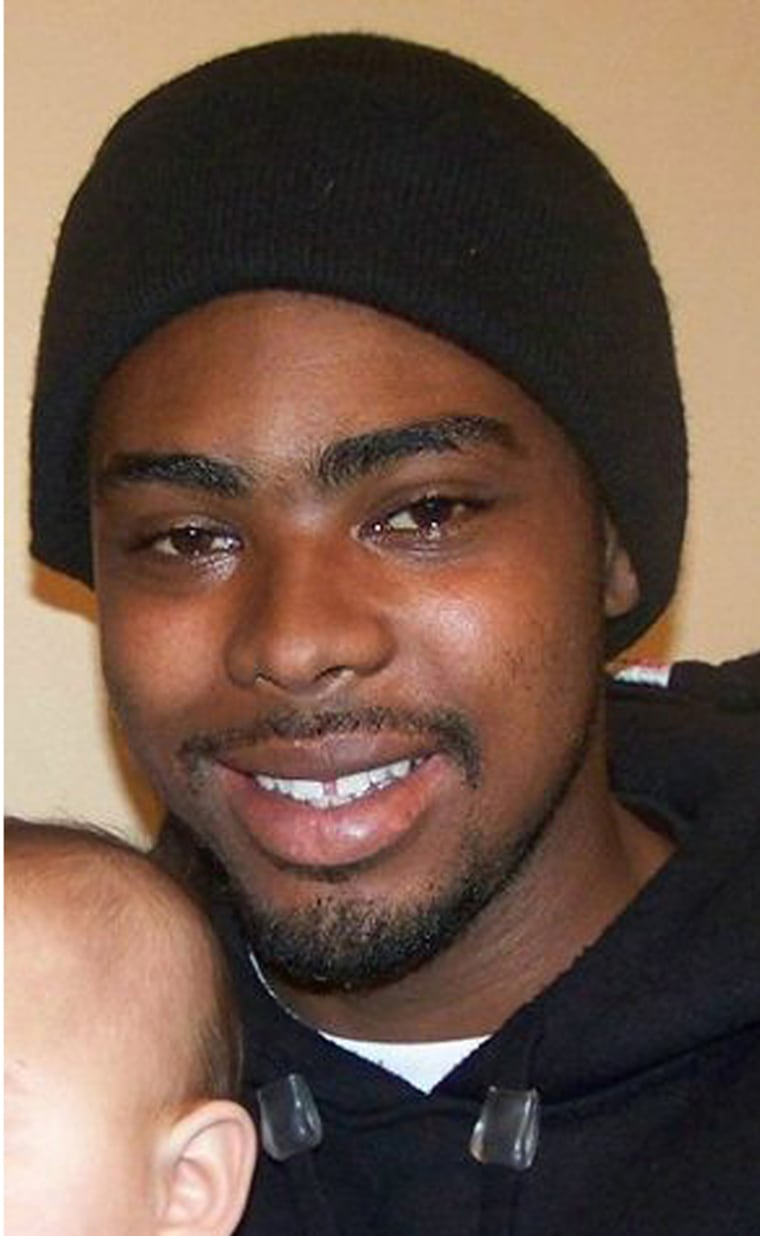 Allegations that Grant's hands were behind his back and another officer was kneeling on him were contained in an Oakland police officer's request to issue an arrest warrant. It said it appeared from cell phone video that "Mehserle shot and killed Oscar Grant while Grant was restrained and unarmed."
The shooting, captured on cell phone cameras and widely viewed on the Internet, has inflamed long-running tensions in Oakland between law enforcement authorities and many African-American residents.
Violent protests
Protesters have taken to the streets calling for the prosecution of Mehserle, with one rally last week spiraling into violence that resulted in more than 100 arrests and damage to dozens of businesses.
More than a thousand demonstrators again gathered Wednesday, outside Oakland City Hall. They listened to preachers, community activists and others who urged a peaceful demonstration and demanded justice for Grant. Some protesters wore "Don't Shoot" signs on their backs and held signs that said, "Silence the Violence."
The protest was mostly peaceful before a small group went on a window-breaking rampage through downtown, smashing windows at several businesses and about 30 cars. Eighteen people were arrested, mostly for vandalism, Oakland police spokesman Jeff Thomason said.
Surrendered in Lake Tahoe
Mehserle surrendered without incident Tuesday at a family friend's house in an upscale neighborhood on the east shore of Lake Tahoe in Douglas County, Nevada, law enforcement officials said.
During a brief court appearance in Minden, Nevada, on Wednesday, he waived extradition and was returned to California to face charges. His lawyer, Christopher Miller, said his client had been in Nevada for a few days to get away from the pressures of what was happening in the Bay Area, and there was no effort to avoid arrest.
Mehserle could be arraigned as early as Thursday, Miller said.
Michael Rains, a former police officer who has represented cops as a lawyer since 1979, called such a charge "extremely rare."