/ Source: The Associated Press
Can you visit Down Under without the cost going up and over? Too right, mate.
Australia is a long way from just about everywhere else and the airfare alone will blow a big hole in any travel budget. But in Sydney, the country's largest city and one of its major draws, some of the best things to do and see are free, or nearly so.
The harbor
From the landmark Sydney Opera House and the harbor bridge to towering skyscrapers, parks and multimillion-dollar mansions, Sydney huddles around the glittering azure waters of Port Jackson.
The best ways to see it all is by boat, though a charter cruise can cost thousands. Instead, why not take one of the ferries that shuffle workers to and from downtown each day? From Circular Quay, ride past the opera house, the former prison island of Fort Denison and some of the city's most exclusive properties (ask a local if they can point out Russell Crowe's apartment at Woolloomooloo) to Watson's Bay for about $3.55 return (5.20 Australian dollars), www.sydneyferries.info. Buy takeout fish and chips on the wharf and brave the seagulls on the small beach before retiring to the Watson's Bay Hotel beer garden to watch the sun set over the city skyline.
The icons
The white sails that form the roof of the Sydney Opera House make it one of the world's most recognizable buildings, and one of the greatest meldings of architecture and art. You can take a guided tour of the interior for about $19 (A$27.50) and hear the tragedy-tinged story of architect Joern Utzon's masterpiece. But the real appeal is the exterior, and it costs nothing to look. The thickest crowds are at dusk, when kids run up and slide down parts of the building and people mill around on the steps. Make a game of counting the minutes before a tourist asks you to snap his or her picture in front of the landmark.
From there, it's impossible to miss the Sydney Harbor Bridge, known locally as "The Coathanger" for reasons obvious to anyone who's seen it. Guided climbs to the apex are very popular, but prices start at about $122 (A$179). But you can walk across it at street level for nothing and still get a high-rise look at the opera house and the length of the harbor.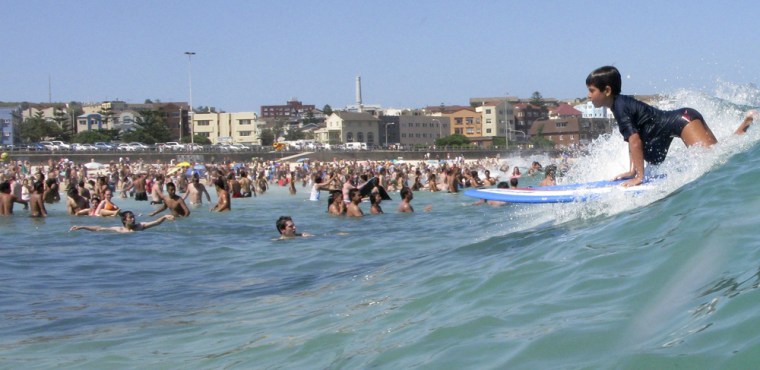 When you're done with the sun, leave the look-at-me crowd of bodybuilders and bikini babes behind and hit the Bondi Icebergs club for a cold beer, pub-style food and a stunning view of the beach. If the traditional southerly afternoon buster (as the stiff wind here is called) is bringing in a storm front, there are few places better to watch thunderheads roll in from the sea. The southern end of Bondi also marks the start of a walking path that meanders along a spectacular coastline of sheer rock cliffs and beaches to Coogee about 4 miles away.
Food
Sydney's multicultural makeup is most clearly reflected in its food, from tapas dishes at Captain Torres, 73 Liverpool St., or other eateries in the Spanish Quarter to crisply fried falafel and creamy tzatziki at Abdul's, at Cleveland and Elizabeth streets in inner-city Surry Hills. On Goulbourn Street in Chinatown, the unpretentious BBQ King offers some of the best Chinese food outside of Asia. No reservations here, so get there early or be prepared to wait on the sidewalk outside until a table becomes free.
The best of hope for a real Australian food experience is simple: make a friend. A casual conversation in a pub could easily become an invite to the backyard barbecue that has been a weekend fixture longer than anyone can remember. And these days, a "barbie" is just as likely to include marinated octopus, butterflied leg of lamb or a tagine of shrimp as yesteryear's fare of charred sausage served in a slice of bread with a copious squirt of ketchup. An etiquette tip: never turn up to a barbie without something, anything, to throw on the grill and some form of libation.
Accommodations
Like most modern cities these days, Sydney is dotted with hostel and backpacker-style accommodation throughout its tourist districts, from downtown to sandy Bondi, leafy Glebe and the red-light district of Kings Cross. For addresses and prices, try: www.yha.com.au. For something different, try the growing number of Internet sites such as www.wotif.com and www.needitnow.com.au that offer deals on late-notice hotel bookings. For some real local flavor, http://sydney.gumtree.com.au lists short-term rentals of Sydneysiders' apartments and houses.
Parks
From downtown, you can walk through the Botanic Gardens to Mrs. Macquarie's Chair, a historic site on a small peninsula shaded by huge Moreton Bay fig trees that is a prime picnic spot for locals and visitors alike, with killer views of the harbor and its main attractions. Stroll to the nearby Art Gallery of New South Wales, where the free-entry permanent collection includes works such as the style-defining Aboriginal dot paintings of Emily Kame Kngwarreye and Brett Whitely's emotionally troubled modernism.
Continue your park tour through the Domain and some of Sydney's most historic buildings to leafy, fountain-strewn Hyde Park. A walk through the Rocks district would almost complete a microcosmic tour of Sydney's early years as a British penal colony, though these days the city's first suburb is a look-don't-touch zone for the budget traveler. Nearby, Darling Harbor offers a more modern take on Sydney — a buzzing waterfront chock-a-block with bars, restaurants, an Imax cinema, and trinket stores. If you really must have that stuffed koala toy, here is probably the place to buy it.