Derar Mohammed, a 19-year-old Palestinian, spent several hours Thursday watching a surreal scene unfold on television as Israeli forces inflicted heavy damage on the Gaza City neighborhood where he and his family lived until they fled the city nearly three weeks ago.
"This morning the bombing was in the place where I live (the Tel al Hawa neighborhood),  so thank God we are here instead," Mohammed told msnbc.com, speaking by phone from his uncle's house several miles south of the city.
Mohammed, a journalism student, said that he was able to watch the destruction of his familiar haunts only because the intermittently functioning electricity came on for a time. More often, he said, he keeps up on the fighting and other news by listening to a battery-powered radio.
When Israel began bombing in Gaza City on Dec. 27, Mohammed said he roamed the streets for hours, looking for a ride out of the city while trying to avoid Hamas strongholds, which he assumed would be targets for Israeli forces.  When he finally secured a taxi, he piled in with his parents, four brothers from ages 8 to 16 and fled to his uncle's house.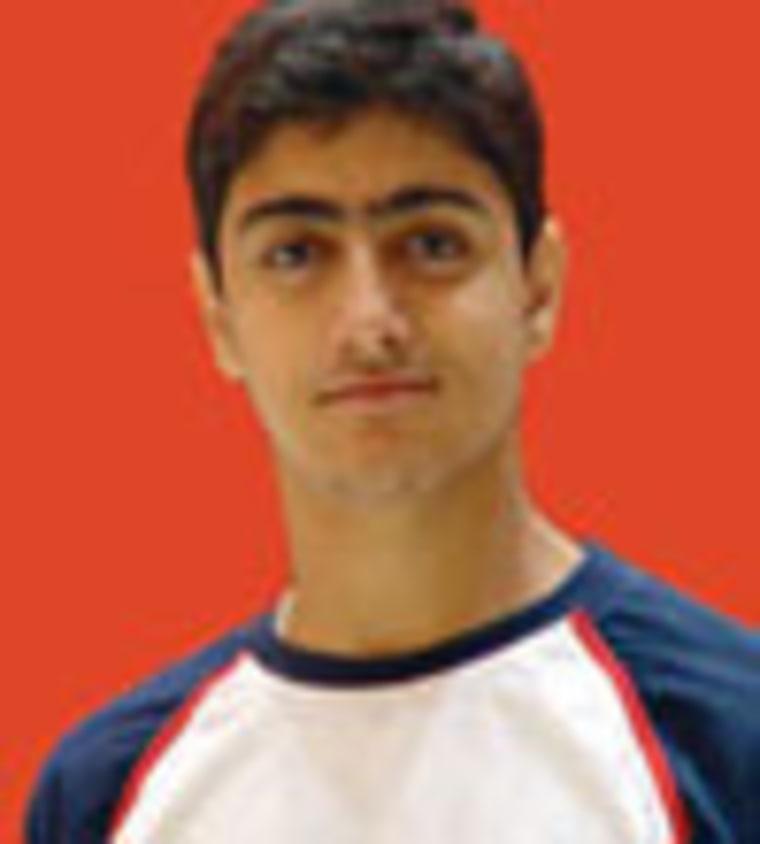 From the relative safety of his uncle's home — he said it's not of interest to either Hamas or the Israelis— Mohammed has tried to remain in contact with friends who remained in Gaza City. Some of them, he said have moved as many as three times since the Israeli incursion began — shifting from home to home in hopes of staying one step ahead of the Israeli attacks.
When the fighting shifted to Tal al Hawa earlier this week, Mohammed said he heard from a friend who sought shelter with many other civilians in the area's Al Quds Hospital. But then the hospital was hit by a bomb on Wednesday, causing a wing of the administrative building to collapse and sparking a fire. Those who sought shelter, and about 100 patients and medical staff, were trapped in the hospital, with fire burning inside and fighting raging outside, the International Red Cross said.
'Pray for us'
"My friend was sending me a (text) message: 'We are in the hospital. Pray for us. There's no electricity and no water.'"
When the violence ends, Mohammed said, he will not pursue his studies in journalism right away, and will instead try to do something to help rebuild Gaza.  In the meantime, he cannot return to his neighborhood. Israeli ground forces have cut off routes between his current location and Gaza City.
"In the first days after the airstrikes (before ground forces arrived) we kept saying we would go home — today, tomorrow," said Mohammed. "(Now) ground forces cut the land in half to there is no way to go home. I never thought we would still be here 20 days later."
Jasem Humeid, a Palestinian social worker, has a much closer vantage point to the fighting from his home in the heart of the Jebaliya refugee camp in northern Gaza.
Though the sounds of Israeli bombs and gunfire often shake the walls of his three-story home, it is the refuge of choice not just for him, his wife and seven children, but for four other families.
'There's no place to go to be safe'
"It's logical that you would ask me why I stay here," Humeid, 39, said during a telephone interview on Thursday that was interrupted at least five times by nearby fighting and explosions. "There's simply no place to go. Even in the whole of Gaza there's no place to go to be safe."
Humeid said that despite the fighting raging nearby, his home in the center of Jebaliya — a 2-square-kilometer (or about ¾-square-mile) area inhabited by more than 100,000 people — is considered safer than the homes on the camp's periphery.
So he has taken in the families of two sisters, a niece and a brother — more than 30 people in all.
Humeid's home is just a few hundred meters from a U.N. School where dozens of people were killed when it came under Israeli artillery fire on Jan. 6.
Though it may be marginally safer, life in the camp is difficult, he said.
Getting water has been a recurring problem, he said. With electricity available only sporadically to pump water into rooftop tanks, they are always short and actually ran out two days ago. And when needed to do some repairs on the water system, he worried that he would become a target of Israeli drones which look for suspicious activity. Humeid said he did the repairs in several stages, only daring to stay on his roof for minutes at a time.
Food, other supplies extremely limited
Meals at Humeid's house are limited to whatever the nearest markets have in stock, usually just locally grown vegetables. Shipments of vegetables that normally come from rural areas outside Jebaliya are limited, he said, because those areas are under Israeli control. He said it's too dangerous to travel as far as would be necessary to buy meat—and what they had in the refrigerator ran out many days ago. Supplies for babies — like diapers — are available only on occasionally, he said.
Humeid, who usually runs a psycho-social program supported by the U.S.-based humanitarian group Mercy Corps, said the more than 20 children under 12 in his home have shown remarkable resilience given the difficult circumstances.
"They play games, tell stories and jokes." He said. "In front of the house we have a large area with some trees. It's not 100 percent safe, but they can spend some time there."
But he said the children also sleep more than normal — perhaps because of long hours without electricity or as an escape from fear. He also said he has seen some "regressive behaviors" like bed-wetting, which he believes is a result of the crisis.
"It's very difficult for everyone," says Humeid. "But it is most difficult for the thousands of people who have been displaced from their houses, like those who are staying with my family."