With our freshly minted new president's inaugural call for shared sacrifice still echoing in the ears of the nation's consumers, we might expect that shoppers would be ready squeeze into tiny, fuel-efficient transportation boxes. Driving spartan, minimalist vehicles could be the Obama-era version of the Victory Garden.
But for some consumers, the willingness to sacrifice only goes so far. Buying a hybrid sounds like a good idea, but some folks are just not ready to give up the luxury amenities and red-carpet treatment of a prestigious brand.
For them, luxury car makers are preparing fuel-efficient models that will permit them to express green consciousness without the hardship of enduring — to paraphrase President Richard Nixon's description of his wife's coat — "respectable Republican cloth seats."
Up until now, most hybrid-electric cars have been built with fuel economy, not comfort or prestige, in mind. That means thin soundproofing and tinny stereo speakers, and probably no multi-adjustable leather seats or cushy ride.
But Cadillac, Lincoln, Lexus and others are planning luxury green models that will offer great gas mileage without asking the driver to wear an automotive hair shirt.
Many luxury car buyers are hot for hybrids, according to Lexus.
"More than 60 percent of entry-luxury car buyers would have considered buying a hybrid if one had been available," according to Mark Templin, vice president and general manager for Toyota's luxury division.
At this year's Detroit auto show, Cadillac forecast a future when fortunate sons (and daughters) will be able to whir along on almost-silent electric power in cars as sleek and sexy as the ones they forsook when they switched from buying Hummers to buying Toyota's Prius.
Cadillac's "Converj" concept car not only represents the convergence of creative spelling with prestige automobiles, but also the convergence of efficiency with sporty style. The Converj employs the plug-in hybrid drivetrain technology (now called Voltec) previously unveiled with the Chevrolet Volt to provide the same ability to drive 40 miles on pure electric power.
The car's striking styling would, if it went into production, mark a dramatic departure from the purely wind tunnel-sculpted high-efficiency hybrids that we've seen in cars like the Prius and Honda Insight. The production Volt's styling differs tremendously from that of the swoopy concept, much to the disappointment of many would-be customers, but designers of the Converj kept production constraints in mind when sketching the concept car's lines, according to GM vice chairman Bob Lutz.
The company has not announced production plans for the Converj, but if it does get the green light, a production version would look very much like the concept, he said.
"This time we did all that work up front," Lutz said.
Whether the Converj will actually be built depends on many variables, said John Howell, product director for GM's premium products. If government policy shifts in ways that support hybrid use, through tax incentives, expansion of the electric charging infrastructure and permission to use car pool lanes, for example, then the company would feel more confident committing the resources to its development, he said.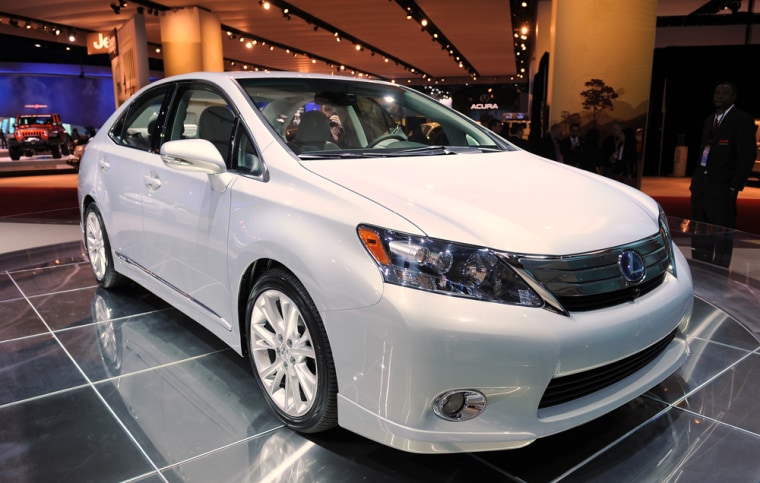 "There is no room for frivolous investments," said Howell. "We are probably more risk averse now than Citibank is in its mortgage lending."
One government policy-related obstacle to the sale of green luxury cars is that the alternative minimum tax excludes taxpayers who make more than $100,000 from receiving the tax credit for purchasing an alternative fuel vehicle, said Howell. That excludes pretty much the entire customer base of premium automotive brands.
However, one reason to target such customers is that they spend enough money on their cars to pay for pricey new drivetrain technology, pointed out Lutz. 
"It is one of the reasons we want to proliferate the Voltec technology," he said. "Other brands aren't as (price-constrained) as Chevrolet is."
A barometer of the potential of such vehicles is the reception that low-volume, high-priced exotic cars such as the Tesla Roadster and the Fisker Karma are getting, Lutz said.
"A lot of wealthy people will pay good money for something like this," he predicted.
Another green luxury bellwether is the new Lexus HS 250h, a car the manufacturer touts as the world's first dedicated luxury hybrid, meaning that it is not available in non-hybrid form. While the HS 250h may look a little bit like a Prius with a trunk in place of its hatchback, it's based on the platform of the Euro-market midsize Avensis and is built as a luxury car from the ground up.
That means that it has the noise-quelling insulation, beefy suspension attachments and special engine mounts of other Lexus models — all there to filter the unwanted noise, vibration and harshness that are abundant in most efficiency-minded cars. The little Lexus has 10-way power adjustable leather seats, a moon roof and a monster sound system, so if despite all the amenities its occupants are still suffering, it won't be in silence.
The HS 250h uses a 2.4-liter gas engine for the conventional portion of its propulsion. This is a much larger engine than even the bigger one in the new Prius, giving the Lexus more of the "oomph" luxury buyers expect. Despite all of the heavy hardware and bigger engine, gas mileage for the HS 250 will be good. Official EPA fuel economy numbers aren't yet available, but the company said its mileage will top the 33 miles per gallon city rating of the Smart minicar.
The Lexus is a real production car that consumers will be able to buy next summer, so we will soon see what the real demand is for this type of product. But the HS 250h is handicapped by a distinctly eco-car silhouette, unlike Caddy's racy Converj concept. It remains to be seen how interested luxury buyers are in a premium car that looks a lot like an economy car. 
"Introducing the buyer to your brand with the most blandly styled vehicle in your lineup is a tough way to get them excited about it," observed Stephanie Brinley, senior manager of product analysis for AutoPacific Inc.
The Ford Fusion hybrid introduced at the show has similar technical specifications to the HS 250h, and it's the same basic vehicle as the fancier Lincoln MKZ, so it would appear that Lincoln could quickly jump into the market for fuel-sipping luxury cars.
But spokesman Mark Schirmer said that the company views the market for such a car as too small.
Instead, Lincoln showed the Lincoln C — a concept car that represents how the brand could move into the small car segment using Ford's new EcoBoost small-displacement turbocharged gas powertrains to achieve high fuel economy.
The stubby Lincoln C concept highlights how the brand can move into the market for compact cars, said Ford Motor Co. vice president of design J Mays. Mercedes, Audi and others already sell cars in the compact segment, and the Lincoln C is a demonstration of what Lincoln could do if it decided to build an economical city car, he explained.
The small 1.6-liter EcoBoost turbocharged gasoline engine is a less expensive way to achieve much of the fuel economy benefit of diesel or hybrid drivetrains, according to Ford. The Lincoln C would score 43 MPG on the EPA city test, the company said — a 25 percent improvement over the company's current 2.0-liter Ford Fiesta compact car.
However, even bigger cars are getting more efficient, pointed out Brinley. A much roomier MKZ fitted with the Fusion's hybrid drivetrain would get about the same 41 MPG combined fuel economy as the Fusion.
"The difference [in fuel economy] isn't enough between it and bigger cars," she said.
Of course, consumers buy Mini Coopers and Smarts today that get worse gas mileage than that, choosing them because they are small, so perhaps that "think small" could benefit a compact Lincoln in the future.