So you're thinking the worst is now behind you because you survived a round of layoffs, accepted a pay cut and are doing the job of two people.
Think again. There's a new cost-cutting measure exploding among employers — furloughs.
Many companies, universities and governments across the country are forcing their workers to take a day or two off a month, or to take a week off during a given quarter.
There's one catch — no pay.
Earlier this month, newspaper chain Gannett Company announced it would force all its workers to take one week off during the first quarter without pay. And a week before that, California Gov. Arnold Schwarzenegger ordered state offices to close two Fridays a month, meaning state workers would end up with smaller paychecks.
Even President Barack Obama alluded to the growing use of furloughs in his inauguration speech when he said, "the selflessness of workers who would rather cut their hours than see a friend lose their job." But in many cases it's a company forcing the unpaid time off rather than selfless workers looking to cut their paychecks.
Increasing reliance on furloughs
Furloughs have been around for years. In the past, they were mainly used in manufacturing during temporary plant closures. Now, organizations in various sectors appear to be rediscovering furloughs — and are using them in unprecedented numbers.
But firms that use furloughs on a regular basis to prop up the bottom line are not only risking low morale among the rank and file: They also walk a tight rope when it comes to wage and hour laws. While hourly workers can be furloughed as often as managers at private employers want, salaried employees that are not entitled to overtime cannot be furloughed repeatedly, says Loren Smith, a spokesman for the U.S. Department of Labor.
Frequent deductions in pay create a situation where you are treating salaried workers like hourly workers, he says. "Employees can lose their exempt status and might be entitled to overtime in the future."
Despite such restrictions, this recession has companies increasingly using furloughs as a  secret weapon. Last year, the number of employees who did not work their full work week because of their employer's economic conditions reached levels not seen in any of the nation's previous downturns dating back to the 1955, the earliest numbers available from the Labor Department.
In December, 6 million workers were classified as "working part time for economic reasons because of slack work or business conditions," nearly double the 3.1 million figure during the same month in 2007, the first month of the recession.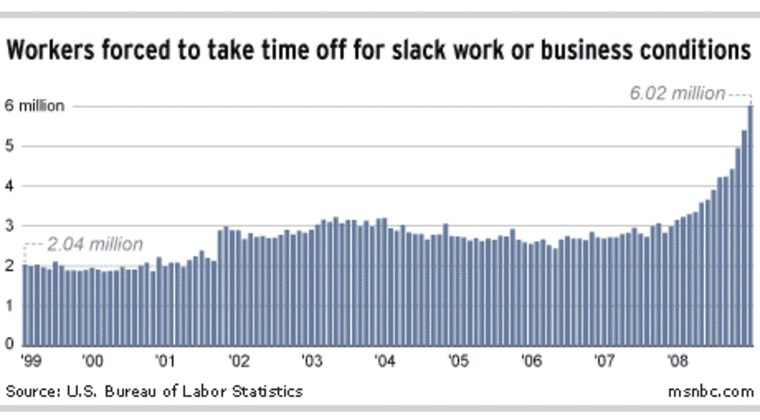 "The use of furloughs has become the new thing," says John Stapleford, senior economist at Moody's Economy.com.
While Stapleford says furloughs have been utilized during past downturns, the numbers during this recession are unheard of: "I don't remember them ever before being used like this."
He believes that many companies are hedging their bets that the economy will turn around soon, so they don't want to lay off too many workers and then risk having to spend big bucks to rehire and train new employees.
Firms can also keep their unemployment insurance rates down if they give workers unpaid leave for a few days, he adds, because most employees won't be eligible for jobless benefits.
His prediction: More and more workers should expect unpaid leave in their futures.
Some workers fighting 'banishment'
"We're dealing with this on a daily basis," says David Ritter, a labor attorney with Neal, Gerber & Eisenberg in Chicago, who represents employers. "We had one client the last week of the year decide to furlough everyone and close up, no work.
"In this severe economic downturn, employers are looking for any way possible to save money. The reason to use furloughs: They're a pretty smart business decision."
Unfortunately, not all workers like the unexpected time off, especially when it comes without a paycheck.
With the abysmal savings rates among Americans, losing even one week of pay could pose a hardship, says San Diego State University management professor Christine Probett. Nor is it great for employee morale. "It creates a sense of dread in the workplace," she said.
Indeed, one longtime Gannett journalist who did not want her name used says employees at her newspaper are referring to the furlough as "banishment."
Jessica L. Roe, an employment attorney for Bernick, Lifson, Greenstein, Green & Liszt in Minneapolis, advises her clients against requiring unpaid leave because it could pose too much of a hardship for some workers. Single, working mothers, for example, could be adversely impacted because they have to pay for full-time day care but won't be paid their full salaries.
Some workers are not accepting furloughs without a fight.
The California Correctional Peace Officers Association filed a petition this month against the state and the governor to curtail the furlough plans.
In a statement, CCPOA's president Mike Jimenez says the group recognizes that California is in a deep fiscal crisis. "However, we are deeply disappointed that this governor continues to reach into the pockets of his state employees whenever he needs to balance the budget — especially vital public safety employees who walk the toughest beat in the state."
But so far, such challenges are rare, which may be why so many companies are jumping on the bandwagon.
Alternative to losing a job
Although it's unclear if workers have a leg to stand on when it comes to fighting furloughs, but there are clear no-nos under federal and state labor laws.
"In some cases, employers are doing what they have to do to survive in a bad economy," says Lewis Maltby, the president of The National Workrights Institute. "But in some cases, greedy employers are trying to squeeze work out of employees without paying them for it."
If your boss asks you to take temporary, unpaid leave, he says, you should not be doing any work. None at all. That also means not answering e-mails or text messages.
And you shouldn't be working unpaid overtime to make up for the time off. That is clearly a violation of wage and hour laws for hourly workers, Maltby says.
For exempt, or salaried employees, the same applies, but there are different restrictions when it comes to labor laws.
"If you furlough non-exempt employees and they work at home, for example, that week, the law requires them to be paid for the hours worked. You could discipline the employee for working, but they have to be paid," says attorney Ritter. "If a exempt employee does the same thing, even if the employee works only a few hours that week, the employer will likely have to pay the employee for the entire week."
Exempt workers who are furloughed more than once should call the Labor Department's hotline at 866-487-9243 to inquire about their rights.
Employees who have a written contract with their employers promising them a certain annual salary are entitled to what they were promised, Maltby adds. The same is true for union contracts where hours are negotiated.
Also, if you're furloughed for more than a few days, you should contact your state labor department to find out when you would be eligible for unemployment benefits.
For many workers who can survive a few days without pay, or even a week, a furlough can be a welcome alternative to being laid off — or having your company go belly up, says Maltby.
But, he adds, "if you know your employer is profitable and they're playing the furlough game, maybe you need a union."