/ Source: The Associated Press
Forget the sold-out balls and celebrity soirees: Ordinary Americans transformed Washington's streets into one giant pre-party Monday stretching from the overflowing inbound trains at Union Station to the banks of the iced-over Potomac River.
A town that tends to take itself way too seriously got a little giddy, and no one was waiting for Inauguration Day on Tuesdy to get in on the action.
Homeowners tacked bunting to their porches, high school cheerleaders composed special chants for the new president, and a boys' choir from Kenya wowed a streetcorner crowd with an impromptu concert.
"This is going to be part of our family's history," said Ian Pearce , who explored the Capitol building grounds with his 8-year-old son and other family members. "It will be passed on from generation to generation."
Waking up at 3 a.m.
Seventy-year-old Betty Bryant arrived on a charter bus from Augusta, Georgia and stood by the icy reflection pool near the Capitol making plans to rise at 3 a.m. Tuesday to take her place on the National Mall for Barack Obama's swearing-in as president.
"I'm just really happy that I'm living to see this wonderful event," she said.
A few feet away, a group of people broke into an impromptu chorus of "God Bless America."
The city vibrated excitement, and, if only briefly, its curmudgeons laid low.
Just about anything qualified as entertainment: On a streetcorner not far from the mall, passers-by clapped and cheered the sight of a soldier in fatigues doing push-ups.
The trials of the times were temporarily pushed aside — if not completely forgotten. A sign posted at one bus stop offered Obama congratulations on his inauguration and exhorted "Save $$$; Buy a foreclosure."
The day was not without its annoyances — sure to multiply exponentially on Tuesday. Commuters unfamiliar with the local Metro system queued up in long lines to buy fare cards. Street closures spread virally. Parking garage rates spiked overnight to $25.
Baggage-toting throngs arriving at Union Station found it easier to find souvenir vendors than taxis, prompting some travelers to head out on long slogs by foot to their hotels — if they were lucky enough to have a room. Those cabbies who could get through the congestion could only shake their heads.
"I have never seen such a mess," muttered one. "I'm staying home tomorrow."
Celebratory air prevailed
A celebratory air prevailed nonetheless, on a day when even service projects suddenly seemed cool.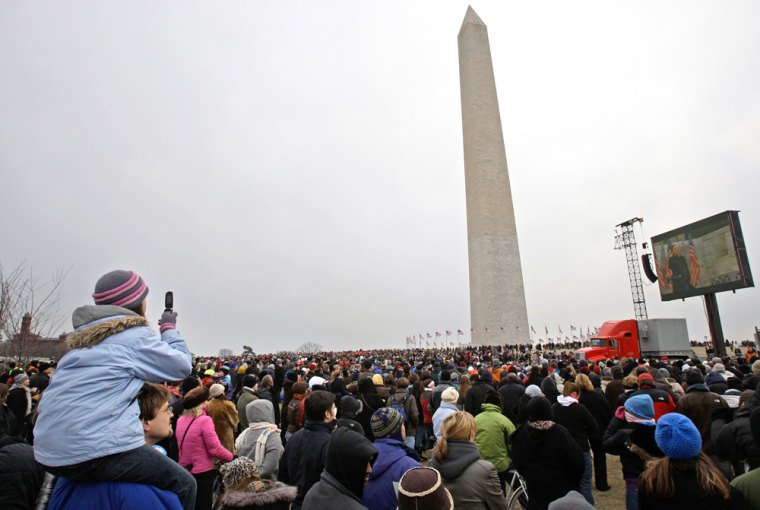 Barack Obama had exhorted Americans to make the Martin Luther King Jr. Day a time of national service, and legions took him up on it.
At RFK Stadium, one of many service sites in the city, thousands of volunteers in a heated tent stuffed care packages for the troops abroad with sunblock, playing cards, energy bars and other items. Massachusetts Gov. Deval Patrick, who was among the volunteers, marveled at the feel-good spirit of the day.
"I was stopped at an intersection and somebody rolled down their window and said 'happy MLK day," he said. "There's so much optimism."
Obama and his family and other dignitaries turned up at volunteer sites, too, Joe Biden strapping on a Joe-the-builder tool belt at one site.
Melissa Wolter, 24, drove all night Saturday from Terre Haute, Indiana, to be a part of it all. Like thousands of others, she roamed the National Mall soaking up the scene, and there was plenty to see.
"I'm reflecting on ways I can serve, because Dr. King and people like him made it possible for our lives today and for Barack Obama to be able to become president," she said.
Jumbo screens scattered the length of the Mall rebroadcast video from Sunday's "We Are One" concert that featured a galaxy of entertainment's hottest stars. On the West Front of the Capitol, cellist Yo-Yo Ma and violinist Itzhak Perlman rehearsed their number for the inauguration, warmed by a space heater.