/ Source: The Associated Press
Sri Lanka's military opened a "safety zone" Wednesday to enable some 250,000 trapped civilians to cross into government-controlled territory from the diminishing area held by Tamil Tiger rebels in the war-torn north.
The air force dropped leaflets over rebel territory urging civilians in the region to travel to the 14 square-mile safety zone at the edge of rebel territory, from which they would be transported out of the war zone, military spokesman Brig. Udaya Nanayakkara said.
The announcement came as the military pushed ahead with an offensive in the north aimed at defeating the insurgents and ending the country's 25-year-old civil war. The military has captured most of the de facto state run by the rebels and boxed them into a small territory in the northeast.
Human rights groups have raised concerns for the safety of people living in a shrinking territory under siege.
New York-based Human Rights Watch has accused the rebels of preventing people from fleeing, while the Tigers say they are protecting civilians who voluntarily move with them.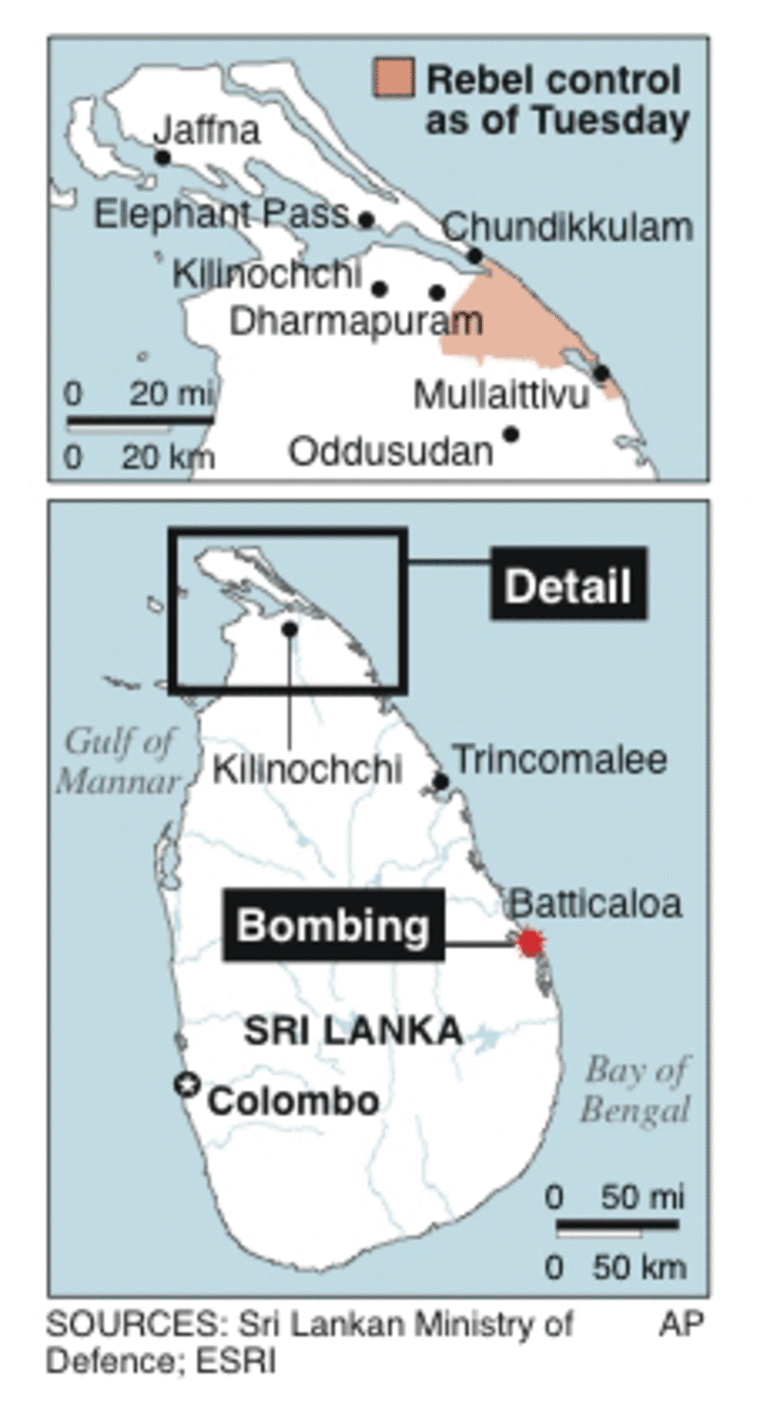 As government troops push to end the war, the rebels have been accused of carrying out a growing number of attacks in the country's east, which was captured from the Tigers in 2007.
On Wednesday, a bomb strapped to a bicycle killed a police officer and a civilian when it exploded outside a police station in eastern Sri Lanka. The rigged bicycle was left near a gas station outside a police post in the eastern city of Batticaloa, Nanayakkara said.
It exploded about 7:30 a.m. as a group of schoolchildren walked by. In addition to the two people killed, the blast injured one police officer, four children and six others.
The rebels were suspected of orchestrating the attack, he said.
Tamil Tiger spokesmen were not available for comment.
The Tamil Tigers have been fighting since 1983 to establish an independent state for minority Tamils, who have suffered decades of marginalization at the hands of successive governments controlled by the Sinhalese majority. More than 70,000 people have been killed in the violence.
More on Sri Lanka