Perhaps the best way to enjoy the sub-zero weather isn't by the fireplace but in your car.
From Alaska's Seward Highway to the Lake George Loop in New York, there are several great places to take a drive through snow-covered landscapes. There's even a road that runs through high desert — Utah's Scenic Byway 12 in Bryce Canyon — that probably doesn't immediately come to mind when considering snow.
Each route combines picturesque landscapes and ample amounts of snow over a course manageable in one day. These roads don't automatically close for the winter, but they still get enough of the white stuff to satisfy.
With an elevation of 9,318 feet and snowfall of more than 200 inches each winter, the village of Silverton, Colo. — surprisingly, for some tourists  —doesn't close during the winter. In fact, it's a time of year the locals make the most of.
"We're kind of nestled in a volcanic caldera, so there's this nice little valley, a flat valley among four mountains, and driving upon Silverton is like this hidden gem in the mountains," says Gina Carmack, vice president of the Silverton Chamber of Commerce. "And the snow is so white and sparkly, we kid around and say it's like Cool Whip, because it's just so pristine. It's not like snow you see in the cities."
Onward and upward
One of the roads on our list, the Payette River Scenic Byway, takes drivers along the Payette River from Boise to McCall, Idaho, gaining more than 2,000 feet in elevation along the way. It gives drivers access to hundreds of miles of ski and snowmobile trails, not to mention stunning views of the Payette River and a local landmark, the 106-year-old Rainbow Bridge.
The route starts out in the sage-covered foothills of Boise (population 198,638), but, by the time it reaches McCall (pop. 2,592), visitors can expect 4 to 6 feet of snow on the ground, says Delta James, a business and community development specialist living in Donnelly, Idaho.
"It follows the river, and it gradually becomes more wooded, so they'll see the snow-covered trees, pine trees, tamaracks, aspen trees, and they'll see the river in wintertime, which is really beautiful," James says. "It'll have snow piled on tops of rocks and things like that, so gradually they'll see more and more snow."
A perfect excuse to make the drive: McCall's annual Winter Festival, famous for its parade, snow sculptures, craft fair and music. The event, to be held Jan. 30-Feb. 8 this year, attracts thousands of visitors.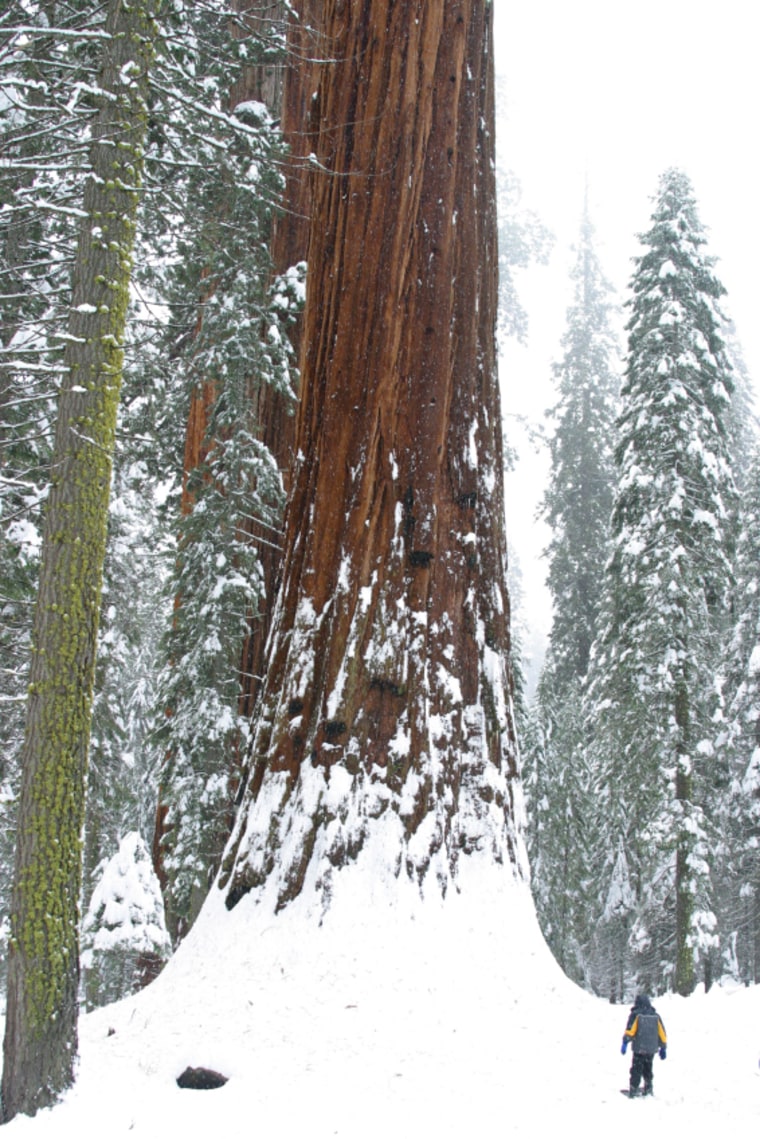 "Seeing giant sequoia trees in the winter with snow is a fantastic experience," says Jody Lyle, a spokeswoman for the National Park Service. "People tend to think of the trees in warm weather and all of that, but seeing them in the quiet snow is great."
The same applies for the Bryce Canyon, Zion and Arches national parks in Utah. While most people picture them as hot desert landscapes complete with jutting monoliths, the upper elevations get more than 100 inches of snow a year — and provide a haven for winter wildlife like elk and eagles.
"You cannot miss the Utah parks," Lyle says. "It's a spectacular landscape to see in the snow."
Prepare for powder
The best way to get the most out of a scenic winter drive is to prepare for it — and that starts by calling ahead to check road conditions and for temporary road closures. Another good thing to know: Most parks have entrance fees, which usually apply per car and last for seven days.
Follow recommendations on whether or not to carry traction devices, and pack a flashlight, small shovel and matches in case a three-hour tour turns into something more taxing. (Mountainous regions and national forests get spotty cellphone service at best.)
"You might want to also keep a blanket or blankets, one for each person in the vehicle with you, or warm clothing — something that you can use if you do get stranded," says Ted Plank, road supervisor for Boulder County in Colorado.
Also be sure to build in time for photos or even stops at popular spots like Ben & Jerry's Homemade Ice Cream factory along Vermont's Route 100 and the Tony Award-winning theater along Massachusetts' Mohawk Trail.
Idaho's James suggests making time to grab lunch at Kit's Riverside Restaurant near Horseshoe Bend and to visit the local hatter, Randy Priest, at his Silver Tip Hat Company in Donnelly (pop. 147).
"You can go in, and he can make you a custom cowboy hat, or you can at least go in and learn about the process," James says.
Wherever you take a snowy drive, the main thing to remember is not to stay confined to the car. Do what the locals do, from watching snow-dusted bison in North Dakota's Theodore Roosevelt National Park to taking the annual polar bear plunge in Seward, Alaska.
"[People] live there because of the scenic quality and the recreational opportunities," James says. "I mean, that's why we live here."
And that's what visitors should take time to experience, if only briefly.