Michael Wasserman saw the first signs that business at his Arizona car dealership was slipping as early as October 2006, long before the country entered a recession and the depths of the nation's housing industry collapse were apparent.
Things have since gotten worse for Hyundai of Tempe, where Wasserman, the sales manager, has worked since 2001. Yet every morning Wasserman wakes up feeling optimistic.
"I always think, 'Tomorrow's going to be the day it breaks,' and it's been like that for two years," Wasserman said on a recent sunny Friday afternoon, sitting inside a conference room as his sales team passed the time outside, waiting for customers.
But that doesn't mean he is without worries. While Wasserman may greet the day feeling optimistic, he's also likely to be jerked awake at 3 a.m., awash with concerns.
"I do wake up in the middle of the night and I do think about, 'Maybe I could have done this better,' " he said. "You second-guess yourself sometimes."
As automobile manufacturers in Detroit and Asia struggle to salvage their businesses, and lawmakers in Washington, D.C., work to bail out the industry, car dealers in the Tempe Autoplex are living on the front lines of the auto industry's devastating change of fortunes.
Here, the natural optimism and entrepreneurship that is essential to the car business is running up hard against the cold reality of today's economy, which has strangled their businesses and led to layoffs and even some dealership closures.
In an industry already known for long hours and high stress, managers say the days have gotten longer, the responsibilities larger and the profit margins thinner. People who have been selling cars their entire lives are now contemplating a future very unlike the one they envisioned during the boom years, when customers were literally lining up to buy cars.
"I'm working 60-70 hours a week and I'm writing a check every month to keep the son of a bitch open. The issue is that I don't know what it's going to take to turn it around," said Dick Ehret, who owns Tempe Lincoln Mercury. "At 55 years old, this isn't exactly what we envisioned."
Like many of the sales managers and car dealers at this auto mall just east of east of Phoenix, Ehret has been in the business for decades. And also like many of his colleagues dotted along South Autoplex Loop and South Test Drive, he's never thought of doing anything else. He bought his latest dealership, Tempe Lincoln Mercury, in April 2006.
"I love the car business. It's what I do. I like the action," Ehret said.  "But, in hindsight, had I known what was going to happen …"
His voice trails off.
To cope with a drop in business, Ehret has had to lay off 20 percent of his staff and his managers have taken a 20 percent pay cut. He also recently told all his staff that he would have to suspend holiday and vacation pay.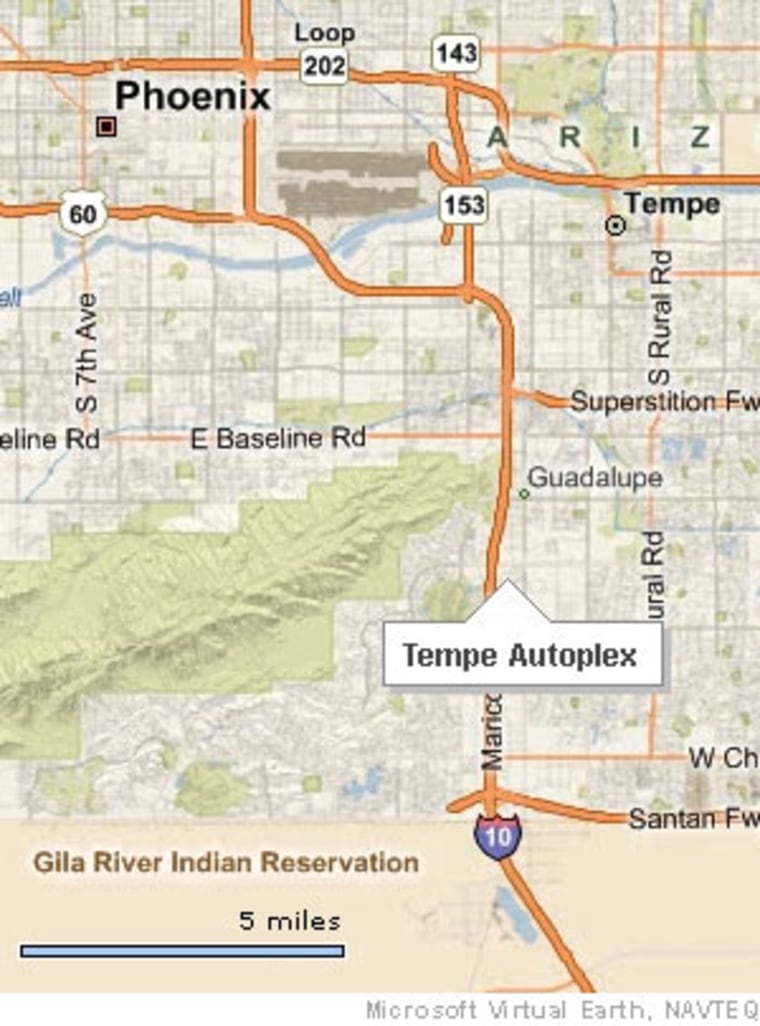 For the first time in years, he's working nights and weekends, all the while trying to keep morale up.
"It's probably an entrepreneur's spirit to be optimistic that things will turn around," Ehret said. "One of the hardest jobs I have is to keep a happy face when I'm dying inside."
Better times don't appear to be on the immediate horizon. At its annual convention this week in New Orleans, the National Automobile Dealers Association forecast a tough 2009 but said conditions should improve for car dealers in 2010. Paul Taylor, the trade group's chief economist, has singled out Arizona as one of the most difficult markets for car dealers, because of the extreme drop in home values.
'It's done a 360'
It wasn't long ago that the mood around the Tempe Autoplex was completely different. The Phoenix metropolitan area has long been a boom town, with its sunny days and cheap land drawing Americans eager to escape cold winters and congested cities. Auto dealers say an already strong car market turned red hot when the housing boom hit a few years ago: Home prices in the area skyrocketed, and homeowners rushed to refinance, pulling out the newfound cash to buy big-ticket items, like cars.
"We had a great advantage because of the housing boom times," said Jay Morgan, sales manager at Tempe Kia. "It sounds funny — we had lines to sell cars."
Even in a fiercely competitive market jam-packed with car dealers — there are six Kia dealers in the metropolitan area alone — life was good.
And then, abruptly, the housing market started to collapse, bringing car sales down with it.  The Kia dealership, which had been used to selling 60 to 70 new cars a month, saw that dwindle to about 30 in September 2007. It's been a tough road ever since.
"It's done a 360. I don't think anyone was prepared for it," Morgan said.
Last summer's soaring gas prices, the rising unemployment rate and tightened requirements for getting car loans have shrunk their customer base even more, especially among younger people. Mike Breyfogle, general manager of Tempe Dodge Chrysler Jeep, said these days he rarely sees a customer under 30 years old, and most are over 45 or 50.
In addition to the financial problems many of their customers are facing, dealers say changes in the auto industry also have made it harder to eke out a profit even on the sales they are making.
The abundance of information customers now have about the wholesale cost of new cars, combined with the intense competition from other dealers, means that many dealers in the Tempe Autoplex find it difficult, if not impossible, to make money on the new car sales side of the business.
"I'm a new car dealer, but I make my money on used cars," said Ehret, the Lincoln Mercury dealer.
The new car business, Breyfogle said, "enables you to be in the used car business."
And yet, Breyfogle said, the beleaguered automakers continue to pressure the dealers to accept more new cars onto their showroom floors, in an effort to unload the glut of inventory and improve their financial fortunes.
But while the used car business can be more profitable, it too has its pitfalls. As the economy weakened, the value of many used cars plummeted, and prices have remained volatile. A key measure of car values, Kelley Blue Book, used to update its prices every month; now, they are updated every week.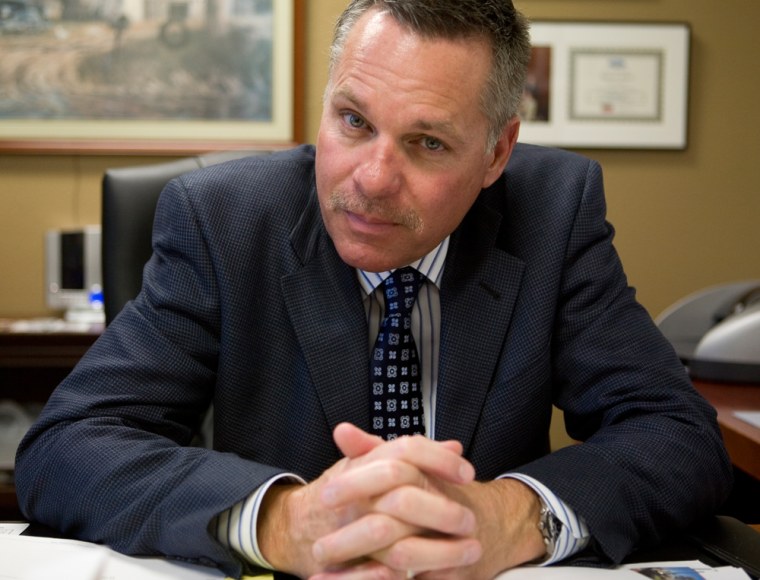 That's made it hard for car dealers to know whether a car they purchase will be worth enough to make a profit on it in a week or two.
Meanwhile, that same drop in used car prices has left some would-be car buyers owing more on their current car loan than the car is worth, and therefore unable to make a new car purchase without taking a significant loss.
The service business also has continued to be lucrative for some dealers, but many still have had to cut jobs and reduce spending across the entire business. Two dealerships along the auto mall, Mitsubishi and Suzuki, have shut down.
The closures reflect a national trend. In 2008, the National Automobile Dealers Association estimates that it saw a net loss of 700 car dealers in the United States. For 2009, it is predicting a net loss of 900 more car dealers.
Brown bag lunches — and dinners
In a business reliant on commissions, the drop in sales has translated into a drop in lifestyle.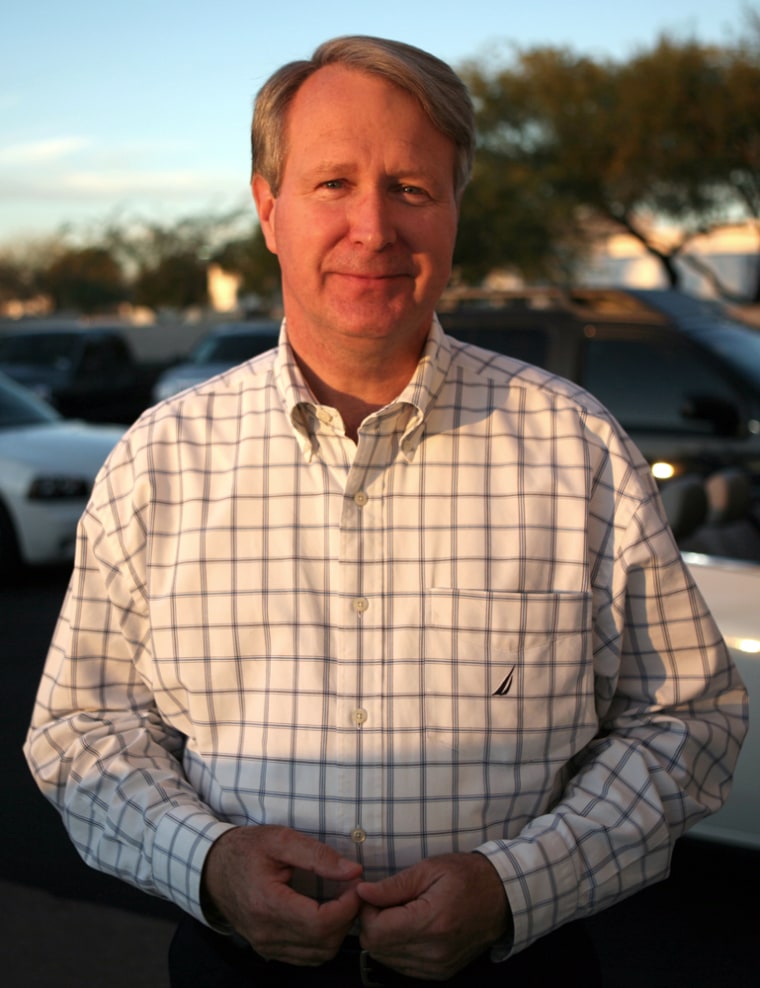 Morgan, who has a new baby and whose wife works in the mortgage business, said he and the other Tempe of Kia employees used to order out for lunch regularly, sometimes spending $15 or $20 a person. Now, he's noticed that there are 14 or 15 small refrigerators at the dealership, including the one in his office. It's a sign that more people are bringing their own lunch — and dinner, since their hours often extend late into the night.
The cutbacks at the dealers are compounding the economic woes already facing restaurants and other businesses around the auto mall, a busy retail corridor anchored by stores including Wal-Mart and Costco. Some storefronts and restaurants sit empty, while those that are still afloat say times have gotten tougher.
"Our lunches have been a lot slower," said Ashley Schroeder, who works as a bartender at Skip & Jan's a few blocks from the auto mall. "We used to (have) every table packed in here, and a lot of people were from the autoplex."
The auto industry once provided the largest source of tax revenue for the city of Tempe, but that's changed. Sales tax revenue from the Tempe Autoplex fell 26.5 percent to $2.87 million for the six months ended Dec. 31, compared to the same period a year earlier. In the same six-month period three years ago, the city earned $4.75 million in sales tax revenue from the auto mall.
Faced with sales tax revenue declines from other industries as well, the city is being forced to cut staff and consider other cost-saving measures.
"It's a huge hit to us, and it's steadily declining so we're obviously very concerned about this," said Cecilia Robles, deputy financial services manager for the city of Tempe.
Still, perhaps because it is their salesman's nature, the car dealers at the Tempe Autoplex can't help but sound a note of optimism.
Wasserman, the sales manager at the Hyundai dealership, said business fell by nearly 50 percent in December from a year earlier, a harsh blow since many car dealers do significant business between Christmas and New Year's.
But he said things started to pick up in January — which is typically slow — and by the middle of the month Wasserman was hopeful that sales would actually improve over January 2008.
"History has to repeat itself," he said. "I think it will come back."
Already, some are preparing for better times. Even as the state of the auto industry soured, Acura of Tempe went ahead last year with plans to build a new, $3.5 million parking structure  to house inventory and give customers a way to shop for cars away from the 115-degree heat of an Arizona summer.
"We know the downturn's not going to last forever," said Richard Cvijanovich, general manager for the Acura of Tempe dealership.
Still, the dealership also has had to make cuts as business has slumped. Cvijanovich said sales of new and used vehicles fell 16 percent in 2008 from 2007.
The dealership has cut staff by 20 percent, and it has combined more duties across the Hyundai and Acura dealerships, which share the same owner. But Cvijanovich has tried not to let customers see the cutbacks. Inside the dealership, they still serve Starbucks coffee and fresh-baked cookies, and every car that comes in for service gets meticulously detailed.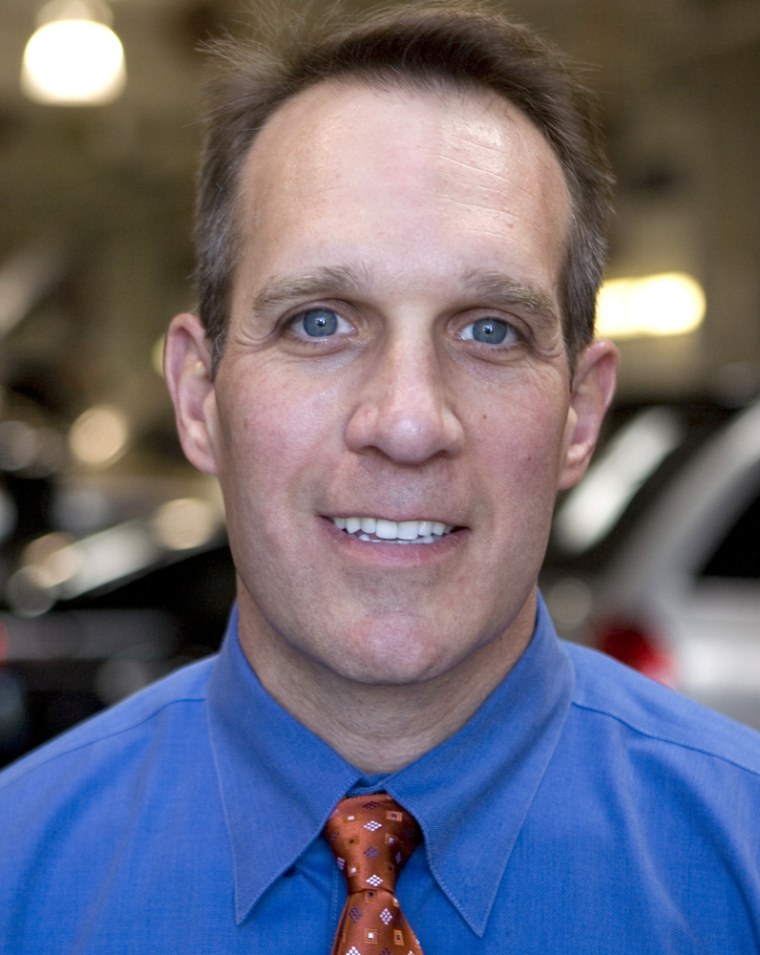 A personal toll
There's a personal toll to the cutbacks. Cvijanovich said he now pitches in more on day-to-day business, occasionally answering customer cold calls and managing inventory. He regularly works from about 7:15 a.m. to 7 p.m., six days a week, eating the meals he brings with him at his desk. Once a month, he takes both Saturday and Sunday off, but he hasn't taken a real vacation in a year and a half.
Recently, Cvijanovich said, his 6-year-old son complained, "Dad, you leave before I get up in the morning and you come home right when I'm going to bed."
Cvijanovich remembered feeling the same way about his own father's long hours at his car dealership in Pennsylvania.
"We repeat the sins of our parents," he said. "What I see happening to my life is the exact same thing that happened to my dad."
Cvijanovich, who holds an automotive engineering degree and an MBA, started selling cars after working for GM for 15 years. He said he went to work for a car dealership after watching men in their 50s, who had spent their careers at the automaker, lose the jobs they expected to retire in. He didn't want that to happen to him.
"I wanted to control my own destiny and make my own luck in life," he said.
Sitting in his office overlooking the showroom floor on a recent Friday morning, he recounted the latest problem he was facing — finding used cars at a price he could profit from — as his BlackBerry buzzed so incessantly that he finally shut it off.
As another long day of work stretched out ahead of him, he was asked whether he had ever thought of leaving the car industry. He looked bewildered.
"I have never considered it," he said.