/ Source: The Associated Press
Congress appears poised to grant a four-month delay in the upcoming shutdown of analog TV broadcasts, though broadcasters still will be allowed to go all-digital earlier if they want.
The House is expected to vote as soon as Wednesday on a bill that would shift the analog TV shutdown to June 12 from Feb. 17. The Senate unanimously approved the idea Monday night, in a victory for the Obama administration and Democratic lawmakers who argue that too many Americans wouldn't be ready to get digital broadcasts by Feb. 17.
The Nielsen Co. estimates that more than 6.5 million U.S. households that rely on analog sets to pick up over-the-air broadcast signals could see their TVs go dark next month if the transition is not postponed. People who subscribe to cable or satellite TV, or have a newer TV with a digital tuner, are not affected.
"Delaying the upcoming DTV switch is the right thing to do," said Senate Commerce Committee Chairman Jay Rockefeller, D-W.Va., author of the bill to push back the deadline. "I firmly believe that our nation is not yet ready to make this transition at this time."
The issue now goes to the House, where Commerce Committee Chairman Henry Waxman, D-Calif., has vowed to work with House leaders to bring Rockefeller's bill up for a floor vote as soon as Wednesday.
Speaking on the House floor late Tuesday, Rick Boucher, D-Va., chairman of the House Commerce Committee's Subcommittee on Telecommunications and the Internet, said Congress must delay the switch because "we simply cannot permit the level of dislocation that would otherwise occur" next month.
Democrats will need the support of at least two-thirds of House members to pass the Senate bill. The bill has run into opposition from some key House Republicans, including Joe Barton, R-Texas, ranking member of the House Commerce Committee.
During a House floor debate Tuesday night, Barton said a delay would be "a solution looking for a problem."
Barton argues that postponing the transition date would confuse consumers and burden the wireless companies and public safety agencies that are waiting to use the airwaves that will be freed by the shutdown of analog TV broadcasts. The shift to entirely digital broadcasts, which are more efficient than analog, has been planned since the 1990s.
Opponents of a delay also worry about the added costs for television stations that have been banking on the Feb. 17 date and wouldn't want to keep broadcasting both analog and digital signals for another four months. But Rockefeller adjusted his bill to let broadcasters go entirely digital sooner than the June deadline if they choose — a provision that has helped win the backing of the National Association of Broadcasters.
President Barack Obama earlier this month called for the transition date to be postponed after the Commerce Department hit a $1.34 billion funding limit for government coupons that consumers may use to help pay for digital TV converter boxes. The boxes, which generally cost between $40 and $80 each and can be purchased without a coupon, translate digital signals back into analog ones for older TVs.
The National Telecommunications and Information Administration, the arm of the Commerce Department administering the program, is now sending out new coupons only as older, unredeemed ones expire and free up more money for the program. The NTIA had nearly 2.6 million coupon requests on a waiting list as of last Wednesday.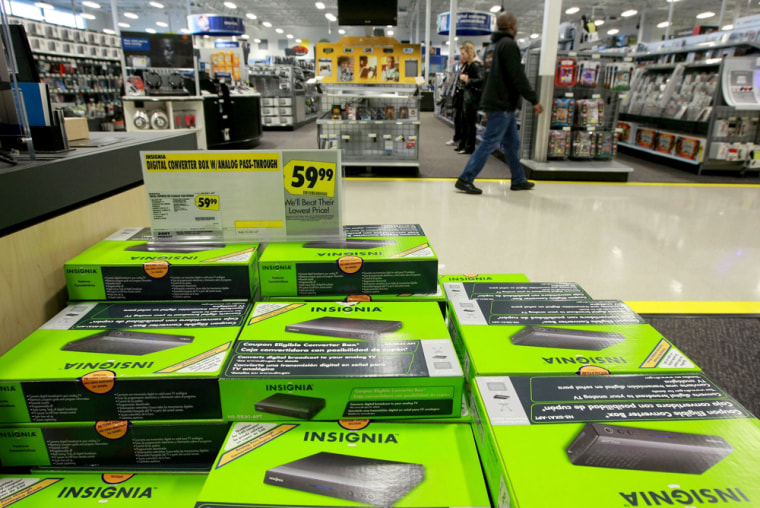 Jonathan Collegio, vice president for the digital television transition for the National Association of Broadcasters, argues that the Nielsen numbers may overstate the number of viewers who are not ready for the digital transition. He noted that the numbers exclude consumers who have already purchased a converter box but not yet installed it, as well as those who have requested coupons but not yet received them.
What's more, consumers who subscribe to cable or satellite TV service or who own a TV with a digital tuner will not lose reception.
Still Gene Kimmelman, vice president for federal policy at Consumers Union, argues that millions of Americans — particularly low-income and elderly viewers — will pay the price because "the government has failed to deliver the converter boxes these people deserve just to keep watching free, over-the-air broadcast signals."
In 2005, Congress required broadcasters to switch from analog to digital signals, which are more efficient, to free up valuable chunks of wireless spectrum to be used for commercial wireless services and interoperable emergency-response networks.
Paula Kerger, president and CEO of the Public Broadcasting Service, estimates that delaying the digital TV transition to June 12 would cost public broadcasters $22 million.
Associated Press writer Andrew Taylor contributed to this report.