/ Source: The Associated Press
Jacquie Jacobs has lived in San Diego all her life, and finally now, she can afford to buy a house there. That's the bright side of plunging home prices.
"I love it here, but for so long it's been out of my reach to buy a home," said Jacobs, a 32-year-old utility inspector.
Not anymore. San Diego home prices fell nearly 26 percent year-over-year in November, according to Standard & Poor's/Case-Shiller housing index released Tuesday. And with mortgage rates near historic lows, Jacobs, who says she has good credit and a small down payment, is taking a stab at homeownership.
Nationally, prices in Case-Shiller's 20-city index tumbled by the sharpest annual rate on record, 18.2 percent, as the deepening housing slump and national recession spared no region. The 10-city index dropped 19.1 percent, tied with October for the biggest drop in its 21-year history.
In fact, homes in the 20-city index have lost a quarter of their value since their peak in July 2006. Phoenix, Las Vegas and San Francisco led the way down in November with annual declines greater than 30 percent.
But the silver lining is that more renters can now finally buy a home for the first time in years. Falling home prices coupled with lower interest rates have shaved hundreds of dollars off monthly mortgage payments, and that is luring buyers back into the market, new data showed.
On Monday, the National Association of Realtors said the median home price fell a record 15 percent in December to $175,400, down from $207,000 a year ago. That led to a surprising jump in sales from November's level.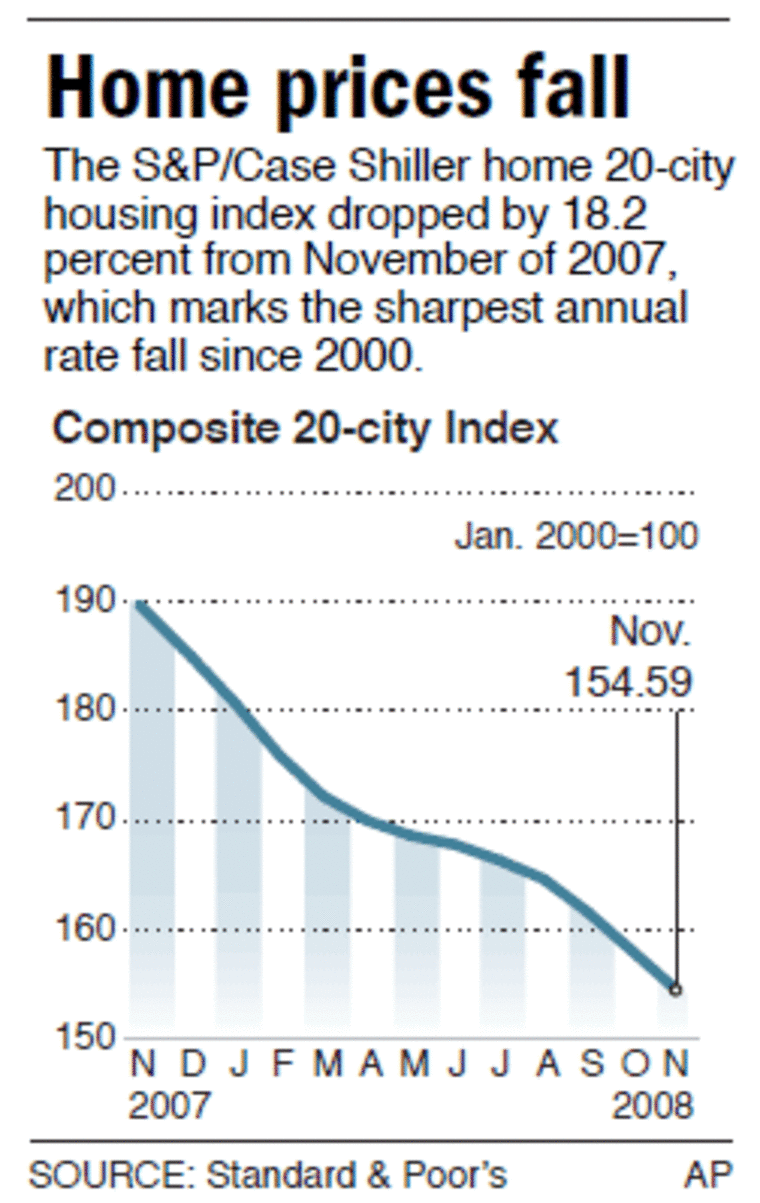 With current interest rates and a 10 percent down payment, anyone who buys a median-priced home now would save $254 a month compared with the median price and interest rate of a year ago.
The Realtors' home affordability index in November showed its best reading since 1993.
"I bet when they incorporate December's numbers, it will show housing is as affordable as it was in 1973," said Patrick Newport, an economist with IHS Global Insight.
Prices in the once-sizzling Las Vegas market are now within reach of homebuyers earning military wages, said Karen Wilson, a real estate agent with Nevada Real Estate Services.
"I have one (home) in escrow and two that recently closed. Single airmen are able to afford homeownership now," she said.
And it looks like buyers will have the upper hand for months to come. The recession and sweeping job losses will continue to put downward pressure on home prices, which could drop another 10 percent to 15 this year, according to IHS Global Insight.
In San Diego, Jacobs thinks she can find a three-bedroom home for about $215,000.
"I'm looking at about $1,100 a month for a mortgage payment, insurance and taxes. Right now, I rent a very small studio for $700," she said. "That's a deal."