/ Source: The Associated Press
Sales of new homes plunged to the slowest pace on record last month as the hobbled homebuilding industry posted its worst annual sales results in more than two decades.
The Commerce Department said Thursday that new home sales fell 14.7 percent in December to a seasonally adjusted annual rate of 331,000, from a downwardly revised November figure of 388,000.
"This is an awful report. ... Builders just can't cut back fast enough, so prices remain under downward pressure," Ian Shepherdson, chief U.S. economist for High Frequency Economics, wrote in a research note.
December's sales pace was the lowest on records dating back to 1963. Economists surveyed by Thomson Reuters had expected sales would fall to a rate of 400,000 homes.
For 2008, builders sold 482,000 homes, the weakest results since 1982, when 412,000 homes were sold.
The median price of a new home sold in December was $206,500, a drop of 9.3 percent from a year ago. The median is the point where half the homes sold for more and half for less.
Builders have been forced to slash production during a prolonged and severe slump in housing that has seen sales and prices plummet. December's sales activity was depressed by the worst financial crisis in seven decades, which has made it harder for potential buyers to get mortgage loans.
The inventory of unsold new homes stood at a seasonally adjusted 357,000 in December, down 10 percent from November. But at the current sales pace, it would take a more than a year to exhaust the stock as houses are dumped onto a market already glutted by a tide of foreclosures.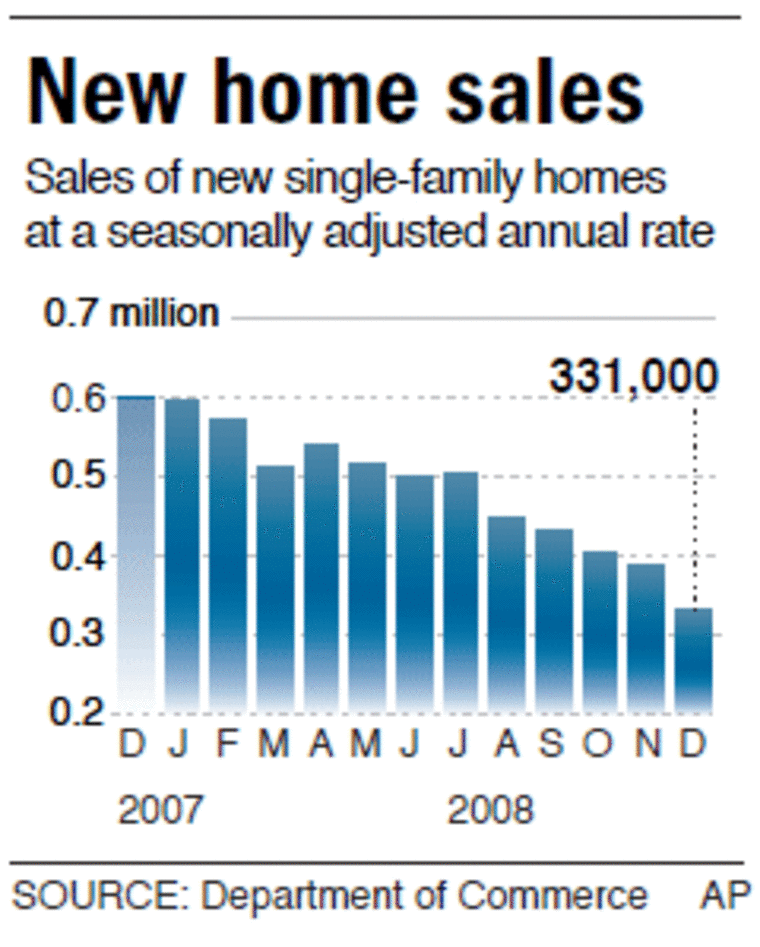 "The inventory of unsold new homes is still too high," wrote Joshua Shapiro, chief U.S. economist at MFR Inc. "Prices need to fall further to stimulate sufficient demand to begin to balance the market."
The sales weakness in December reflected a 28 percent drop in the Northeast and a 20 percent drop in the West. The South and Midwest posted smaller declines of 12 percent and almost 6 percent, respectively.
Earlier this month, a key gauge of homebuilders' confidence sank to a new record low, as the deepening U.S. recession and rising unemployment erode chances for a housing turnaround.
Sales of existing homes, however, posted an unexpected increase last month, as consumers snapped up bargain-basement foreclosures in California and Florida. Sales of existing homes rose 6.5 percent from November's pace, the National Association of Realtors said Monday.