The latest reading on the economy showed that the gross domestic product shrank at a rate of 3.8 percent in the fourth quarter, the worst result since 1982.
The slide wasn't as bad as the nearly 6 percent drop many forecasters had been expecting. But the better-than-expected performance was the result of a build-up of unsold inventories — which means businesses will have to cut production that much further to cope with the rising backlog of unsold goods.
The report was just one more indication that as the recession has spilled over into the new year, it may be picking up speed.
As the government advances historic measures to revive growth, the data point to an economy that is getting worse. It's far from clear the government actions — including a massive stimulus program and major intervention in the banking system — will stem the slide and restart the economy by year-end.
But even if it does, analysts say the recovery — when it comes — will likely be weak and slow.
With home prices continuing to fall and layoffs rising, the sharp pullback in consumer spending is a powerful force driving the economic contraction. That spending pullback will continue for some time to come, according to Stephen Roach, Morgan Stanley's Asia chairman.
"The biggest force on the demand side of the world economy — the multiyear compression of the American consumer — is going to be ongoing," he said. "This trend has only just begun."
The ongoing retrenchment by American consumers makes it unlikely spending will return to pre-recession levels for many years. During the height of the lending boom, consumer spending surged to roughly 71 percent of gross domestic product — up from just 66 percent in 1990.
Since much of that spending was based on unsustainable borrowing, the post-recession economy will remain smaller until that shortfall can be made up from other sources of demand. With the rest of the world also in recession, at the moment, it's hard to see where those other sources of demand will come from, analysts say.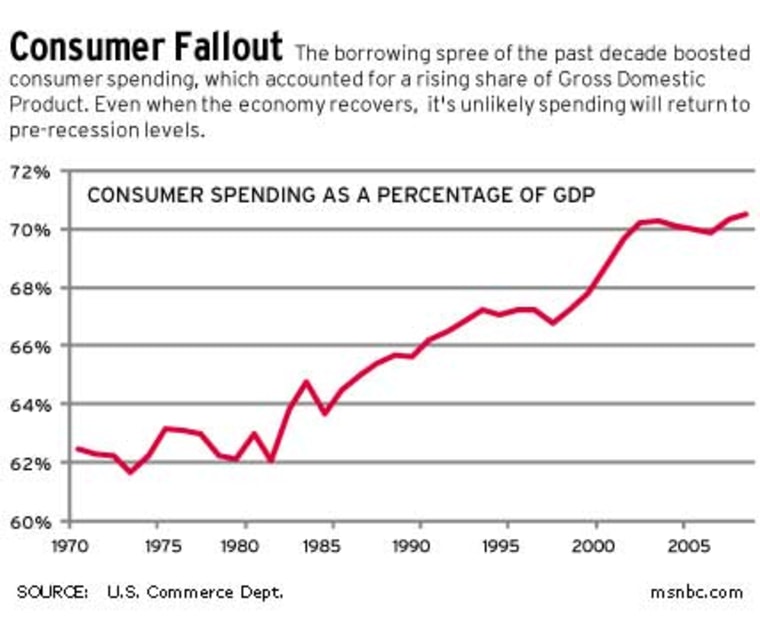 The root cause of the recession — the collapse of the housing industry — shows no signs of letup. Prices fell by a record 18 percent in October 2008, according to the latest Standard & Poor's Case-Shiller index, and analysts say prices could continue falling well into next year. A pickup in existing-home sales in December was due largely to homes being bought at cut-rate prices in foreclosure.
"In fact the downdraft is probably gaining steam," said Michael Englund, chief economist with Action Economics. "We are assuming going into 2009 we may be seeing some bottom, but we certainly are not seeing any sign yet in any of the reported data."
The homebuilding industry — a key driver of the economy — is suffering one of its worst downturns in history. On Thursday, the Commerce Department reported that the pace of new home sales fell to an annual rate of just 331,000. Even after dropping 76 percent from a peak pace of 1.38 million homes sold in July 2005, analysts say they don't see a bottom yet.
"(New home) sales will continue to drop because of falling prices for existing homes, tighter credit and a deteriorating economy," according to Patrick Newport, an economist with IHS Global Insight.
That deteriorating economy has also brought a massive wave of layoffs that also shows no signs of letup. The Labor Department reported Thursday that a record 4.85 million people were collecting regular unemployment benefits in the latest week. That doesn't include about 1.7 million people getting benefits through an extension passed last summer; that puts the total number of people on unemployment closer to 6.5 million. Millions more are working reduced hours or have exhausted jobless benefits.
All this has brought a sharp pullback in consumer spending — the lifeblood of the U.S. economy. To make matter worse, it appears that businesses are also cutting spending. Orders from the private sector for durable goods — from delivery vans to office computers — fell 5 percent in December. The fourth-quarter GDP report showed a 28 percent drop in business spending on equipment.
Until recently, the combination of a weak dollar and strong demand from overseas provided a big boost for exports, helping to blunt the falloff in consumer spending. But the recession has now gone global; U.S. exports fell by 20 percent in the last three months of 2008.
So the U.S. government has become the consumer of last resort. Congress and the White House spent this week scrambling to enact an $819 billion package of tax cuts and government spending on everything from repairing crumbling roads and bridges to aid to cash-strapped states facing jobs cuts if they don't get help soon.
But pouring $800 billion into an economy will have only a limited impact without a healthy banking system. That has prompted the White House to ready a new plan to shore up banks battered by losses related to "toxic assets" backed by real estate and consumer loans. The latest proposal — setting up a giant, government-run "bad bank" to buy up these assets still faces the thorny question that stymied the original $700 billion Troubled Asset Relief Program: How do you decide how much the government should pay for assets that no one wants?
Despite general agreement that these investments will be worth something when the economic and credit markets recover, no one wants to buy them today, so there is no market price. The hope is that taking these bad assets off the banking industry's books will spur more lending.
But the plan comes with two big risks. If the government pays too much, history will eventually record that taxpayer dollars were squandered in the biggest boondoggle ever. If the government pays too little, that price becomes a hard "market price" — which banks are required to use when they "mark to market" the value of these assets. That could bring a huge wave of writedowns that forces much of the banking industry into insolvency.
"We have consistently been wrong in valuing these assets," said Joseph Stiglitz, a Nobel-winning Columbia University economist. "The private sector won't touch them with a 10-foot pole. If we had listened to these guys a few months ago and taken the assets off of their books then, we would not have had the massive losses that we're seeing in the banks' books today."
Some economists say these two measures won't work without a third critical component: government intervention in the housing market to stop the ongoing wave of foreclosures. Each new home lost puts further downward pressure on prices and puts a bigger damper on consumer spending.
Rep. Barney Frank, D-Mass., head of the House Financial Services Committee, has proposed devoting as much as $100 billion of the remaining TARP funds to slow foreclosures.
The hope is that with the banking system on a better footing and hundreds of billions of fresh government spending, the economy will begin to right itself in the second half of the year.
But even if it works, the plan likely won't restart private-sector hiring until well into next year — typical of the "jobless recoveries" that have followed the last two recessions. Even after economic indicators begin turning upward again, business managers want to make sure the recovery is sustainable before bringing workers back on their payrolls.