Looking back, many Americans may remember January 2009 as the month when the recession really hit home.
In the past few weeks Americans have been inundated with a seemingly daily drumbeat of massive layoff announcements, giving workers in virtually every industry reason to worry about their job security if they are not already among the millions of unemployed.
The past week alone has seen layoff announcements in the thousands from Boeing, Starbucks, Eastman Kodak, Pfizer, Sprint Nextel and others. The alarming spate of layoffs, announced as companies report generally weak earnings from the fourth quarter, comes as the country enters its second year in recession, with no end in sight.
On Friday, the Commerce Department reported that the economy shrank at a 3.8 percent pace during the last three months of 2008, the worst showing since 1982.
Even as Americans have ingested months of bad economic news since the nation's financial system went into full meltdown in September, for many the easiest piece of news to grasp — and the scariest to contemplate — is the idea that you or someone in your family may lose a job.
"It's shocking when you hear these huge numbers come (at) you, day after day," said Marisa Di Natale, senior economist with Moody's Economy.com.
Perhaps most chilling, the job cuts announced this month have extended into well-known brands that, not long ago, seemed well-insulated against recessions, or perhaps even poised to help turn the economy around.
"It's really endemic of how deep this is, and how there's no sector that's escaping this now," Di Natale added.
Microsoft announced its first mass layoff ever last week, with plans to cut up to 5,000 jobs,  and Starbucks said it would cut thousands more jobs and close more stores as its coffee sales continue to slip.
(Msnbc.com is a joint venture of Microsoft and NBC Universal.)
Big-name manufacturers, including Boeing and Caterpillar, also have announced thousands of job cuts in January. On Friday, Caterpillar said it would lay off an additional 2,110 employees, besides the approximately 20,000 layoffs it announced earlier this week.
Discount retailer Target also said it would trim its workforce. Home Depot, Corning, GM and Ford are among other corporate titans that have begun doling out pink slips en masse this month.
In some cases, the numbers seem almost too big to contemplate. Circuit City said Jan. 16 that a whopping 34,000 jobs would be lost because the company is going out of business.
"It seems like the breadth of the layoffs has been extraordinary," said John Challenger, chief executive of the outplacement firm Challenger, Gray and Christmas.
Challenger, who has kept a close eye on layoff figures for years, said January often is a month when companies announce heavy job cuts. Still, even he has been surprised by the pace of layoff announcements.
"What seems different right now — new — is that it's ubiquitous," he said.
Adding to the worries, the deep job cuts come as millions of Americans are already looking for jobs, especially in hard-hit fields like construction, the automobile industry and retail. The number of people receiving unemployment benefits reached an all-time high for the week ended Jan. 17, with a total of 4.78 million people continuing to claim government unemployment payments.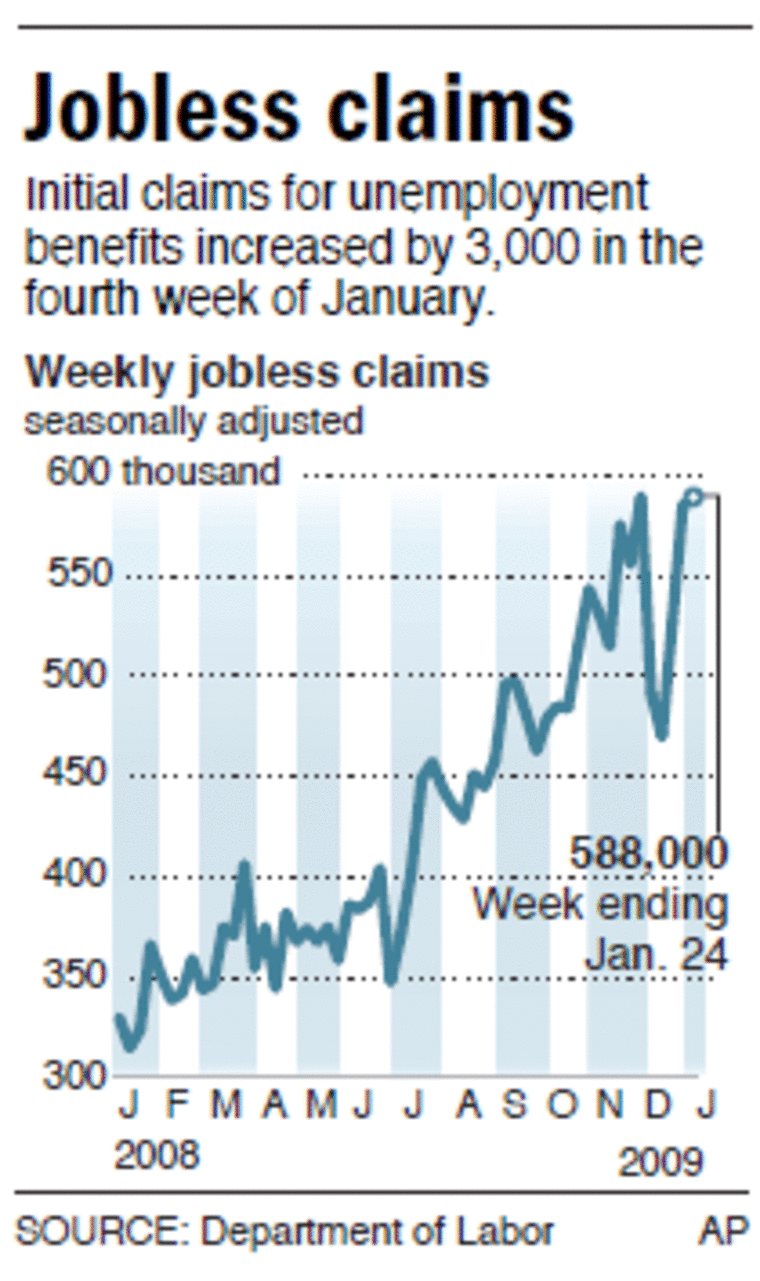 The nation's unemployment rate hit 7.2 percent in December, and some economists predict it could hit 9 percent this year. That's a remarkable increase over just one year ago, when the unemployment rate stood at 4.9 percent.
"It's going to be unlike any other time that most of us have lived through, unfortunately," Di Natale said.
For many companies, the job cut announcements have coincided with the release of disappointing earnings for the last three months of 2008.
Between October and December, the global economy cooled and retailers grappled with one of the weakest holiday retail periods in recent memory. That, in turn, has put pressure on executives to cut jobs in order to shore up their finances and reassure shareholders.
Given the weakening economy, and the growing signs this could be the worst recession in decades, some economists say the job cuts are an expected, if unfortunate, occurrence.
"The only surprise has really been that it didn't happen earlier," said Mike Montgomery, an economist with IHS Global Insight who studies U.S. macroeconomics. 
The question now is how long the job cuts will continue. Montgomery thinks the unemployment rate could reach 9.25 percent before leveling out. But even if, as he is predicting, the U.S. economy starts a weak rebound in the latter half of this year, Montgomery warns that some sectors may still continue to see a difficult job market.
"Even if and when the economy turns around, the jobs picture isn't going to all of a sudden get rosy," Montgomery said.
More on |