/ Source: The Associated Press
Before the unspeakable horror that struck the tan stucco house on McFarland Avenue, the blue-collar folks who labor and live in the community called Wilmington had suffered their fair share — not unlike other Americans.
Homes in foreclosure. Refinery workers mulling a strike. Cutbacks at the nearby Port of Los Angeles, where some longshoremen haven't found employment in months. A drive past the taquerias and body shops, past a beauty parlor tagged with graffiti, finds a man pushing a shopping cart, stopping to dig through a stranger's trash can.
The people of Wilmington know what it means to feel fed up and stretched thin, to survive on one income or none at all, to struggle to afford basics and leave a grocery store "still feeling miserable," as one man said.
Perhaps this explains why, when tragedy came to their community, that street and that house, they responded with outrage, anguish and grief. Whether or not the slaughter on McFarland Avenue can be truly blamed on America's economic crisis, Ervin Lupoe's neighbors felt a kinship with a man who claimed that desperate times had driven him to commit the ultimate evil.
The story spread quickly across California and beyond: A man, fired from his job, shot and killed his wife, 8-year-old daughter and two sets of twins, 2-year-old boys and 5-year-old girls, before shooting himself.
Both Lupoe, 40, and his wife, Ana, 38, had been fired recently from their jobs as hospital technicians at Kaiser Permanente Medical Center West Los Angeles. Police say they had lied about their income to try to get cheaper child care.
Other financial pressures mounting
Lupoe also owed the Internal Revenue Service at least $15,000 and a check to the agency had bounced; he was a month behind on his mortgage and owed $2,500, a late fee, plus thousands more on a home equity line of credit.
In the face of all of this, Lupoe took his children out of school, packed his SUV with snow chains and winter clothing and appeared ready to leave California for his brother-in-law's home in Garden City, Kan.
Instead, he faxed a rambling letter to a local TV news station Tuesday morning describing his "tragic story" and claiming a hospital administrator told him he "should not even had bothered to come to work" and "should have blown (his) brains out." That same morning, he called his brother-in-law, investigators said, and informed him he had killed his family.
The twin boys, Benjamin and Christian, were discovered by police in an upstairs bedroom beside their mother. The twin girls, Jaszmin and Jassely, and their big sister Brittney lay on a mattress pad in another room next to their lifeless father.
'Perils and dangers'
As word got out and distraught neighbors descended on the scene, Los Angeles Mayor Antonio Villaraigosa stood at a press conference and reminded his constituents that help is available in these economic hard times. The crime, he said, should serve "as a warning and a lesson to all of us about the perils and dangers of this current situation."
Then he provided phone numbers for employment help centers in one breath, mental health professionals in the next.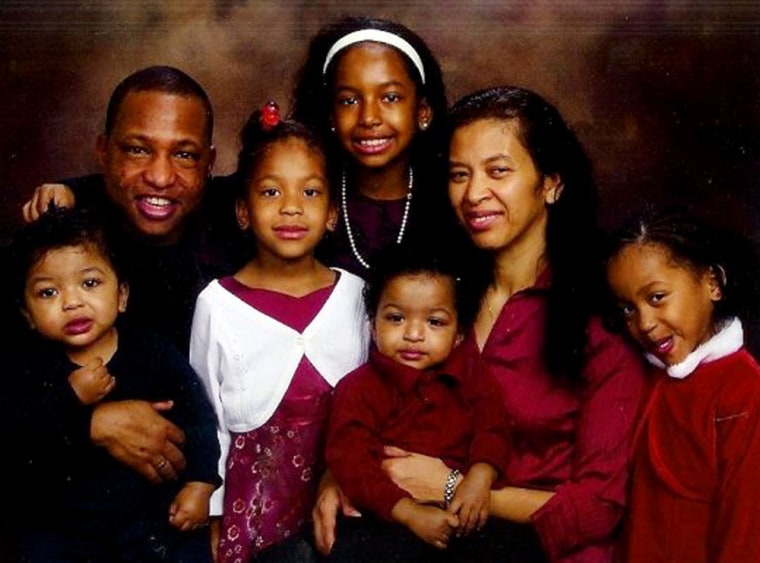 Ohio Congressman Dennis Kucinich put it far more bluntly, dispatching a statement urging passage of the latest economic stimulus plan. The headline: "This Economy is Literally Killing People." It cited the Lupoe murder-suicide and other tragedies, including an elderly man who froze to death in his Michigan home because he couldn't pay his electric bill.
"Times are hard," said Rick Albis, a refinery operator in Wilmington.
Albis is helping union workers battle ConocoPhillips for better wages, and when he first heard about the carnage on McFarland Avenue, he feared that one of his co-workers had pulled the trigger. "Everybody is feeling the squeeze," he said.
When Robert Banuelos lost steady employment as a furniture mover, he moved back in with his mother, one street over from McFarland Avenue. He rode his bike to buy a prayer candle to place in front of the Lupoe house.
"If you're single, you can take care of yourself," he said. "But you've got a family ... and a wife? Going to the market, you're struggling just to buy the necessities. You have to say, 'OK, I can't buy that; I can buy this.' And by the time you walk out of the store, you're still feeling miserable."
Depression sets in
At the makeshift memorial in front of the Lupoe's home, next to the candles and the pictures of Jesus, the stuffed bears and babydolls, hangs an anonymous commentary: "Shame on Kaiser Permanente," it begins, and it describes Lupoe's act as "the ultimate sacrifice" for a family that wanted to say "enough is enough."
But is it accurate, or even responsible, to suggest that anyone or anything other than the perpetrator is somehow to blame for what is, in the end, a ghastly crime? To turn the act into a statement on society as a whole?
Louis Schlesinger, professor of forensic psychology at New York's John Jay College of Criminal Justice, calls these murder-suicides "familicides," and says they are extremely rare.
He stresses that the economy is not the ultimate cause of these crimes.
The people who commit them are "not angry; they're despondent. They're depressed. They can see no other alternative than to do this. (They) want to spare the victims the humiliation and emotion of living in this horrible world."
And for those left behind, something like the economy can become an easy scapegoat, Schlesinger said, because it gives meaning to something otherwise incomprehensible.
"When someone loses control like that, it is very, very unsettling to the average person, because many people think, 'Could I lose control as well?'" he said. In the Wilmington case, "If it came out that the guy was mentally ill, just released from the hospital and a drug addict, everybody would immediately calm down. But the fact that he seemed so normal with such a perfect family life, this is very unsettling to people."
To those who lived alongside them, the Lupoes did seem like everyone else: A family smiling brightly in one studio portrait, Brittney wearing a white headband and a strand of white beads, Mom and Dad each holding one of their youngest twins, boys with doe eyes, chubby cheeks and sweet smiles.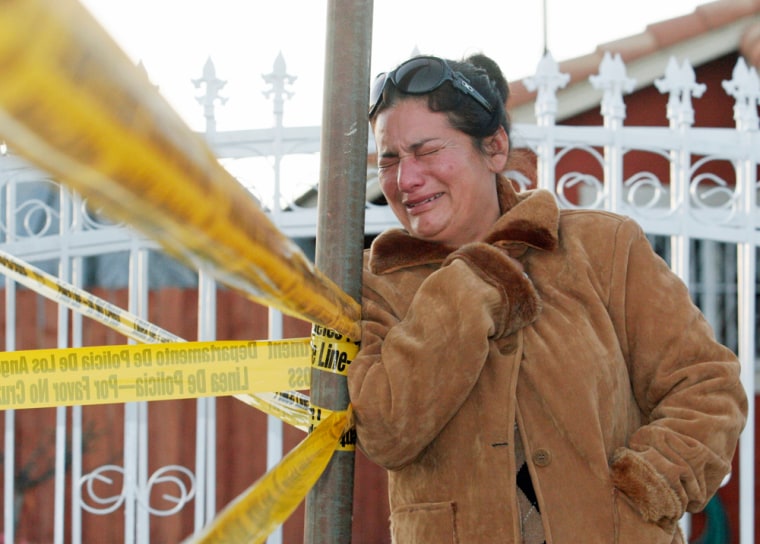 They were friendly enough neighbors. They waved and, a few weeks back, the entire family attended another child's eighth birthday party. But few on McFarland Avenue seemed to really know the family. Like so many others these days, the Lupoes kept their private lives private.
"A lot of people, because of their pride, they don't say anything," said Charlene Telles, who lives just down the block and visited the memorial this week with her niece, Zoe, a little girl the same age as 8-year-old Brittney who left a handwritten note on the sidewalk, tucked under a teddy bear in a flowered dress.
"You can paint a pretty picture," said Telles, "but you don't know what's going on behind it."
Taking care of others
The night the bodies were found, some 200 people crammed into the Holy Family Catholic Church hall to learn more about the crime, but also how they might get help if necessary.
The next day, a Los Angeles councilwoman sent a representative to a Wilmington Neighborhood Council meeting to distribute handouts with contacts for a "Worksource Investment Board" and "Center on Foreclosure Assistance" — and for suicide prevention.
Residents speak of coming out of the shadows and talking to each other more, watching for signs, doing what they can to help one another get by and go on.
"We've got to recreate this country neighborhood by neighborhood, the way it used to be where neighbors really knew their neighbors and really looked out for their neighbors. You dropped your kids off at school and you talked to other parents dropping their kids off," said city Councilwoman Janice Hahn, who represents Wilmington.
"We've got to take care of each other," she said. "I sense that already this community wants to come together and figure out how to come through this together."
Uplifted in prayer
The day after the tragedy came to light, many of them did just that. Shortly before sunset, the people began flocking to the house with the charming wood placard still out front that reads, "The Lupoe's Pad." As day moved to night, more and more folks arrived, until they spilled from the sidewalk onto the street.
They stood before an expanding memorial. A new poster had been hung that said, "May God Bless Their Little Souls." The names of the Lupoe children were written in marker, surrounded by five little hearts, with tears falling from each one.
Then the crowd began to recite the rosary, their voices cutting the cold night air in unison as they beseeched over and over again: "Ore por ellos. Ore por ellos. Ore por ellos."
Pray for them, they said. Pray for them.