/ Source: The Associated Press
A gloomy pall caps the valley as the lift rattles at the bottom of the mountain. Slowly, it passes into the clouds, a frosty mist hitting passengers in the face as an eerie yellow light envelops the chair.
The first glint of blue streams through the trees like sunlit daggers, giving way to a brilliantly cloudless sky that forces a squint, even through sunglasses. Once the eyes adjust, a splendor is revealed: massive, jagged peaks looming above, hundreds more on the horizon, all draped in a heavy blanket of snow.
Spectacular views, oceans of downy powder, unequaled variety — it's all part of the allure of the Powder Highway, a collection of authentic rural Canadian ski resorts and one of the last uncovered winter destinations in North America.
"We're sort of the undiscovered part of British Columbia," says Wendy Van Puymbroeck, director of sales and marketing for St. Eugene Mission Resort. "It's really a beautiful area; people will love it once they realize it's here."
More than 50 ski operations
Located in the Kootenay Rockies region in southwest British Columbia, the Powder Highway has one of the world's highest densities of ski operations, with over 50 along the 530-mile loop. There are eight alpine resorts and dozens of backcountry, heli and snowcat ski operators, along with other activities, from snowshoeing to dogsledding to snowmobiling.
A destination for skiers from the Calgary area and Europe for years, the Powder Highway has mostly been an untapped resource for U.S. skiers and boarders. Extreme skiers know about the region — it is the birthplace of heli and cat skiing, after all — but the vacation crowd has stayed away, in part because it wasn't easy to reach.
A new direct flight from Salt Lake City to Cranbrook should change that.
The service, offered by Delta, began Dec. 17 and will run through April 5, with roundtrip fares starting at $278. Instead of a four-hour drive from Calgary, the two-hour flight gives U.S. skiers direct access to the Powder Highway, starting with Kimberley Alpine Resort just up Highway 95A up to Revelstoke Mountain Resort on the loop's northwest corner.
There are negotiations to extend the service to the summer, when visitors can take advantage of outdoor activities like golf (27 championship courses), fishing and kayaking.
"We're really touting ourselves now as fly-in, fly-out, ski-in, ski-out because in western Canada that's unheard of," says Bob Dyrda, manager of Tourism Kimberley. "You might be used to that in a place like Colorado, but here you often have to drive four hours once you fly in. Now, people are going to have access to some pretty wild country."
Funky little hamlets
And truly Canadian.
Unlike bigger resorts filled with high-end art galleries and trendy shops, the towns of the Powder Highway have remained relatively unchanged, funky little hamlets filled with laid-back residents who still use "eh" to punctuate sentences.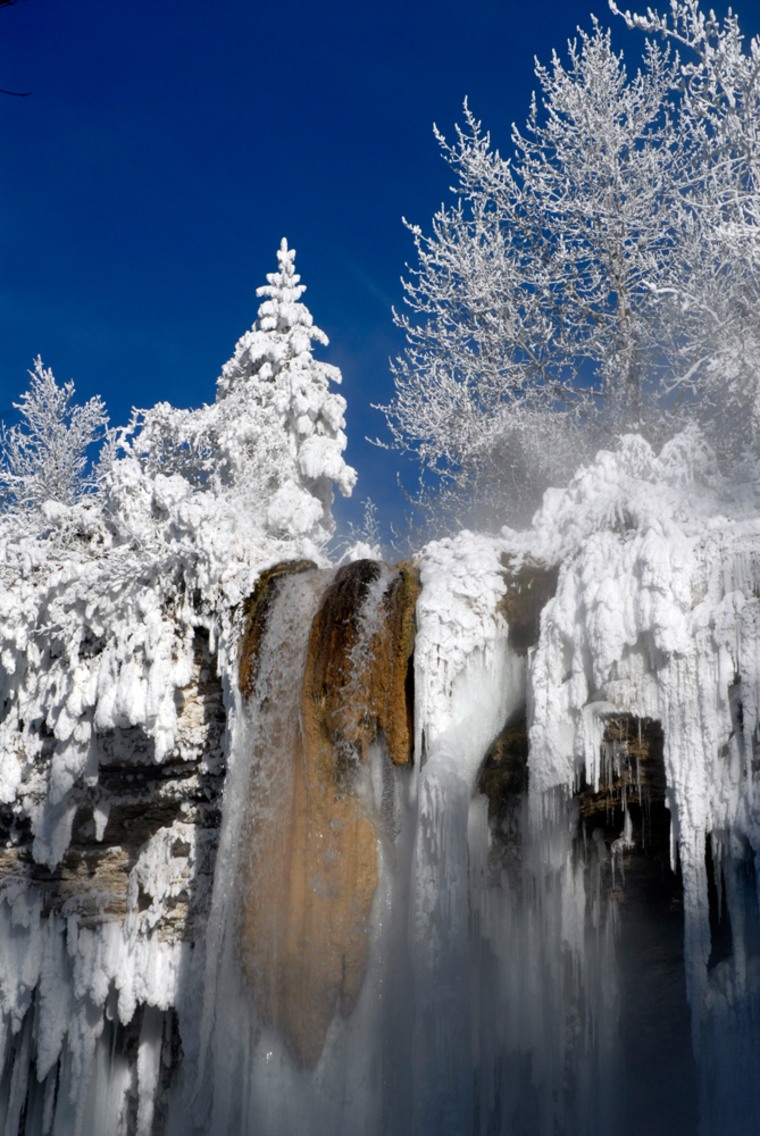 Kimberley, the closest town to Cranbrook, has the look of a Bavarian alpine village with cozy local places like "Our Place" diner on the Platzl. For an authentic Canadian (and really cool) experience, Spirit Trails Adventures offers dinner in an igloo in the deep backcountry north of town.
The main street in Fernie, about an hour east of Cranbrook, still looks as it did during the coal-mining days of the late 1800s and the town is believed to have been cursed by the Ghostrider, which can been seen (in the form of a shadow) on the south face of Mt. Hosmer. Take in a drop-in curling game for a truly Canadian vibe.
Fairmont Hot Springs Resort, roughly an hour north of Kimberley, is at the center of one of the largest collections of natural hot springs in the world, and most don't have that musty sulfur smell. And visitors to Cranbrook can stay at the historic St. Eugene, a one-time mission where children of the Ktunaxa people attended school, and get a firsthand look at Canada's love of hockey by taking in a Kootenay Ice game.
"This is very grass roots, classic Canadian," says Ken Wilder, business manager for Panorama Mountain Village. "It's not a sort of Gucci kind of experience. It's very real."
Champagne powder
The snow's not bad, either.
Unlike the wet, heavy stuff of western B.C., the snow along the Powder Highway is dry and fluffy, creating pristine champagne powder. There's a lot of it — most places average around 30 feet a year — so skiers can often find fresh powder three or four days after a big dump.
There's a wide variety of terrain, too, from the family-oriented groomers of Fairmont to the shoots, open pitches and tree skiing at Fernie. At Panorama, skiers can hit the backcountry from the resort's onsite heli-plex, then catch a couple black-diamond tree runs on the main mountain's Taynton Bowl in the afternoon.
And with so many options in close proximity, skiers and boarders can bounce from one resort to another and come back for 10 straight years with a different itinerary each time.
"We're encouraging people to have another ski opportunity," says Laurie Reed of Kootenay Rockies Tourism. "It's another option, an opportunity to see where some of these great backcountry adventures were born."
Here's a look at the eight alpine resorts along the Powder Highway. Listed price is for adult lift ticket.
Fairmont Hot Springs Resort
www.fairmonthotsprings.com
About 90 minutes north of Cranbrook, off 95-93 near Invermere, adult lift ticket $32 U.S. or $40 Canadian.
Designed mostly for beginners and intermediate skiers, making it a favorite among young families, seniors and newbie snowboarders. Packages with Fairmont Mountain Resort allow visitors to ski all day, then soak in the toasty — and non-smelling — onsite mineral pools.
Fernie Alpine Resort
www.skifernie.com
About an hour east of Cranbrook, lift $58 or CA$75.
A wide variety of terrain with a backcountry feel. Great views of the Lizard Range hovering above and plenty of shoots, open pitches and steep treed runs for the expert skiers. Check out local favorite Griz Bar at the end of the day and look for the Ghostrider on clear days.
Kicking Horse Mountain Resort
www.kickinghorseresort.com
About three hours north of Cranbrook in Golden, lift $54 or CA$67.
The newest resort on the Powder Highway, Kicking Horse has over 4,100 vertical feet from top to bottom, second-highest in Canada. Kicking Horse has an impressive amount of steep skiing with 60 percent of its runs designed for advanced and expert skiers.
Kimberley Alpine Resort
www.skikimberley.com
About 20 minutes north of Cranbrook on Highway 95A, lift $48 or CA$59.
Located in the Purcell Range, Kimberley offers a family atmosphere with plenty of options for all levels of skiers, including some great glade runs on the face. Ski-in, ski-out condos near the lift. Check out the aptly-named Vortex black diamond run for a challenge.
Panorama Mountain Village
www.skipanorama.com
About two hours north of Cranbrook off 93-95 near Invermere, lift $45 or CA$56.
Panorama features a nice mix of groomers on the front side and killer double-blacks in the Extreme Dream Zone and Taynton Bowl on the back. Mountain capacity is 8,000, but village only holds 2,000, meaning lots of wide-open skiing. Has its own onsite heli-plex with about 120 different landing spots.
Red Mountain Resort
www.redresort.com
About three hours west of Cranbrook in Rossland, lift $48 or CA$59.
Rated among North America's top expert ski resorts, Red Mountain is filled with steeps, trees and has a 30-acre terrain park. Red has 360-degree fall lines and beginners can ski for what feels like days by taking Silver Sheep to Rino's Run along the backside.
Revelstoke Mountain Resort
www.revelstokemountainresort.com
About 4½ hours from Cranbrook, NW corner of Powder Highway, lift $57 or CA$71.
"The Stoke" lives up to its name by offering plenty of steep runs, with just 10 percent of its trails designed for beginners. It claims to have North America's highest vertical at over 5,200 feet from top to bottom and incredibly long runs, including the recently added 3.2-mile Snow Rodeo.
Whitewater Winter Resort
www.skiwhitewater.com
Just under three hours west of Cranbrook, near Nelson, lift $44 or CA$55.
A relatively small mountain with just three chair lifts, Whitewater makes up for it with its deep powder; 45 feet per year. The best stashes are found in the trees and advanced skiers can traverse to Ymir Peak for a challenge. Fresh Tracks Cafe is unlike any mountain cafeteria you've ever tried; they've even got their own cookbook.