/ Source: The Associated Press
FBI agents searched the home of a one-time leading suspect in the 1982 murders of seven people who swallowed tainted Tylenol as part of a review of the unsolved case, a federal official said.
Agents from Boston and Chicago were seen Wednesday removing boxes and a computer from the condominium owned by James W. Lewis, who served more than 12 years in prison for trying to extort $1 million from the painkiller's manufacturers. A storage facility in Cambridge also was searched.
FBI spokesman Tom Simon in Chicago said Wednesday the Boston-area search was related to authorities' decision to review the poisonings case.
No one was ever charged with killing the seven people who took cyanide-laced drugs in the Chicago area 26 years ago, leading to dramatic changes in the way food and medical products are packaged.
The FBI's Chicago office cited "advances in forensic technology" in a Wednesday statement announcing that it, along with Illinois State Police and local departments, was conducting a "complete review of all evidence developed in connection with the 1982 Tylenol murders."
Simon said the FBI issued the statement "to put what is happening in Boston into context."
The review began in part because of publicity and tips that arrived after the 25th anniversary of the deaths in 2007, according to the FBI. It has not resulted in any criminal charges.
"All of these tips have been or will be thoroughly investigated in an effort to solve this crime and bring some measure of closure to the families of the victims," the statement said.
Tainted pills
Commander Kenneth Galinski of the Arlington Heights Police Department in suburban Chicago said Thursday that a department officer was in the Boston area. Three of the victims took the tainted pills in Arlington Heights.
Galinski said he's "cautiously optimistic" investigators have made a breakthrough in the case, but said his department's involvement in the investigation is limited.
Galinski said authorities were holding no one in custody, including Lewis. He declined to comment further.
In a space of three days beginning Sept. 29, 1982, seven people who took cyanide-laced Tylenol in Chicago and four suburbs died. That triggered a national scare, prompting an untold number of people to throw medicine away and stores nationwide to pull Tylenol from their shelves.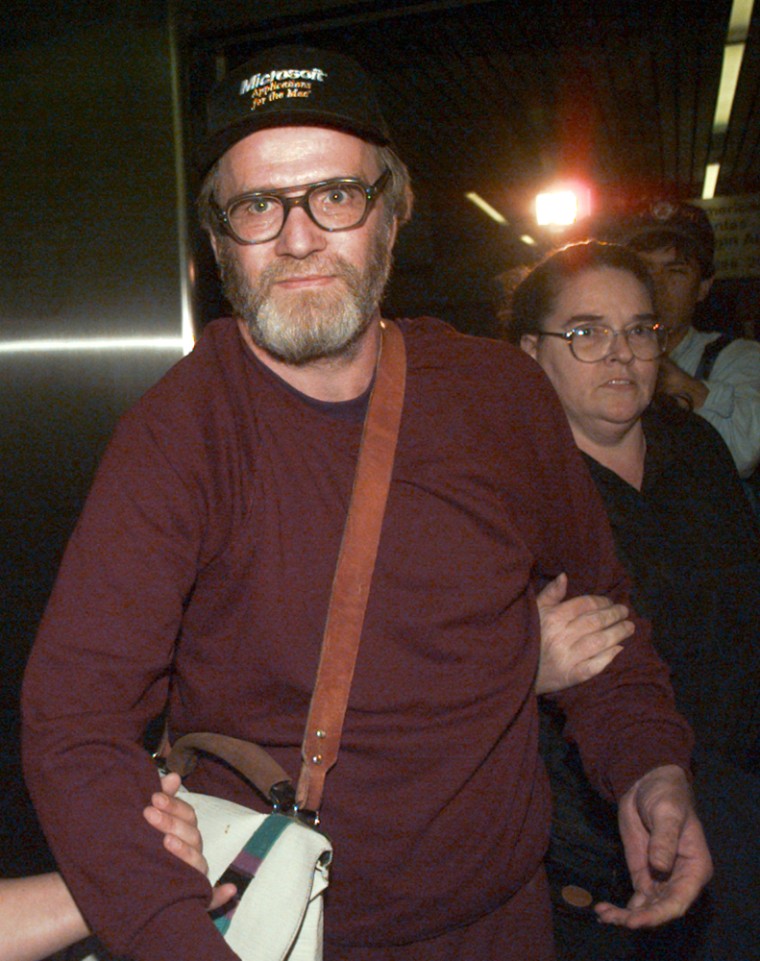 Lewis served more than 12 years in prison for sending an extortion note to Johnson & Johnson demanding $1 million to "stop the killing."
He was arrested in December 1982 after a nationwide manhunt. At the time, Lewis gave investigators a detailed account of how the killer might have operated and described how someone could buy medicine, use a special method to add cyanide to the capsules and return them to store shelves.
Lewis later admitted sending the extortion letter but said he never intended to collect it. He said he wanted to embarrass his wife's former employer by having the money sent to the employer's bank account.
'A cruel monster'
In a 1992 interview with The Associated Press, Lewis explained that the account he gave authorities was simply his way of explaining the killer's actions.
"I was doing like I would have done for a corporate client, making a list of possible scenarios," said Lewis, who maintained his innocence. He called the killer "a heinous, cold-blooded killer, a cruel monster."
Lewis also served two years of a 10-year sentence for tax fraud. In 1978, he was charged in Kansas City with the dismemberment murder of Raymond West, 72, who had hired Lewis as an accountant. The charges were dismissed because West's cause of death was not determined and some evidence had been illegally obtained.
In 2004, Lewis was charged with rape, kidnapping and other offenses for an alleged attack on a woman in Cambridge. He was jailed for three years while awaiting trial, but prosecutors dismissed the charges on the day his trial was scheduled to begin after the victim refused to testify, according to the office of Middlesex District Attorney Gerry Leone.
In 2007, Lewis was interviewed on a local-access television show, "The Cambridge Rag," by host Roger Nicholson. In segments available online, Lewis asserted his innocence in the Tylenol and West cases. He turned aside Nicholson's suggestion that he take a lie-detector test, saying they are unreliable and unscientific.
Curse of 'Tylenol Man'
Lewis moved to the Boston area after getting out of prison in 1995 and is listed as a partner in a Web design and programming company called Cyberlewis. On its Web site, which lists the location searched Wednesday as the company's address, there is a tab labeled "Tylenol" with a written message and audio link in which a voice refers to himself as "Tylenol Man" and complains about "the curse of being labeled the Tylenol Man."
Messages left at phone numbers listed to Lewis' wife, Leanne, and the company were not immediately returned. There was no answer Wednesday night at an accounting business listing Leanne Lewis as director and no immediate response to an e-mail to the business.
The 1982 poisonings led to the introduction of tamperproof packaging that is now standard. Bottles of the pain reliever were triple-sealed and warnings against taking capsules from damaged packages prominently displayed. Johnson & Johnson also sealed the bottle caps to the neck with a tight, plastic band and stretched a tough foil membrane over the bottle's mouth.
In 2007, 25 years after the deaths, survivors of the victims said they remained haunted by what happened and frustrated that nobody was convicted.
"I will never get past this because this guy is out there, living his life, however miserable it might be," said Michelle Rosen, who was 8 when her mother, Mary Reiner, collapsed in front of her after taking Tylenol for post-labor pains.