Friday's dismal report on the rapid loss of jobs in January has added new urgency to the government's efforts to reverse one of the worst economic downturns in memory.
But even if Congress and the White House can agree on a huge program of fresh spending and tax cuts to get the economy going again, it could take years to create enough new jobs to rehire the idle workers and keep up with growth in the labor force, economists say.
The U.S. economy has been shedding about a million jobs every two months, and there are no signs that pace will ease up soon. New figures published Friday morning showed the U.S. economy lost 598,000 jobs in January, the most since the end of 1974, pushing the U.S. unemployment rate up to 7.6 percent.
"There can be no sugar-coating this report," John Ryding, chief economist of RDQ Economics, wrote in a note to clients. "The rate of job losses massively intensified in November and there has been no change in trend since then."
Job losses in the last two months of 2008 were worse than originally reported; revisions in the government data showed businesses cut 577,000 jobs in December and 597,000 in November. That brings to 3.6 million the total number of jobs lost since the recession began in Dec., 2007.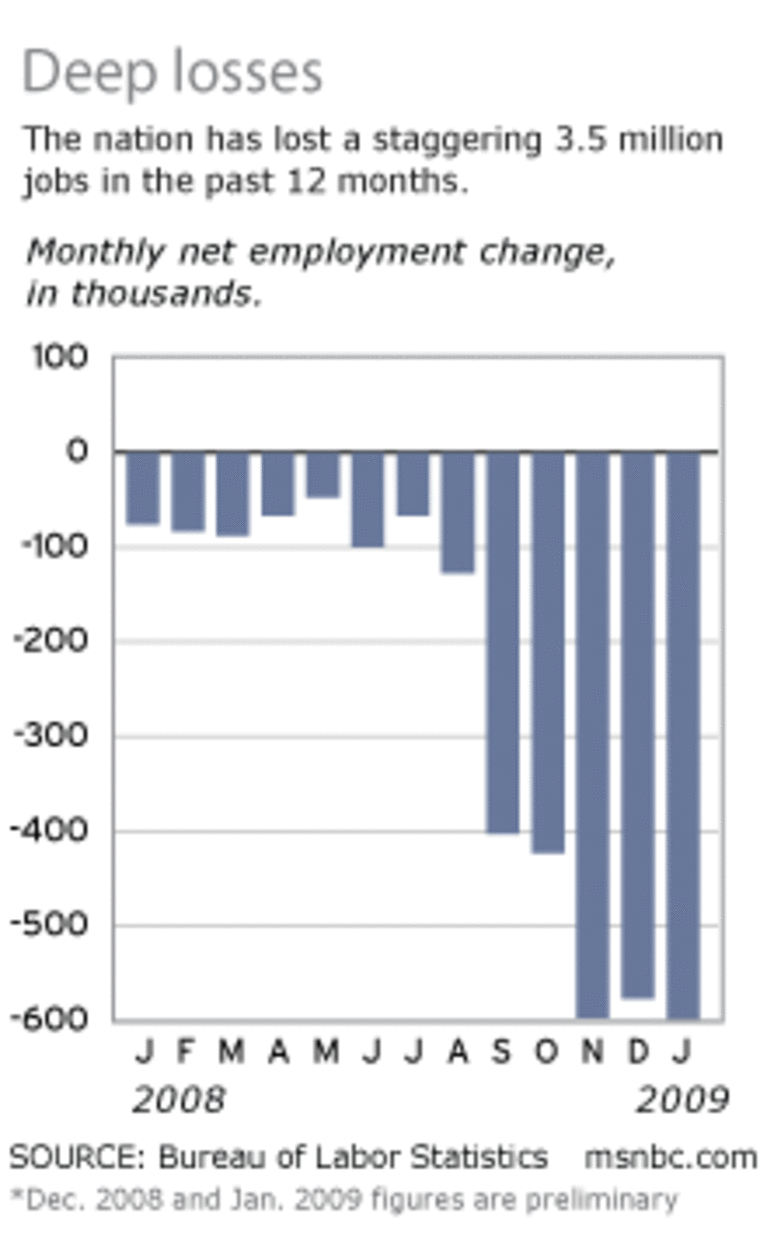 The data provided fresh evidence of the urgency for government action to try to head off the loss of millions more jobs. As President Barack Obama announced a new economic recovery advisory board Friday, he said the jobs data demand action and that it's "inexcusable and irresponsible" for Congress to delay his economic recovery package. He cautioned that recovery won't come quickly.
"No single act can meet the challenges of this moment," said Obama. "This process is just the beginning of a long journey back to progress and prosperity."
The White House is also scrambling to revise a $700 billion financial rescue program that has drawn fire for failing to spur banks to ease tight credit and lend more to businesses and consumers. Treasury Secretary Timothy Geithner is expected to deliver a speech on Monday outlining the new plan.
Evidence began mounting before Friday's report that the pace of layoffs may be picking up speed. The number of workers filing their first claim for jobless benefits last week was much higher than expectations — up by 35,000 to 626,000, the highest level in 26 years.
And it's taking longer for those who lost jobs to find new ones. The average time it took for an unemployed person to find new work — full or part time — rose to 19.8 weeks in January, compared with 17.5 weeks a year ago, according to government data.
Big companies announced over 240,000 layoffs last month, a seven-year high, according to  Challenger, Gray and Christmas, an outplacement firm. As job cuts deepen, they're also widening to industries that had been holding up relatively well.
"We're certainly seeing layoffs coming from all corners of the economy," said John Challenger, the firm's CEO. "That's one of the things that is really unique about what's happening right now. It's not just automotive and banking and housing. We're seeing it in pharmaceuticals and telecom and heavy equipment."
For much of the past two decades, the bulk of job creation came from small businesses, which account for more than half of all private sector jobs. While large-scale layoffs at big companies are getting the biggest headlines, weakness in the job market is now spreading to smaller companies, according to Joel Prakken, chairman of Macroeconomic Advisers, which manages a monthly employment survey conducted by payroll processor ADP.
"Early in this episode, the job loss seemed concentrated in the larger firms," said Prakken. "But in the last several months, they've spread quite aggressively to medium- and small-sized outfits. That leaves no doubt the recession has been spread beyond the epicenter of housing and mortgage-related finance out into the mainstream economy."
Government employment, which has held up relatively well, is also beginning to be hit by the widening budgets gaps faced by state and local governments. Though the economic stimulus package is expected to help states pay the rising cost of Medicaid and jobless benefits, there is little it can do to offset the decline in tax revenues lost to slower consumer spending, lower employment levels and declining property values.
Halfway through their fiscal year budgets, 42 states and Washington, D.C., face deficits of more than $46 billion – on top of $48 billion cuts already made to close budget gaps, according to the Center on Budget and Policy Priorities. Forty-one states are projecting shortfalls of another $88 billion. In all, combined budget gaps for the remainder of the current fiscal year and the next two years are estimated to total more than $350 billion, said the CBPP. Because they can't borrow to make up for those deficits, states have to close shortfalls by cutting spending or raising taxes.  
That means states now have few options left except cutting their payrolls. In California, state agencies were scrambling to implement the first employee furloughs in California history, ordered by Gov. Arnold Schwarzenegger to save money in the face of a massive budget crisis. The furloughs, involving some 90 percent of the state's 238,000 employees, come after months of negotiations to try to solve the state's budget shortfall, which is projected to reach $42 billion by June 2010.
Local governments also face the prospect of job cuts as falling housing values cut deeply into local property taxes, the main source of funding for many municipalities. Until the housing market finds a bottom, those revenue losses will continue to pressure city and town budgets. The increased tax burden on homeowners will also act as a drag on consumer spending, further postponing the economy's recovery.
One bright spot in the economic data this week came with a big gain in productivity for the fourth quarter of 2008. But there was a cloud around that silver lining: The gains were the result of a steep drop in employment and hours worked that outpaced the 3.8 percent drop in economic output. Much of that output represented a build-up in inventories that will create a drag on the economy in the current quarter.
That has left the economy "on the verge of a massive inventory cycle the likes of which has not been seen since the early 1980s," Merrill Lynch economist David Rosenberg wrote in a note to clients. "Businesses are swamped with excess inventories, blindsided as they were by the abruptness of the downturn in both global and domestic demand."
In some ways the job market is even weaker than the official data suggest. Many companies are trimming payroll costs by cutting back hours, a change that may not show up in the  unemployment rate reported by the Labor Department. The so-called "headline" jobless rate also doesn't include workers who have become so discouraged they given up looking for a job; or students who have gone back to school to sit out the recession.
With those groups are taken into account, the level of "underemployment" is approaching 14 percent, according to Jared Bernstein, a top economic adviser to Vice President Joe Biden.
"Over 20 million people are either unemployed or can't find the hours they want," said Bernstein. "That means almost everyone we're talking to knows somebody who is experiencing that downturn firsthand."
All of which adds to the urgency of the stimulus package working its way through Congress, which could be worth more than $900 billion.
Most mainstream economists believe the boost from the stimulus package — along with aggressive moves by the Federal Reserve to get credit flowing again — will stop the economic slide this year. But the growth rates seen earlier this decade, funded by trillions of dollars of unsustainable borrowing, are not expected to return for years.
Part of the reason is that, while the early effects of the stimulus may be felt quickly, it could take several years for the full economic impact to kick in from from longer-term infrastructure spending. Even "shovel-ready" projects like rebuilding roads and bridges will take years to complete.
Meanwhile, the labor force continues to grow about 1.2 percent a year, meaning that there will be that many more job seekers when the recovery kicks in. Without a new source of growth, the recovery won't be able to create enough jobs to go around.
"It may well be 2010 before you make a dent at the unemployment rate — meaning jobs as measured by the household measure — growing fast enough to absorb currently unemployed as well as newly entered workers and those who re-enter the work force," said Stuart Hoffman, chief economist at PNC Financial.
That means that even when economic output and consumer spending begins growing again, the economy will continue to feel like it's in recession for the millions still looking for a job.