/ Source: The Associated Press
Disaster officials found charred bodies on roadsides and in crashed cars — grim signs of the futile attempt to flee raging wildfires fed by 60 mph (100 kph) winds, record heat and drought that caught even fire-savvy Australians by surprise.
As the death toll rose Monday to at least 173 in Australia's worst wildfire disaster, suspicions that some of the 400 blazes were caused by arson led police to declare crime scenes in some of the incinerated towns.
The fires near Melbourne in southeastern Australia destroyed more than 750 homes, left 5,000 people homeless, and burned 850 square miles (2,200 square kilometers) of land, the Victoria Country Fire Service said.
Whole forests were reduced to leafless, charred trunks. Farmland was in ashes.
The scale of the disaster shocked a nation that endures deadly firestorms every few years. Officials said panic and the freight-train speed of the walls of flames probably accounted for the unusually high death toll.
'Quick and ferocious'
"It was very quick and ferocious and took everyone by surprise," said Jack Barber, who with his wife, a neighbor, six cats and a dog sought refuge with five other people on a cricket field surrounded by trees in Kinglake.
"All around us was 100-foot flames ringing the oval, and we ran where the wind wasn't. It was swirling all over the place," he said. "For three hours, we dodged the wind."
Firefighters battled more than a dozen blazes that burned out of control across Victoria state Monday, although conditions were much cooler than Saturday. Forecasters said temperatures would rise later this week, posing a risk of flare-ups.
Blazes have been burning for weeks across several states in southern Australia, common for time of year. But the worst drought in a century in the south had left forests extra dry, and Saturday's temperature was 117 degrees (47 Celsius), the relative humidity was 7 percent, and the wind was gusting to 50 mph (80 kph).
"I cannot fathom in my mind anything more hellish, firewise," said Jim Andrews, senior meteorologist at accuweather.com. He added that Australia's vegetation, such as eucalyptus and gum trees, contain flammable aromatic oils.
He said temperatures in Australia were much higher than in Southern California, where wildfires raged through canyons last year.
Flags at half-staff
Flags across the country flew at half-staff and Parliament suspended its normal sessions to hear emotional condolence speeches by legislators.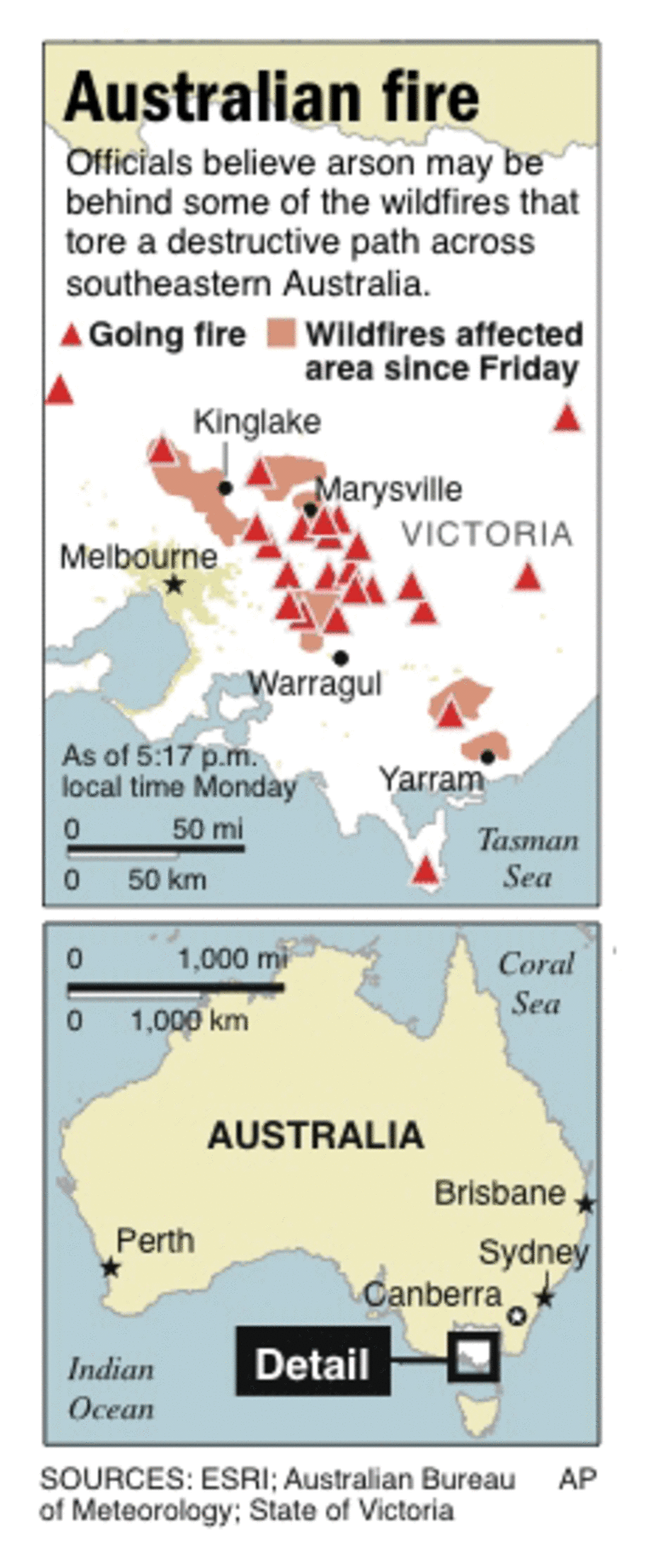 Prime Minister Kevin Rudd was visibly upset during a TV interview and reflected disgust that arsonists may be to blame.
"What do you say about anyone like that?" Rudd said. "There's no words to describe it, other than it's mass murder."
Attorney General Robert McClelland said anyone found to have deliberately set fires could face murder charges.
Victoria Police Commissioner Christine Nixon said investigators had strong suspicions that one of the deadly blazes — known as the Churchill fire after a ruined town — was arson, and it could not be ruled out for others.
Arson is not uncommon in Australian wildfires. Of the estimated 60,000 fires in forests and other vegetation each year, about half are deliberately lit or are suspicious, the government-funded Institute of Criminology said earlier this month.
In New South Wales State on Monday, a 31-year-old man appeared in court charged with arson in connection with a weekend wildfire north of Sydney. No loss of life was reported there, and he faces up to 10 years in prison.
Survivors weep
At relief centers, survivors wept and embraced as they reunited with neighbors and looked for loved ones. An impromptu message board at Whittlesea Community Center displayed yellow sticky notes. "Lisa, call me. We are worried about you," one read. "Rob, Tash, Jorja and Leslie, Where are you? Call mom and dad," read another.
Many survivors said the speed of the fires caught them off guard and even those who had planned to evacuate found themselves forced to outrun flames sooner than expected.
At Kinglake, a body covered by a white sheet lay in a yard where every tree and blade of grass was blackened. The burned-out hulks of four cars were clustered together haphazardly after an apparent collision.
"What we've seen, I think, is that people didn't have enough time, in some cases" Nixon said. "We're finding (bodies) on the side of roads, in cars that crashed."
In one instance, a car was found in a reservoir after the driver apparently steered into the water in desperation, Australian Broadcasting Corp. radio reported.
Police sealed off Maryville, a town destroyed by another fire, and told returning residents and reporters they could not enter because bodies were still in the streets.
Donna Bateman, whose home in Kinglake West burned to the ground with her pets inside, said firefighters barely had a chance.
"Everyone has a fire plan. People prepare for this for months," she said. "But the fire service told me that a fire that usually takes a day to travel had traveled three-quarters of a mile in an hour to my property. Now everything is gone."
Tolls likely to rise
Officials said both the tolls of human life and property would almost certainly rise as they reached deeper into the disaster zone.
Victoria state Premier John Brumby said a commission would be held to examine all aspects of the fires, including warning and evacuation policies.
"I think our policy has served us well in what I call normal conditions. These were unbelievable circumstances," Brumby said on ABC television, adding that the policy of "leave early or stay and defend property" would come under scrutiny.
Former Victorian police ministers Andre Haermeyer and Pat McNamara dismissed forced evacuations as an alternative.
"This fire turned so quickly and with such a force, you wonder what systems, what procedures, could have given people chance to get out," he told the Sydney Morning Herald.
John Handmer, a wildfire safety expert at the Royal Melbourne Institute of Technology, said research had shown that people in the path of a blaze must get out early or stay inside until the worst has past. "Fleeing at the last moment is the worst possible option," he said.
Tales of survival
There were extraordinary tales of survival.
Daryl Hogan of Wandong, 12 miles (19 kilometers) north of Whittlesea, said he jumped into his pool to escape the flames as they roared over his house, leaving it unburned but destroying his neighbor's home.
Mark Strubing said he and a companion were unable to outrace the flames, so they took refuge in a drainage pipe under the road as his property outside Kinglake burned.
"Mate, I've looked at this pipe before, you'd never ever crawl under there. It's full of spiders and all sorts of uglies," he told Nine Network TV news.
He said they rolled around in the water in the pipe to wet their clothing as flames started licking inside their refuge.
"It was a terrible dark place to go, but it felt pretty good at the time because I'd be dead right now if I didn't," he said. "How we didn't burn I don't know. I'm in shock. I've lost everything. Two properties."
Scientists say it is impossible to blame man-made global warming causes for any single event, such as the weekend wildfires. However, Australia's top climate scientists said in a major report two years ago that global warming will make the country more prone to these types of intensive fires, even pinpointing the region now ablaze.
"Heat waves and fires are virtually certain to increase in intensity and frequency" in Australia and New Zealand, the Intergovernmental Panel on Climate Change concluded in 2007. The panel of the world's top climate scientists pointed to the 2003 Canberra that killed four people and destroyed 500 homes as an example of extreme events that are likely to increase.
"An increase in fire danger in Australia is likely to be associated with a reduced interval between fires, increased fire intensity, a decrease in fire extinguishments and faster fire spread," the report said. "In southeast Australia, the frequency of every high and extremely fire danger days is likely to rise by 4-25 percent by 2020 and 15-70 percent by 2050."
The conditions that lead to more fires are worsened by global warming, said Mike MacCracken, scientist at the Climate Institute in Washington.
"Both the rising carbon dioxide concentration and climate change cause conditions to be more favorable to wildfire," MacCracken said. "you get faster build of biomass (grasses and trees), you get more intense drying, longer periods without rain. So you create the conditions that can lead to wildfire."