/ Source: The Associated Press
American student Amanda Knox and the British student she is accused of killing were friendly when they first met as foreign exchange students in Italy, but they then drifted apart, their roommate testified Saturday.
Knox is on trial with her Italian former boyfriend Raffaele Sollecito for the murder and sexual assault of Meredith Kercher, who was found stabbed to death Nov. 2, 2007, in the apartment she shared with Knox and Filomena Romanelli in Perugia.
Romanelli testified for the first time in court Saturday, saying Knox and Kercher had been close initially, in part because they both spoke English.
"They had interests in common, at the beginning they surely had a good relationship, there was no reason not to get along," said Romanelli, who is Italian.
"Along the way, they didn't really go separate ways, but they developed personal interests that they pursued individually," she said.
While Kercher was dedicated to her studies, Knox was someone with "quite a lot of interests," Romanelli said. "She liked music, sports, yoga, languages. Sometimes she had unusual attitudes, like she would start doing yoga while we were speaking, or she would play guitar while we were watching TV."
On the day Kercher's body was found, Romanelli said, she received a call from Knox in which the American said she had found the apartment's main door open and drops of blood in one of the bathrooms.
"She told me that there was something strange in the house," but that she had taken a shower there and was leaving to meet Sollecito, Romanelli said.
Both Knox and Sollecito were in court Saturday and appeared to be listening attentively to Romanelli's testimony.
Prosecutors allege that Kercher was killed during what began as a sex game, with Sollecito holding her by the shoulders from behind while Knox touched her with the point of a knife. They say a third defendant in the case, Ivory Coast national Rudy Hermann Guede, tried to sexually assault Kercher, and then Knox fatally stabbed her in the throat.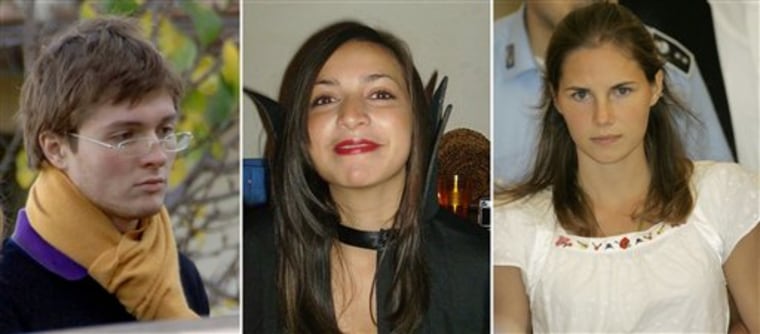 Guede, who had also denied wrongdoing, was convicted last year and sentenced to 30 years in prison.
Sollecito has maintained he was in his own apartment in Perugia and that he doesn't remember if Knox spent part or all of the night of the murder with him. Knox initially told investigators she was in the house when Kercher was killed and covered her ears against the victim's screams. Later, Knox said she wasn't in the house.
Prosecutors say Knox's DNA was found on the handle of a knife that might have been used in the slaying, while Kercher's DNA was found on the blade. The knife was found at Sollecito's house.
Romanelli testified that the knife had not come from the apartment she shared with Knox and Kercher.
After the session, Knox's father, Curt Knox, decried the sensationalism of the case, saying the media had "handled Amanda's character 180 degrees different than how she really is." He nevertheless said he believed she would get a fair trial.
"Things are beginning to point more and more to Amanda's innocence, and that's going to be proven," he told reporters.
The next hearings are scheduled for Feb. 13-14.