/ Source: The Associated Press
John Dingell first entered the House chamber as a 6-year-old, the son of a Michigan congressman who was elected at the dawn of the New Deal era.
Now 82, Dingell will walk into the Capitol on Wednesday as the House's longest-serving member, entering the record books after leading a powerful committee, doggedly investigating government malfeasance and keeping a watchful eye on his home state's auto industry.
Dingell, who succeeded his late father in December 1955 in a Democratic-leaning district outside Detroit, will surpass the late Rep. Jamie Whitten, D-Miss., who served for more than 53 years.
"The length of time is really quite unimportant," Dingell told The Associated Press in an interview. "It's what I have done with that time."
Nicknamed "Big John" for his imposing 6-foot-3 frame and sometimes intimidating manner, Dingell has been a consummate institution in Congress for decades, wielding power over the House Energy and Commerce Committee and issues key to air quality, consumer protection, health care, automakers and energy.
Dingell led the committee from 1981 until 1994, when Republicans captured control of the House, and then for the past two years, until he was ousted by Rep. Henry Waxman, D-Calif., following last November's elections.
His record-setting moment comes as he no longer wields the gavel — he was named "chairman emeritus" by Waxman and will oversee health care legislation — and as Detroit's carmakers struggle to remain solvent. Dingell says he's looking to the future, hoping for passage of a broad expansion of health care, a long-standing desire of the Dingell family since the 1940s.
"I think the times are more serious than any that I've seen since the Depression and I see tremendous concern from everybody," Dingell said.
Dingell has virtually spent his entire life in Congress and become one of its most skillful legislators.
As a House page, he joined his father on the floor when President Franklin D. Roosevelt declared war on Japan following the attack on Pearl Harbor. During college, he supervised elevator operators in the Capitol and has served under 11 presidents since he was elected.
Sen. Robert Byrd, D-W.Va., is the longest-serving senator in history and has a combined 56 years in the House and Senate. The late Sen. Carl Hayden, D-Ariz., holds the record for combined service in Congress at nearly 57 years.
To put Dingell's tenure in perspective, Rep. John Conyers, D-Mich., was a Dingell aide before he was elected to Congress in 1964. When President Barack Obama was born in 1961, Dingell had already spent years learning from congressional heavyweights like Sam Rayburn and John McCormack.
"He grew up watching his father and the people around him understand where power really resides — which is a combination of expertise and a grasp of rules and procedures," said David King, a lecturer in public policy at Harvard University's Kennedy School of Government.
Difficult to typecast, Dingell is an avid hunter and sportsman whose office is decorated with big game trophies. But he also loves classical music and ballet — his first date with his wife, Debbie, a prominent Democratic activist, was a performance of the American Ballet Theater at the Carter Barron Amphitheatre in Washington's Rock Creek Park.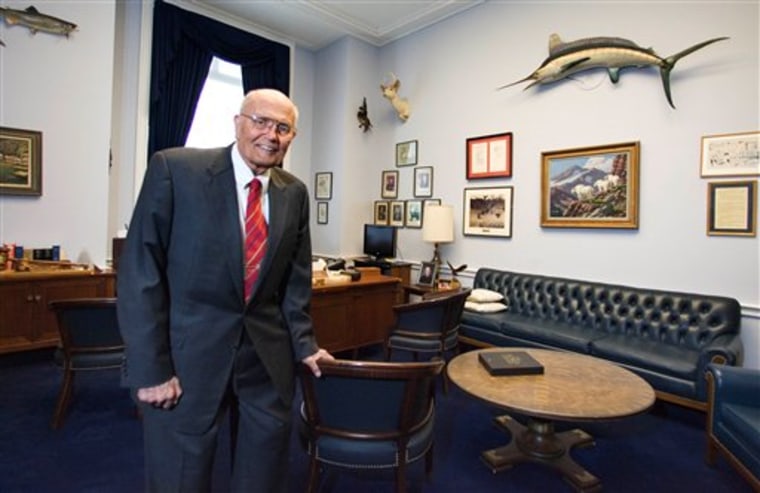 Dingell authored the 1970 National Environmental Policy Act and the 1973 Endangered Species Act, and led the House's passage of the 1990 amendments to the Clean Air Act, which addressed acid rain and urban air pollution. But the he has been long accused by environmental groups of protecting Detroit's car makers from tough emissions requirements.
Dingell said he has tried to strike a balance between protecting the environment and auto industry jobs. "That's life or death for the 800,000 people I serve back home," he said.
The congressman has also compiled a diverse legislative record on issues such as safe drinking water, a ban on dangerous lawn darts marketed as toys, the marketing of prescription drugs and children's health care.
"He taught me how to shoot a rifle — I remember he said shooting a rifle is a lot like legislating," said former Rep. Dennis Eckhart, D-Ohio. "You have to be very, very sure of your target and then when you get your chance, don't miss."
Dingell has been equally vigilant on government oversight. During the 1980s and early 1990s, his committee investigated everything from the safety of the nation's blood supply to $640 toilet seats purchased by the Defense Department. A probe into the improper administration of the Superfund program led to the resignation of EPA Administrator Anne Burford.
"He always followed whatever the facts dictated. Sometimes you don't like what he finds but you know that he did it honestly," said Ken Duberstein, a Dingell friend and former White House chief of staff under President Ronald Reagan.
Dingell said he has not made any decisions about seeking another term in 2010, but listed a long agenda for the next two years. The decision will come down to his constituents back home, "the good Lord, who controls all things, the lovely Deborah who I make few decisions without talking to her and then me. We'll see what we think when the time comes."