/ Source: Forbes Traveler.com
Gazing upon the cliff and glacier-strewn east coast of Canada's Baffin Island, Dr. Garth D. Jackson squints as he locates himself on the tattered map in his hand. He is standing on a cruise ship deck, and the map of Canada's High Arctic — which Jackson, 79, helped research decades ago — flaps in the breeze. His memories of the island before him have faded somewhat over time, like the map's yellowing paper, but there are certain glaring changes to the landscape.
"Some of the glaciers have obviously receded," said Jackson, an intermittent member of the Canadian Geological Survey from 1965 through 1994. "A lot of Baffin Island's valley glaciers are still there, but they don't come as close to the water. And they're not as thick. Rocks poke through the middle of them, and it wasn't like that before."
Jackson retraced some of his decades-old footsteps by chartering an Adventure Canada cruise ship with his family and roughly 90 other passengers. They admired bowhead whales and polar bears from the ship's deck, explored the many fjords of Baffin Island and made stops ashore to hike the tundra, look for wildlife and visit local communities. There are other trips, too, including one that crosses the fabled Northwest Passage and retraces the paths of some of the world's most notable (and ill-fated) explorers.
Many of those storied adventurers would not recognize the terrain as it looks now. Climate change, due mostly to the burning of fossil fuels, is leaving a noticeable footprint on Baffin Island and the surrounding area's fragile ecosystem. Locals find the weather to be increasingly erratic, and many of the glaciers — which are an integral part of animal, plant and human survival in the area — are melting at an unprecedented rate.
For example, some of the Devon Island glaciers, which are west of Baffin Island, are receding at up to almost a mile each year, according to Dr. Martin Sharp, professor of Earth and Atmospheric Sciences at the University of Alberta. And though the glacier reduction is significant here, it's even more extreme to the south, in British Columbia and Alberta, which have the nation's most spectacular ecotourism destinations and, in B.C.'s case, will host the 2010 Winter Olympics.
The mountains obviously aren't going to fall, but the receding glaciers will set off a chain of reactions that could dramatically change the area's landscape and ecosystem. The unique beauty of all of these snow-filled places might not be there in a generation. So now is the time to visit these spectacular locales — to experience first-hand the panoramic views of emerald-tinted lakes and glacier-tipped mountains, and to see the impact that climate warming is having on our planet.
One of the most comfortable and luxurious ways to appreciate Western Canada's spectacular scenery is aboard one of Rocky Mountaineer's trains, which offer huge windows that extend across the cars' ceilings. Riding from Banff or Jasper, in Alberta, to Vancouver, British Columbia, are among the company's most popular trips.
Similarly, driving the Yukon's Top of the World Highway is an amazing way to cross the Arctic Circle's 66th Parallel while in the comfort of a reclining car seat. The trip offers stunning vistas of untouched wilderness that stretch for hundreds of miles.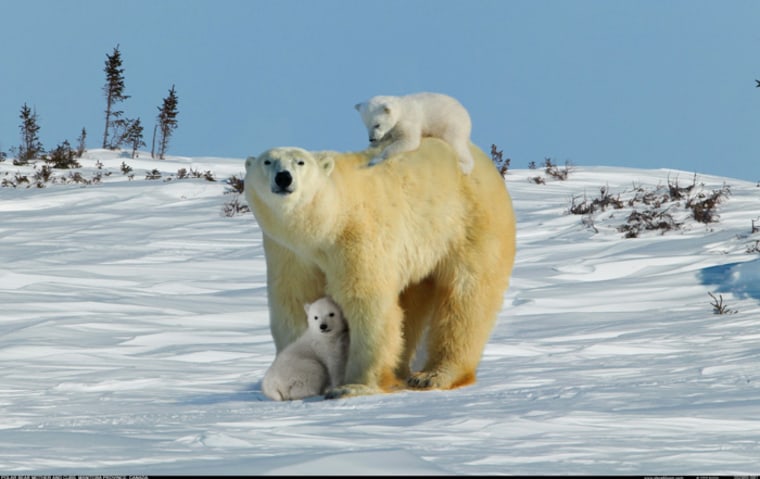 For a slightly bumpier and more adventurous ride, grab a seat in a tundra buggy — essentially a small bus with monster-truck tires — as it ventures around Churchill, Manitoba. Though some consider Churchill to be the Epcot Center of polar bear exploration, it is truly one of the world's best spots for photographing polar bears in the wild.
Revelstoke, British Columbia, is a popular destination for some of Canada's best helicopter-accessed terrain for skiing and hiking, and many are drawn to Whistler-Blackcomb's Horstman Glacier, which is open for skiing even through the dog-days of summer. Some, however, prefer a more rustic approach such as hiking and fly-fishing in Vancouver Island's picturesque Strathcona Park or helping to lead a real cattle drive in Alberta.
And, of course, there are the many posh hot water spring spas of Banff and Jasper, which offer a seemingly endless list of restful treatments that will soothe any ecotourist's tired muscles.
These pristine, glacier-laden corners of Canada are still there to be appreciated — for now. There is a beauty and serenity to their landscapes that's unlike anywhere else on the planet, and many visitors develop a fascination and appreciation that they keep for life.
"I'm a little nostalgic," Jackson said, looking over the Baffin Island shoreline and the blue-green Arctic water lapping at the icebergs. "I worked where things hadn't been named before. Everything I found was something new. It feels good. It gets into your blood."