Feel like you need an escape to a small, secluded spot where the BlackBerry won't get a signal? It might sound idyllic, but getting to a faraway place such as the Cook Islands, an archipelago in the South Pacific, isn't easy if you live anywhere other than Australia or New Zealand. For those traveling from Los Angeles, it takes at least 15 hours to find your way to the main island, Rarotonga.
But it's worth the schlep. For some, the draw is the turquoise lagoon — arguably the bluest in the world — that was named one of the most "unforgettable places to see before you die" by travel photographer and writer Steve Davey. For others, the privacy and pampering are more than enough.
At the Aitutaki Lagoon Resort & Spa, located on the tiny island of Motu Akitua, a two-minute ferry ride from Aitutaki, visitors enjoy the lagoon almost completely undisturbed. The entire resort has just four bungalows and one villa. Rates start at an affordable $210 per couple, per night, in the low season.
Indeed, while fewer of us may be traveling this year — 70 percent of business travelers, for example, predict that they'll be cutting back on 2009 trips, according to a recent survey by Alexandria, Va.-based Association of Corporate Travel Executives — those who can still afford to get away should consider a faraway escape. Not only are hotel rates less expensive than last year, but the price of airfare has dropped, which means travelers can milk more value out of the dollar.
Despite the predicted downward travel trend, surprisingly, 25 percent of affluent travelers plan on taking more leisure trips in 2009 than they did in 2008, while 94 percent plan on spending the same or more on leisure travel in 2009 than they did last year, according to an August 2008 survey conducted by Orlando, Fla.-based marketing firm Y Partnership. Surveyors interviewed more than 2,100 leisure travelers with an annual household income of $150,000 or more.
Fewer travelers, more deals
Of course, the ransacking of the financial sector between then and now may mean those numbers have changed, but it's safe to say that plenty of people will still travel this year. And when they do, they'll want the ultimate experience for spending their hard-earned dollars; conveniently, remote islands looking to keep their rooms full will offer exclusivity, privacy and beauty for a lower price.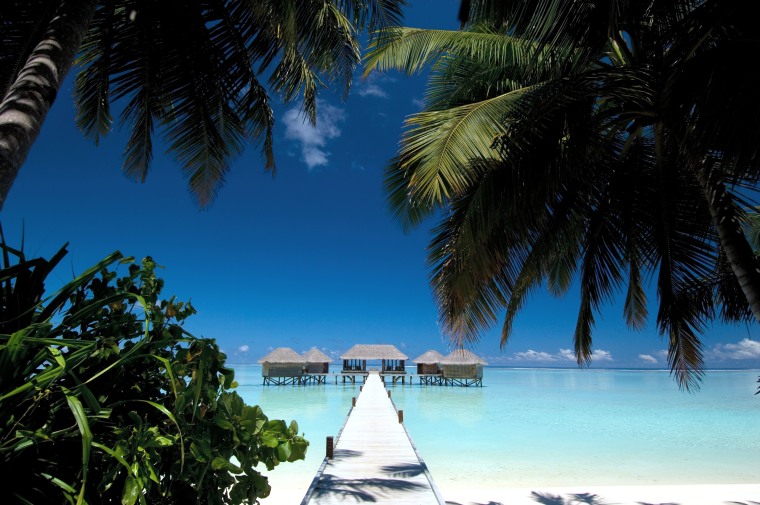 "Today, people are looking for once-in-a-lifetime experiences quietly. Faraway islands offer that," says Albert Herrera, vice president of hotels and resorts at Fort Worth, Texas-headquartered travel adviser trade group Virtuoso.
The extreme end of that once-in-a-lifetime journey is an escape from civilization relatively close to it: Necker Island in the British Virgin Islands, which may be the most exclusive beach spot in the world.
Owned by billionaire Richard Branson, the island is typically rented out to one party at a time — which means it'll cost you. However, you and your guests receive complete access to the staff, who will organize everything from beach Olympics to tennis tournaments to kite surfing. There's also a fully operating spa and Michelin-starred chefs. Renting out the entire island runs $51,000 per night, for up to 28 guests.
This year, however, one of the most in-demand — but still remote — spots is the Galapagos, which is celebrating Charles Darwin's 200th birthday. While it's not an easy journey — four hours from Miami to Quito, Ecuador, then another two-hour flight, with one short stop along the way — guests are greeted by pristine beaches.
The real appeal, of course, is the wildlife — this is, after all, where Darwin developed his theory of evolution by natural selection. But that doesn't mean visitors have to rough it. One option is to stay in luxury digs at the Royal Palm on Santa Cruz Island, the only five-star hotel there, which boasts an art gallery, 360-degree-view suites and villas, as well as regional Ecuadorian food.
As remote as it gets
For an island experience with a real difference, however, think beyond sand and sun and consider a trip to the arctic.
Luxury tour operator Abercrombie and Kent offers 20-day cruises to Antarctica, South Georgia Island and the Falklands that start at $10,295 per person. The trip is laborious and consists of a nine-hour flight from Miami to Buenos Aires, then a five-and-a-half-hour flight to Ushuaia, Argentina, then several days on a boat. However, the wildlife, including a colony of king penguins in South Georgia Island, makes the trek more than worthwhile.
Indeed, what these remote islands offer, more than exclusivity, is a one-of-a kind experience, says Boise, Idaho-based travel agent Lindsey Wallace. And maybe most importantly in these stress-inducing times, they allow you to truly get off the graft for a few days.
"You can be confident that no one is going to find you there."