/ Source: The Associated Press
An American student accused in the stabbing death of her British roommate had a scratch on her neck hours after the killing, a witness testified Saturday at the murder trial in Italy.
Laura Mezzetti, an Italian woman who shared an apartment with victim Meredith Kercher and defendant Amanda Knox, told the court she saw the scratch on Nov. 2, 2007, at the police station where they were waiting to be questioned.
Kercher's body had been found earlier that day in their apartment in Perugia.
"Amanda had a wound to her neck and I noticed it because it was known that Meredith had been killed by a wound to her neck," said Mezzetti. "She had a scratch to her neck."
"I was afraid that Amanda, too, might have been wounded, I was worried and I looked at it really intensely," Mezzetti said.
Mezzetti said she observed Knox's scratch from a few yards away. She described the wound as "vertical, less than 1-centimeter (0.4 inches) thick." She said it was red in color and gestured it was under her chin.
Mezzetti said she did not see any scratch when she saw Knox on Oct. 31, 2007, during breakfast at the apartment. She said she did not see Knox until two days later at the police station.
Mezzetti said the scratch was different from a love bite or hickey, as those would be "purple and more round."
Asked why she had failed to mention it when she had spoken to police previously, Mezzetti said she thought everybody else would have noticed it.
Prosecutors allege Kercher was the reluctant object of a sex game that ended violently on Nov. 1. She was stabbed in the neck.
Charges of murder, sexual violence
Knox, a 21-year old from Seattle, and Raffaele Sollecito, a 24-year-old Italian who was her boyfriend at the time, are being tried on charges of murder and sexual violence. They deny wrongdoing.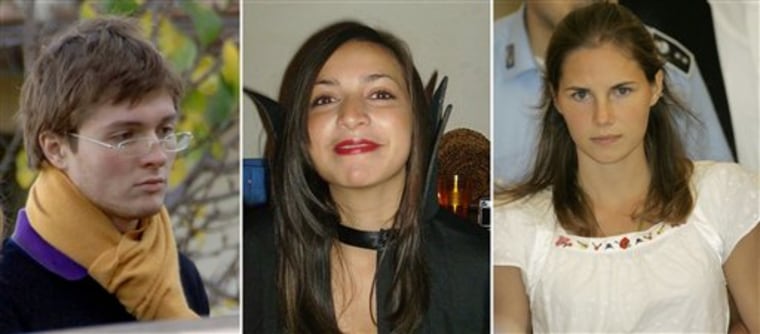 Another man, Ivory Coast national Rudy Hermann Guede, was convicted last year on the same charges and sentenced to 30 years in prison. Guede, who had also denied wrongdoing, had requested and received a fast-track trial.
Appearing in court Saturday on Valentine's Day, Amanda sported a bright T-shirt with "All You Need Is Love" scrawled across the front in large pink letters. She appeared relaxed, nodding at the presiding judge as she walked in escorted by police.
Prosecution witness arrested
In a separate development overnight, Italian police arrested an Albanian man in Perugia who is among the key witnesses cited by the prosecution, the ANSA news agency and local media reported. He was picked up on drug charges and cocaine had been found in his apartment, the reports said.
The man has told prosecutors that he saw Knox, Sollecito and Guede together the night before the slaying in front of Knox's and Kercher's apartment.
He already gave testimony during a preliminary hearing and had been scheduled to appear in court in upcoming hearings.