/ Source: The Associated Press
Sin City is worried that its well-honed style is crimping its business.
Born of carefully crafted slogans — "What happens here stays here" — and smiling, sequined showgirls, the image of a 24-hour adult Disneyland with free-flowing booze and casino chips is making the tourist destination seem radioactive to companies keen on not appearing frivolous as they seek government bailouts.
In the past two weeks, at least four major companies canceled meetings worth hundreds of thousands of dollars — not because of costs but because of appearances. Even President Barack Obama questioned the propriety of flying off to Las Vegas if taxpayers were helping foot the bill.
Tourism officials, already nervous after watching meeting and convention attendance decline 5 percent in 2008, are challenging the impression that business meetings are wasteful — especially those conducted under the neon lights of Las Vegas.
"It's necessary, for us to thrive in this community, that folks come here and realize that this is not some stepchild," Las Vegas Mayor Oscar Goodman said. "This is a very important place for people to conduct very important business."
Goodman — who often appears at functions with a showgirl at each arm — sent a letter this week to Obama objecting to his remarks.
Criticism from Washington, D.C.
"You can't get corporate jets, you can't go take a trip to Las Vegas or go down to the Super Bowl on the taxpayer's dime," Obama said during a town hall meeting in Indiana.
Obama's comment came after Wells Fargo & Co. canceled a conference at two high-end Las Vegas hotels in response to a barrage of criticism from Capitol Hill after The Associated Press reported on the company's previous luxury-laden trips for its top employees.
The company, which received a $25 billion bailout, cried foul in a full-page New York Times ad and said media reports about bailed-out companies have been "deliberately misleading." The bank said it would cancel all its recognition events this year.
Wells Fargo is not alone. Since the fall, companies that have taken $277 billion in federal assistance through the Troubled Asset Relief Program have faced increased scrutiny for travel practices by lawmakers and an angry public.
Goldman Sachs Group Inc. moved a three-day conference from the Mandalay Bay hotel-casino to San Francisco, incurring a $600,000 cancellation penalty to skip town. U.S. Bancorp, which received $6.6 billion, dropped plans to reward top managers with a trip to Naples, Fla. Morgan Stanley, which has received $10 billion in bailout funds, canceled a trip for top employees to Monte Carlo.
Roger Dow, president of the Travel Industry Association, called the growing attention "paralyzing" for corporate meetings and events, which represent 15 percent of all travel spending nationwide.
"We have to stop this from being epidemic," said Dow.
Dow said Wells Fargo should not have canceled.
"Personally, I wish that ad had said, 'It was a perfect business expense to get the money back to the American taxpayer faster, and this is one of the tools that we use and we will defend them and show anybody that is curious why they are effective and why they have a great bottom-line result for this organization,'" Dow said.
Michael Massari, vice president of meeting sales and operations for Harrah's Entertainment, Inc., in Las Vegas, said some companies shouldn't have planned trips in the first place.
"If there are meetings that you're having that are lavish and are boondoggles or that are no longer productive because of the expense, that have diminishing returns, then good companies should stop doing those things," he said.
Massari, however, said the vast majority of meetings — in Las Vegas and elsewhere — are well thought-out.
Defending Las Vegas
Those who promote Las Vegas, the nation's top business travel destination, are quick to list reasons why it's a good place to book meetings. Easy airline access. 140,000 hotel rooms. Low rates. Plentiful convention facilities. A wide range of dining and entertainment options.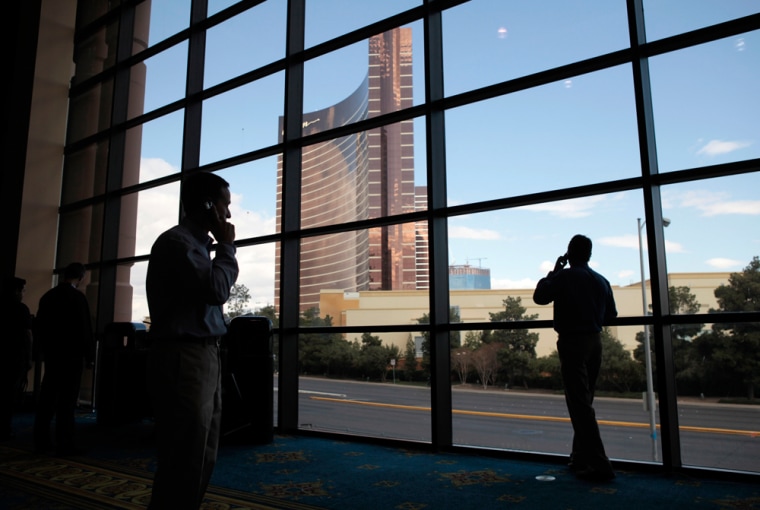 Las Vegas hosted more than 22,000 meetings, conventions and trade shows last year, according to the Las Vegas Convention and Visitors Authority, which markets the city to leisure and business travelers.
For years that promotion has unabashedly included gambling and nightlife. On the convention authority's Web site, a section for meeting planners features photographs of showgirls, the Las Vegas Strip and a roulette wheel.
"The two are not at odds with one another," said Mayor Goodman, who also chairs the convention authority.
Robert Goldstein, senior vice president of Las Vegas Sands Corp., said he is annoyed by the idea that a company can't do business at a fun destination.
"We're not going to pretend all this stuff doesn't exist," Goldstein said. "Last time I checked, alcohol was prevalent in a lot of major cities, and you can go anyplace in the country if you want to see girls."
Goldstein said Sands would likely not change its marketing strategy despite three recent cancellations that would have each brought hundreds of guests to its Venetian and Palazzo hotel-casinos.
Some tourism officials don't think Las Vegas should cling to its reputation as a party town if it wants to attract image-conscious companies.
"In light of the recession, in light of everything, we absolutely have to change," said Karen Gordon, president of Activity Planners International, a Las Vegas-based company that assists corporate meeting planners and recently laid off half of its eight-person staff.
Jan Jones, senior vice president of communications and government relations for Harrah's and a former mayor of Las Vegas, said the public is focusing more today on how businesses make decisions, and because of that, Las Vegas itself will likely see a change.
"All of our marketing is having to change somewhat, because the consumer is changing," Jones said. "In 2009, you spell Vegas V-A-L-U-E."