/ Source: The Associated Press
So we're going away on weekends and sticking close to home.
But are we taking a cruise? Traveling with the girls? Vacationing with the kids?
Here's how the economy is changing the way we travel.
Popularity of smaller cities
Some smaller cities are stealing the glory.
Both Fort Myers, Fla. and Charleston, S.C. experienced double digit growth in January 2009 over January 2008, based on American Express Travel bookings.
Cities such as Tucson, Ariz., Palm Springs, Calif., and Portland, Ore., are also becoming popular destinations, with Travelocity data showing increases of 12 percent, 13 percent and 38 percent over last year.
Even Philadelphia's star is rising, said Travelocity senior editor Genevieve Shaw Brown.
Brown said it's hard to pinpoint the reason for the spikes: it could be a decrease in airfare or hotel prices, excellent marketing or a larger travel trend.
For example, hotel rates in Fort Myers are down about 10 percent, she said. Fort Myers and Sanibel Island are known for beaches, wildlife viewing and history, such as the Edison & Ford Winter Estates.
But hotel rates in Portland are up, she said.
She attributes Philadelphia's popularity spike to good marketing, a decrease in airfare of 16 percent compared to the overall 8 percent decrease for domestic flights and more interest in historic destinations in general.
Some secondary cities do benefit in a down economy because people are seeking shorter trips, said Gabe Saglie, senior editor of Travelzoo. So someone in New York who wants to get away for the weekend may take a trip to Philadelphia.
He said as big cities rev up their marketing to woo travelers, smaller cities may get some of the trickle down tourism.
Family travel
Families are going back to the basics, says Brown. So rather than take a two-week vacation to Europe, they may go to a national park, she said.
David Mandt, spokesman for the International Association of Amusement Parks and Attractions, is cautiously optimistic about the summer season for the 400 theme parks in the U.S. He said even when gas was $4 a gallon in 2008, people continued to visit theme parks — they simply selected parks closer to home.
"Fundamentally our guests still have a need to get away and have fun with their friends and families," he said.
While for years, park operators have used special offers, promotions and discounts to encourage families to visit at a specific time, he said the deals may be easier to find this year, especially when it comes to packages that include accommodations.
Universal Orlando Resort has a deal allowing families to book a three-night package and receive two additional nights free. Packages begin at $689 and include accommodations at a hotel near Universal and unlimited theme park admission to both Universal Studios and Islands of Adventure. The package can be booked until March 29 for stays any time between now and Oct. 8.
At Walt Disney World near Orlando, Fla., visitors can save $400 off the price of a seven-night stay between February and the end of June. The deal — being touted as "buy four nights, get three free" — can be booked through the end of March.
Women's travel
Girlfriend getaways are still incredibly popular, according to Stephanie Oswald, host of "All-Girl Getaways" on the Fine Living Network.
But she said women are being more cost-conscious, such as traveling in the middle of the week, meeting at the airport and renting one car together, or renting a vacation home and going to a day spa instead of going to a destination spa.
April Merenda, president and co-founder of Gutsy Women Travel, said her business is up 25 percent over last year. But she said some women are canceling or postponing their trips because of economic concerns. She said many companies have canceled tours, so she's picking up some of those travelers.
Allison O'Sullivan, managing director of The Women's Travel Club, said the year started slowly and she cut back on trip offerings in January and February. But she said things are picking up. She's getting more calls and said she is "going full speed ahead the rest of the year."
The Women's Travel Club, which includes women from ranging from the 40s to 70s, has focused on international destinations, such as Italy, Iceland and Holland.
But O'Sullivan said she is planning to offer some domestic trips for women who want to stay closer to home, not worry about currency changes and use their miles.
"Yes, they are affected by the economy and are looking for deals, but they are not sitting at home," she said.
Cruising
Home port cruising is making a comeback, according to Carolyn Spencer Brown, editor-in-chief of CruiseCritic.com. The cruises were popular after the Sept. 11 terrorist attacks.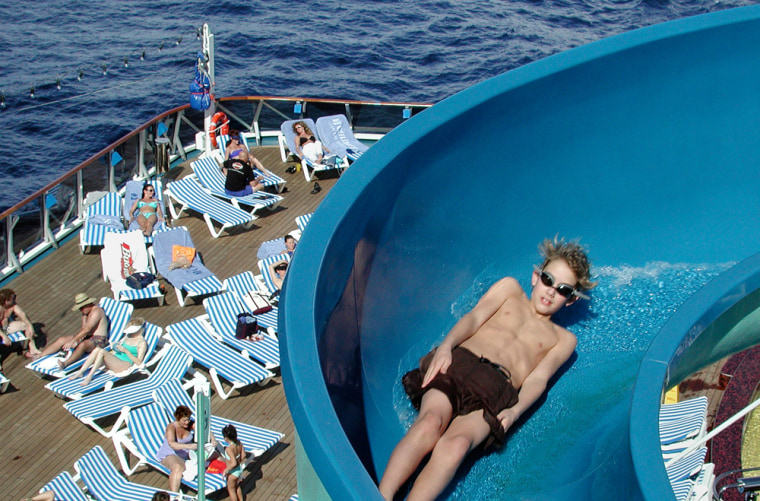 "Then people got tired of the same itineraries and started to venture to more exotic regions," she said. "Now with the economy, people are more interested in being able to drive to the port."
The Carnival Conquest is offering a once-a-month cruise from Galveston, Texas, to the Eastern Caribbean, a radical move considering the Caribbean's western islands are much more convenient, said Spencer Brown. The ship was recently refurbished, with a new movie screen, teen club and additional balconies.
And starting in April, Carnival Pride will sail from Baltimore year-round with visits to popular destinations, including the Bahamas, Florida and Grand Turk in the Turks & Caicos Islands.
Spencer Brown said cruises continue to offer amazing deals to fill their ships. She has seen some as low as $25 per person a day. (Ships make much of their money through gambling and alcohol.)
"Right now the buyer is in the driver's seat," she said. "It's a wonderful place to be."