/ Source: The Associated Press
Americans' already battered confidence in the economy went into free fall in February, sinking to new lows as consumers grow more fearful over massive job cuts and shrinking retirement accounts.
The dismal news came just hours after major retailers including Target Corp., Home Depot and Macy's Inc. reported depressed fourth-quarter results as shoppers focus on necessities like food. And another widely watched index showed home prices tumbled by the sharpest annual rate on record in the fourth quarter and in December.
The New York-based Conference Board said Tuesday that its Consumer Confidence Index, which was down slightly in January, plummeted more than 12 points in February to 25, from the revised 37.4 last month. That was well below the 35.5 level that economists surveyed by Thomson Reuters expected.
The index, which had hovered in the high 30s over the past few months, broke new lows since it began in 1967. A year ago, the consumer confidence reading stood at 76.4.
The Present Situation index, which is consumers' assessment of current economic conditions, fell to 21.2 from 29.7 last month. The Expectations' Index, which is consumers' outlook over the next six months, sank to 27.5 from 42.5.
"Looking ahead, increasing concerns about business conditions, employment and earnings have further sapped confidence and driven expectations to their lowest level ever," Lynn Franco, director of The Conference Board Consumer Research Center, said in a statement.
Franco added that the report showed worries about inflation, which had eased over the past several months, picked up. Economists carefully monitor consumer confidence since consumer spending accounts for more than two-thirds of economic activity.
Signs of a further collapse in consumer confidence is bad news for the economy and stores, whose success hinges on them being in the mood to spend. But economists fear that shoppers' moods likely will remain battered throughout most of the year as employers continue to slash jobs at a torrid pace.
On Monday alone, troubled flash memory maker Spansion Inc. said it will cut its global work force by 35 percent, affecting about 3,000 employees, mostly at manufacturing sites. And computer chip maker Micron Technology Inc. announced it will slash as many as 2,000 workers by the end of August and phase out certain manufacturing operations at its Boise, Idaho facility.
Consumers also are nervous about still-sinking home prices, and the latest report from the Standard & Poor's/Case-Shiller U.S. National Home Price Index, showed conditions deteriorating further.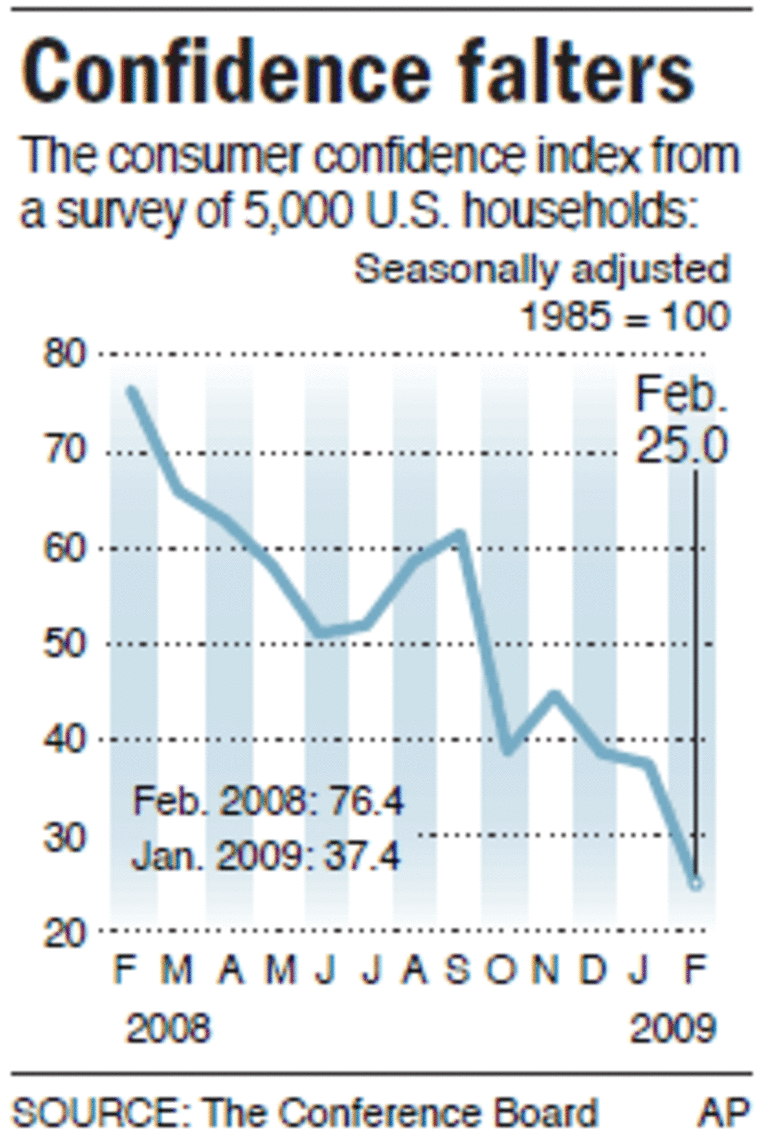 The national index plunged 18.2 percent during the quarter from the year-ago period, the largest drop in its 21-year history. Prices are now at levels not seen since the third quarter of 2003. In the month of December, the Case-Shiller 20-city index plunged 18.5 percent from December 2007 levels, while the 10-city index dropped 19.2 percent.
Economists had hoped the passage of the $787 billion economic stimulus plan would help lift confidence. But investors, wary about the plan's impact, have pushed stocks lower. And while the government has said it doesn't want to nationalize banks, many investors are worried about the possibility as banks continue to suffer severe losses.
Job security is a major factor behind shoppers' ability and willingness to spend. In fact, the U.S. unemployment rate — now at 7.6 percent, the highest in more than 16 years — is expected hit a peak of 9 percent this year, according to the latest outlook from leading forecasters in a survey by the National Association for Business Economics.
Goodyear Tire & Rubber Co. last week said it will cut nearly 5,000 jobs, or almost 7 percent of its work force, this year, following the elimination of about 4,000 jobs in the second half of last year. General Motors Corp. and Chrysler, which are asking the government for billions more in aid to remain viable, announced plans to cut 50,000 more jobs, 47,000 of which would be at GM.