/ Source: The Associated Press
California Gov. Arnold Schwarzenegger on Friday declared a state emergency due to drought, requested broad conservation measures and said farm losses in the coming season could top $2 billion.

Total economic losses in 2009 could be nearly $3 billion, the governor said.
The move encourages urban water agencies to reduce water use by 20 percent and says mandatory conservation is an option if those and other measures prove insufficient.
Schwarzenegger called the state's drought a crisis as severe as an earthquake or wildfire.
"Even with the recent rainfall, California faces it third consecutive year of drought and we must prepare for the worst — a fourth, fifth or even sixth year of drought," Schwarzenegger said in a statement.
Over the last few weeks, storms have helped bring the seasons' rain totals to 87 percent of average, but the Sierra snowpack remains at 78 percent of normal for this time of year. State hydrologists say the snowpack must reach between 120 to 130 percent of normal to make up for the two previous dry winters and replenish California's key reservoirs.
The drought has forced farmers to fallow their fields, put thousands of agricultural workers out of work and led to conservation measures in cities throughout the state.
Three dry winters have left California reservoirs at their lowest levels since 1992.
Schwarzenegger declared a statewide drought in June but stopped short of calling a state of emergency. His 2008 executive order directed the state Department of Water Resources to speed water transfers to areas with the worst shortages and help local water districts with conservation efforts.
Last week, federal water managers said they would temporarily cut off water this March to thousands of California farms.
U.S. Bureau of Reclamation officials said parched reservoirs and patchy rainfall this year were forcing them to completely stop surface water deliveries for at least a two-week period beginning March 1. Authorities said they haven't had to take such a drastic move for more than 15 years.
Fish also a factor
Court decisions intended to protect threatened fish species also have forced a significant cutback in pumping from the Sacramento-San Joaquin delta, the heart of the state's delivery system.

The governor, farmers and lawmakers have argued for years that California must upgrade its decades-old water supply and delivery system and build new reservoirs.

"The situation is extremely dire," said Tim Quinn, executive director of the Association of California Water Agencies, adding that the governor's action Friday "underscores the urgency of serving the long-term structural problems."

The state delivers water to more than 25 million Californians and more than 750,000 acres of farmland.

Schwarzenegger's order leaves the door open for more severe restrictions later. Additional measures can include mandatory water rationing and water reductions.

At least 25 water agencies throughout the state already have imposed mandatory restrictions, while 66 others have voluntary measures in place.

Almond farmer Shawn Coburn of Mendota said the move comes too late for many growers who already are halfway through the season. Some farmers didn't bring in bees to pollinate, while others sprayed their orchards with chemicals that keep nuts from forming.

"It's too late," he said. "It's going to sound horrible coming from a farmer because you never turn down help, but come on, this thing is over with."
More expensive food?
Farmers in the nation's No. 1 agriculture state predicted the drought would cause consumers to pay more for their fruits and vegetables, which would have to be grown using expensive well water.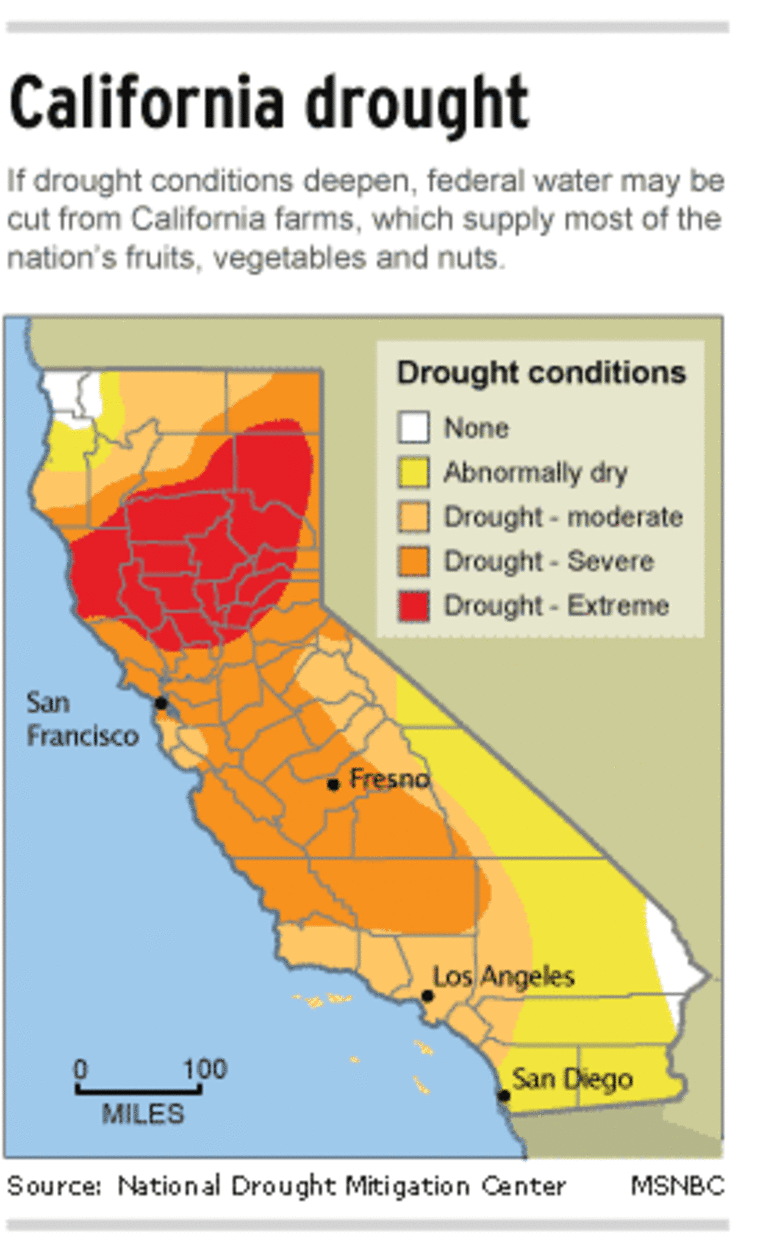 "Water is our life — it's our jobs and it's our food," said Ryan Jacobsen, executive director of the farm bureau in Fresno County. "Without a reliable water supply, Fresno County's No. 1 employer — agriculture — is at great risk."
The lack of water would cause an estimated $1.15 billion dollar loss in agriculture-related wages and eliminate as many as 40,000 jobs in farm-related industries in the San Joaquin Valley alone, where most of the nation's produce and nut crops are grown.
The state's agricultural industry typically receives 80 percent of all the water supplies managed by the federal government — everything from far-off mountain streams and suburban reservoirs. The state supplies drinking water to 23 million residents and 755,000 acres of irrigated farmland.
Farms supplied by flows from the state's system of pumps and canals would also see cutbacks but still get 15 percent of their normal deliveries, said Lester Snow, director of the Department of Water Resources.
City rationing likely
Dwindling supplies would have to be routed to cities to ensure residents, hospitals and fire crews have enough to meet minimum health and safety needs, said Don Glaser, the federal reclamation bureau's Mid-Pacific Region director.
The water shortages are so severe most cities will have to start mandatory ration programs by summertime, and residents will be asked to reduce their usage by 20 percent, Snow said.
"You've got to think about water as a precious resource," he said. "It may seem a stretch to conserve 20 percent of your water, but that's nothing in comparison to the consequences of the drought and job loss in agriculture."