/ Source: Forbes Traveler.com
Going on a business trip to a big city? Consider bringing your golf clubs. Golfers accustomed to traveling to resorts and remote golf enclaves should remember that golf courses are part of the layouts of many a metropolis that came of age during the boom eras of the late 1890s and 1920s, when golfing was all the rage.
Even New York City has some gems hidden in its outer boroughs, and now the most recent upsurge in golf course construction has created some beautiful and challenging tracts in suburban areas, bringing more great urban golf to the city slicker.
For the lowdown on the fairest fairways, we consulted with leading golf editors and writers and local experts. First question: What makes a great golf city?
To Paul Rogers, senior editor at Travel & Leisure Golf, "it starts with the concentration of courses — great golf cities have at least several good public courses along with private clubs that have history and some kind of golfing soul."
Golf Magazine senior editor "Travelin'" Joe Passov singles out his kind of golfing town: "A place like Chicago has both great public and private courses, and a great tournament history — and it's a just great sports town, period. Enjoying the golf there is another way of enjoying the city."
Passov lives in Phoenix, Ariz., which perennially leads every golf city list. "Brutally hot as it is in the summer, it's still a 12-month golf destination. You've got the volume of courses, the number of top public courses — and then it's got a great golf vibe. It's got the best-attended golf tournament in the world, the Phoenix Open, played at a public course [TPC Scottsdale]."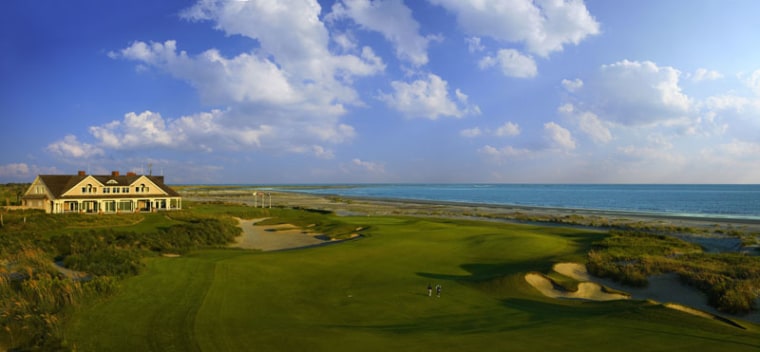 Traveling to a great golf city gives you a unique sense of a place, whether it's seeing the Golden Gate Bridge from San Francisco's Lincoln Park or savoring the chowder at the turn in Myrtle Beach's Caledonia Golf & Fish Club.
"It's an immersion experience," says Rogers, "Enjoying a bacon, egg and cheese sandwich at Cog Hill in Chicago as you're listening to the locals talk with pride about where the pros scored double-bogeys is part of a great golfing experience. These courses are places where you don't run into tourists very much."
Certain reassuring patterns seem to emerge. Often the best golfing cities boast one or two good private-turned-public clubs that somewhere along the line were taken over by the local government, which runs them as a muni, usually charging bargain greens fees as a service to local residents. While such courses can be crowded and sometimes a bit rough around the edges, a course like San Francisco's Presidio has played host to numerous regional tournaments and sectional qualifiers in its history.
Some "urban" areas aren't exactly cities: For example, you might not go to Myrtle Beach except to golf or enjoy the surf, but as far as golf courses go, the Grand Strand pretty much defines "critical mass."
As Passov notes, "Myrtle Beach mastered the art of the golf package, and because it's within driving distance of virtually every population center back East, for me, that's the supermarket of golf."
And having stepped up its efforts to appeal to the upscale traveler with first-class accommodations to match the better courses there, we couldn't leave it out.
Then there are the "sleeper" cities, where great golf has crept in under the radar over the past few years. A couple of these missed our cut, but just barely: Birmingham, Ala., is home to Ross Bridge, the flagship of the great Robert Trent Jones Golf Trail, along with three other Trail courses in Oxmoor Valley; Hurdzan/Fry's Farm Links; and Jerry Pate's Limestone Springs up in the Appalachians, a half an hour north of the city.
Despite its short golf season, Minneapolis/St. Paul has a solid lineup of excellent courses, including Chaska Town, just down the street from Hazeltine. Tacoma put itself solidly on the city golf map with the spectacular new Chambers Bay course, a muni designed and slated to host the U.S. Open in 2015.
Good golf burgs, all. Instead of heading for the hills for your next golf vacation, you might want to go to town instead — or at least take along the sticks should business or family obligations take you there.