/ Source: The Associated Press
Sgt. James Audette is patrolling the business district when a man sitting on a bench calls out the question everyone has been asking in this fire-plagued town: "Has there been any more arsons?"
"No there haven't been," Audette tells him.
Authorities made two high-profile arrests in late February, and it's been more than a month since the last arson. But many residents and business owners remain on edge — sickened by the sound of fire trucks and worried that a firebug will torch yet another building in this long-struggling steel town of 11,000.
Coatesville has endured at least 45 arsons since February 2008, including 19 this year. One person has died. Communities just outside this Philadelphia suburb also have had at least 18 arsons in that span.
"I can tell you, this is a front," says Nancy Coates, 62, a longtime Coatesville resident, as she walked out of the furniture store where she works downtown. "It's not over."
Six arrested so far
Authorities have arrested six people alleged to be responsible for 24 of the fires. The last Coatesville arson being investigated by a task force was Feb. 3. On Feb. 23, a fire in adjacent West Brandywine Township damaged seven buses at a middle school.
"There's a sense of relief until there's another arson," says James D. Ziegler, president of the Coatesville Savings Bank. "There has been relief before, with the arrests. Then a few days later they set the buses on fire."
On Fleetwood Street, where 15 houses burned in January, damaged and destroyed homes are boarded up.
Damage in that fire alone is estimated at $1.2 million. Gov. Ed Rendell is trying to get Coatesville and the surrounding area declared a federal disaster area, which would help affected homeowners and businesses get more assistance.
Charles Thomas, 35, was cleaning debris and salvageable items out of his cousin's severely damaged house on Fleetwood Street. He said can't feel relief yet.
"I hear fire trucks every day, and it just makes me sick to my stomach," says Thomas, who lives nearby.
Gamut of emotions
Audette, one of about 30 officers in the Coatesville Police Department, is helping to organize a citywide watch.
He hears the gamut of emotions as he talks to people during his rounds: people certain there will be more fires, people who think the folks arrested are responsible for most of the fires, and people just trying to be hopeful. At night, he's happy to see whole streets lit as residents keep porch lights on to deter criminals.
When he held a packed recruitment meeting for the town watch earlier this year, he and others had wondered if the arsonist was lurking in the room. Now, especially with the two recent arrests, Audette thinks most of that suspicion has subsided.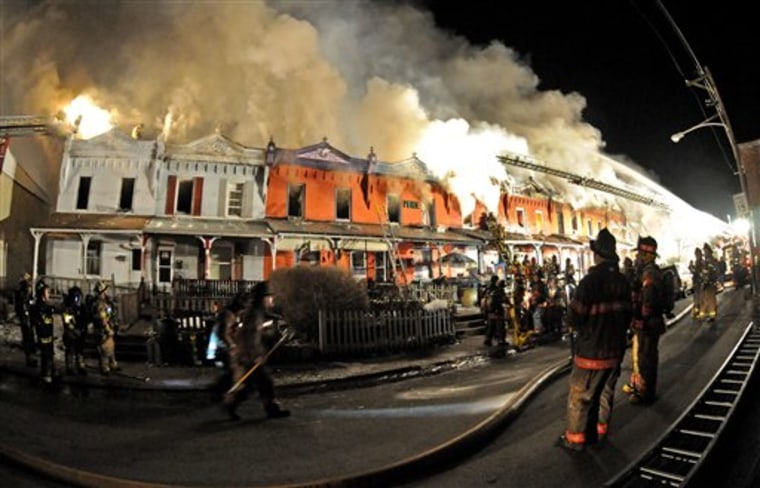 "Chances are it's not going to be your next-door neighbor," says the 32-year-old Coatesville High School graduate, adding that neither suspect looked familiar.
Last month, Roger Barlow Jr., 19, an automotive technical student from nearby Downingtown, was charged with setting nine fires in Coatesville in a five-week period this year, including the one that destroyed the row houses on Jan. 24. He has a preliminary hearing scheduled for Friday.
Barlow's father has suggested that his son is learning disabled and a follower who has no propensity toward violence or hatred.
Another man, Mark Gilliam, 19, of West Chester, was charged with a fire at a restaurant in nearby Thorndale. Authorities have said Gilliam, a former classmate of Barlow, had applied to join the nearby West Bradford Fire Co. but was rejected.
Copycat fires?
An attorney for Gilliam has said that his client is presumed innocent. Barlow's attorney has said his client wasn't at any of the fire scenes.
But Audette, for one, is hoping police have gotten the main culprits.
"If there are any fires from this point on, they are probably copycat fires," he said.
Audette has been dropping off log books at businesses for patrol officers to sign — an effort to help ensure police stay visible in the community. At one of the businesses, the Coatesville Flower Shop, a reward sign hangs behind the counter, offering $20,000 for information leading to a conviction in the arsons.
The shop's owner, Greg DePedro, says he is just trying to stay hopeful, though he knows it will take much more time for people's worries to go away.
"I'm thanking the Lord every day that somebody, maybe, has made the decision to stop," he said.