Michael Phelps still won't say what was in that bong he was photographed smoking at a party in late January. In an exclusive interview with TODAY's Matt Lauer, he said only that he had made a terrible mistake.
Phelps was most concerned about how much he hurt his family, friends and fans and not how much money it might cost him, he said in the interview that aired Friday on TODAY. More of the interview will air Sunday on NBC's "Dateline." (7 p.m. ET).
"It was an awful judgment. And, really, the people I hurt is my family, clearly, my friends, the close people around me and most importantly, the fans. And I realize that that hurt a lot of people," Phelps told Lauer in the revealing interview.
Lauer asked Phelps directly, "Were you smoking pot?"
Phelps did not answer that question, instead saying, "It was a bad mistake. I mean, we all know what you and I are talking about. It's a stupid mistake. You know, bad judgment. And it's something that I have to, and I want to teach other people not to make that mistake."
"When you first saw the picture, when you first laid eyes on it and realized what it was a picture of, did you calculate at that point the fallout?" Lauer asked. "Did you start to think how damaging this could be to you personally and your career?"
"It's not about money to me," Phelps replied. "The contract side of things, yeah, I was disappointed. But I think the biggest thing is who I hurt the most. Like, if I lost money, OK. It's not an issue with me."
Phelps said the biggest lesson he learned was about the nature of celebrity in America today.
"I've come to realize people want to bring you up, but more people want to bring you down," he told Lauer. "It's how the American public is. I've found out and that's definitely somethin' to keep in mind and keep close at heart."
Record-setting Olympian
At the Beijing Olympics last August, Phelps had won eight gold medals, one more than Mark Spitz had won at the 1972 Munich Games and more than anyone had ever won in one Olympics.
He was named Sports Illustrated's Sportsman of the Year and GQ magazine's Man of the Year. After years of single-minded devotion to accomplishing his singular feat, the 23-year-old came back to the States to take months off from swimming for the first time since his early teens.
At a house party at the University of South Carolina in late January, he was photographed with the now infamous bong.
The swimmer suggested that growing up in a swimming pool left him short on social experience. "I was pretty sheltered growing up — and not really to be the normal high school kid or the normal college kid. And I was just blowing off steam and relaxing and having fun. I mean, we were just celebrating, honestly," Phelps told Lauer.
Those at the party were mostly friends — but with a few strangers.
"There was probably two or three people there I didn't know. It was a very small group. Six or seven people probably total in the whole house. Like nothing major. You know, not like a giant college house party. It was nothing like that. It was just a small group and we were just sitting around and celebrating."
"Were you aware that anyone had taken a photo that night?" Lauer asked. "Is that, maybe, a lesson to be learned here? That not everybody's your friend?"
"I'll say that there are a lot of people out there who want to take advantage of any situation they have," Phelps said. "I trusted my friends who were there about who they were. And clearly they weren't trusted people ... Sometimes you learn the hard way."
Fallout from the scandal
Phelps said he personally called every one of his sponsors after the incident. All stuck with him after the incident with the exception of Kellogg's, which announced that it would not renew the contract it had with him, saying his behavior did not fit with the image the cereal maker wanted to project. The company recently donated thousands of boxes of cereal with Michael Phelps' picture on them to the San Francisco Food Bank.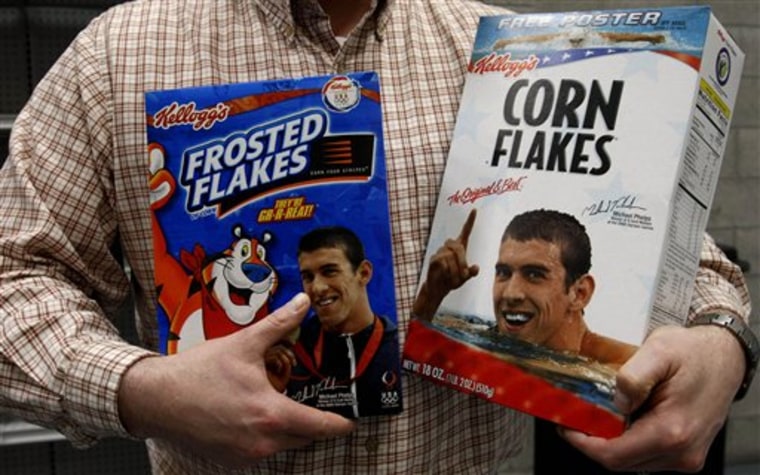 Phelps was also suspended for three months by USA Swimming, the sport's governing body in the United States.
The local sheriff in South Carolina undertook an investigation into the incident, raiding the homes of some of the people at the party and arresting eight on drug charges. But authorities decided in mid-February that there was not enough evidence to prosecute Phelps, who has never said what was in the bong.
Phelps said he found out about the photos through an e-mail.
"I had no idea really what to do," he said in the interview. "I knew that I'd made a mistake and made a bad judgment. And I know that when you do make a mistake you're responsible for all of the consequences. And I was willing to accept the fact that I did make a mistake."
Phelps had exploded on the public consciousness as a 19-year-old phenomenon at the 2004 Athens Olympics, where he won six gold medals. After that triumph, he was arrested in Salisbury, Md., where he grew up, for driving under the influence of alcohol. At the time, he said it was a bad lapse in judgment that he would not repeat.
Lauer said that he remembered having a similar conversation with Phelps on the TODAY show after the DUI incident. "And you said pretty much the same thing. 'I made a mistake. I'm sorry and it won't happen again.' So how do you look at your fans now and say, 'I said it the first time. I'm saying it again. But this time, I really mean it'?"
"I'll be the first one to admit I've made a lot of mistakes in my life in the pool and out of the pool," Phelps said. "But I have never made the same mistake again. I never made the same mistake twice."
"So you don't consider these two things to be the same mistake?" Lauer asked.
"No," Phelps replied. "I think they're both stupid and immature mistakes. And for me, I feel my duty is to try to help other people not make this mistake. I know with my DUI, I have. I have taken people's keys. If they're staying at my house, I hide them in my house so nobody can drive."
Back in the swim
Phelps told Lauer that after the Olympics, he found he had no desire to go back to the grueling training schedule that made him the greatest swimmer — some say the greatest athlete — in Olympic history.
"Ever since the Olympics, I'll say, I've had sort of a hard time really finding the passion to get back in the pool, to be honest," he told Lauer. "My mom and I talked about it, and talked to some friends about it. And I talked to a lot of people about it. And I just literally woke up one Sunday, probably about two, three weeks ago, and there was literally a blink of an eye where I was just like, 'Why would I ever be questioning that?' It's like literally something in my body just completely turned — like a 180. And from right then and there, I had a passion for getting back in the pool and doing what I wanted to do."
His return to training has not been easy. He works out at least twice a day every day of the week. "It's a little painful getting back into shape," he admitted. "But I like it. I'm ready to go another four years, and I still have goals."
He intends to compete in the world swimming championships this summer, but doesn't expect to be in the same peak condition he was for the Olympics.
"I think I can get back to some kind of racing form," he said. "For every day you miss, it takes you twice as long to get back. And I've been out of the water for about five months. So it'll take about 10 months to really get back to where I was."
His ultimate goal is to come back for the 2012 London Olympics, when the hype will begin again.
"There are still things that I want to achieve and that I want to accomplish," he said.