At long last, Apple will be adding copy-and-paste for text to its iPhone, something customers have clamored for, and something that is commonly featured on almost all other smartphones.
Scott Forstall, Apple's senior vice president of iPhone software, unveiled the new feature today along with others for the phone at the company's headquarters in Cupertino, Calif.
"We've been working really hard to design an easy-to use interface for this on our touchscreen display," he said.
The new features of what is called iPhone 3.0 Operating System software will be available this summer, probably when a new version of the device itself is released. The software upgrade will be free to iPhone owners, and cost $9.95 for those who own the iPod touch, which does not have a phone, and uses wireless networks to connect to the Internet.
The ability to cut, copy and paste text will be available for e-mails, Web pages and other programs on the device, as will another key feature: the ability to send photos — but not videos — using text messaging. Photos can now be sent by e-mail using the iPhone, but not text messaging, or MMS, as it is called.
Users will be able to view e-mails and documents in "landscape," or horizontal, mode, as well as portrait mode with the new software, and will also be able to search contacts and e-mails much as they would on a computer.
Some of the programs announced yesterday, including MMS, will not work on first-generation iPhones, those released in 2007, and only with the second-generation iPhone 3G, which came out last July, because of the phones' different hardware.
"The new iPhone OS 3.0 is a major software release packed with incredible new features and innovations for iPhone customers and developers alike," said Phil Schiller, Apple's senior vice president of worldwide product marketing in a statement. "It will keep us years ahead of the competition."
The iPhone 3G has a GPS chip which has been used for providing location-based services and for mapping, but no programs with voice-based, turn-by-turn directions have been available. That should change with the new software upgrade, Forstall said.
Apple is broadening the ways that third-party software programmers can sell content on the iPhone.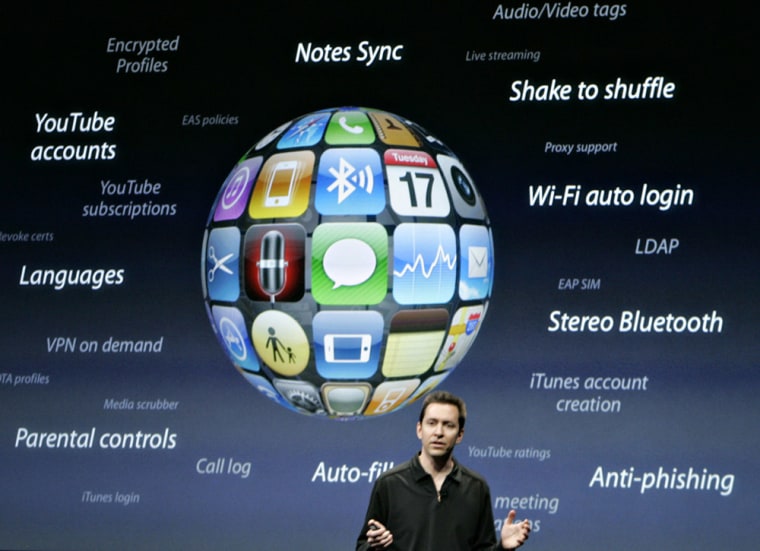 The company says software developers now will be able to create applications that have items for sale within them, such as electronic books, subscriptions to magazines or newspapers or additional levels of a video game.
In addition, peer-to-peer connectivity, allowing gamers to wirelessly find other gamers using an iPhone or iPod touch will be among the new features of iPhone 3.0 software. Connections will be made using Bluetooth, a short-range wireless technology, instead of Wi-Fi.
Examples of two games, "Touch Pet" and "LiveFire" were shown, with "push" notification being available to connect with other players.
Another new feature will allow streaming of ESPN video using a new media player that automatically adjusts the video's quality based on the "bandwidth," or connection a user has.
While the changes announced are welcomed by iPhone users, "Apple delivered no 'knock-out' blows to competitors with this release," said Avi Greengart, Current Analysis research direction for consumer devices.
"It's hard to get too excited about cut-and-paste — a feature that should have been there in the first place," he said. "Indeed, many of the features announced today are just catching up with what Windows Mobile, Symbian, and RIM (BlackBerry) phones have provided for years."
However, he added, "Lost in all the features checklists is the impact that this release is likely to have on application development — and here is where iPhone 3.0 really does keep Apple in the forefront. Consumers are increasingly looking at smartphones as a platform investment that increases in value over time as applications are added."
Another analyst, Kevin Burden, director of mobile devices research, said that "Even though the iPhone reset the bar for every other mobile phone manufacturer, this version of its OS shows just how much catch-up Apple itself needed to do.
"Cut-and-paste and MMS messaging have been expected functionality — and not just on high-end phones, either."
Apple also said at the announcement that it sold 13.7 million iPhones in 2008, exceeding its goal of 10 million, and that from June, 2007 to December, 2008, a total of 17 million iPhones were sold.
Associated Press wire service was also used in this report.