/ Source: Forbes Traveler.com
"She was adorable, really very sweet," says Kirsten Schaefer, PR Director of Arizona's Intercontinental Montelucia Resort & Spa, of red hot country teen crooner Taylor Swift, who stayed briefly at the posh Paradise Valley spot last December. "Her only special requests were fresh flowers and water," Shaefer said.
Swift had breezed into town mainly for a meet-and-greet with her fans, setting up shop in the Montelucia's tailor-made, Andalusian-themed wedding chapel for that purpose. Considering the luxuriousness of the place and stark beauty of the Camelback Mountain setting, you could rightly call it a working mini-vacation.
Not all young stars are so lucky. Although there are rumors Miley Cyrus likes to vacation in Hawaii, according to her rep Jill Fritzo, the "Hannah Montana" star has "no time for vacations." But the young actress-slash-singer feted her Sweet 16 at Disneyland and enjoys downtime at her second home in her native Nashville, to which she travels by private jet.
Had she visited the Aloha State in May 2007, she might have bumped into beefy idol Shia LaBeouf. The 22-year-old "Indiana Jones and the Kingdom of the Crystal Skull" star, an L.A. native, stayed at the Kahala Hotel & Resort on Oahu. Hawaii was also the recent holiday locale of choice for 23-year-old "High School Musical" hottie (and New Jersey native) Ashley Tisdale.
For her part, Cyrus has been linked romantically to Nick Jonas of the Jonas Brothers, but there's no way of knowing if she followed the boy band to their favorite holiday getaway, the Bahamas.
Note to Obama daughters Sasha and Malia: If you'd like to return the favor of a visit (the boys made a surprise post-inauguration stop at the White House), ask Mom and Dad to take you to Atlantis.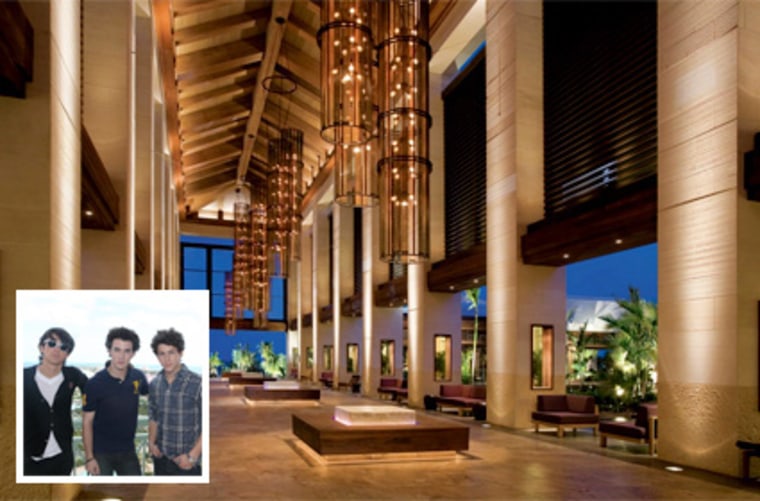 At the latter, says Jonas Brothers rep Lillian Matulic, "there's a suite that connects the two towers" favored by the brothers. Downtime poolside is probably also the norm for the busy boys.
Pop tart Britney's little sister also stayed there in summer 2007 — Jamie Lynn Spears raved about Atlantis on her blog. A young star  in her own right (on Nickelodeon's "Zoey 101") and now young mother (daughter Maddie was born in June 2008), Jamie Lynn has also enjoyed Hawaii and spending time with her family out of the limelight in Louisiana.
As for Zac Efron, he's no stranger to the Caribbean, preferring the Turks and Caicos.
Gone are the days of the so-called "99 Mile Rule," which stipulated that Hollywood actors couldn't venture more than 99 miles from the set during a shoot, but if distance is less of problem than it was in Tinseltown's Golden Age, time pressures are if anything more intense now, making it hard for even tween stars to get away sometimes.
Says hunky 21-year-old Daren Kagasoff, who plays Ricky Underwood on "The Secret Life of the American Teenager," "We've been shooting non-stop since April so I haven't really had much time off." However, when spare time does come up, he likes the hot weather and ocean setting of Cabo San Lucas.
These young guns are go-getters. They might find it harder to get away just for the sake of getting away, and easier to tack on vacation time wherever they happen to be on location. Says Delaina Dixon, entertainment editor at OK! Magazine, "If they're working all those long hours backstage or on the set, they will need a vacation sometimes, just like the rest of us."
Some tween stars are more nimble globetrotters than others. Twenty-seven year old Asian-American heartthrob Justin Chon, who made a big splash playing Eric Yorkie in the smash-hit "Twilight," manages to get around plenty. "In the past year I've been to South Korea, where I stayed at the Park Hyatt in Seoul," says the actor. "It's the kind of small boutique-y modern hotel that I like." Chon adds that he loves "to go places where I know people, but not always–two years ago I went to Thailand."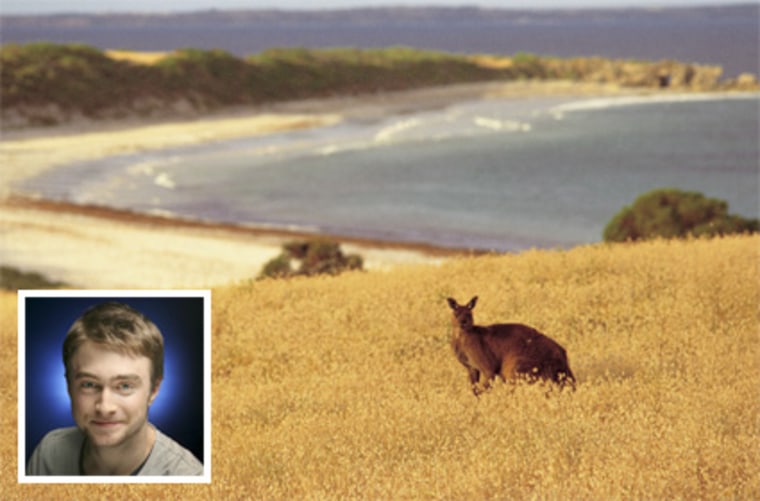 London is where young sophisticate Jessica Szohr from "Gossip Girl" likes to go for fun, and, says her rep, she "loves staying at the Dorchester." Szohr's also a fan of down time in Jamaica. (When in London, her GG co-star Matthew Settle favors Blake's).
Wherever today's young stars go, industry insiders agree that despite glamorous appearances, show business is still work and time off is important. "Many tween stars are not only working professionally, but also having to juggle school with work and publicity pressures," says Dixon of OK! "If that doesn't warrant a vacation, I don't know what does."