/ Source: The Associated Press
A man wanted in the slaying of four North Carolina family members shot himself and his girlfriend to death after a police chase in Utah and investigators said Wednesday they believe the family's killing was related to drug trafficking.
Authorities also said the surviving husband and father of the slain family may face charges of trafficking drugs, although he is not implicated in the deaths of his wife and three children.
Authorities named the suspect as Chiew Chan Saevang, 38. They said he killed himself and his girlfriend, Yer Yang, 40, after sheriff's deputies spotted their BMW 325 and gave chase late Tuesday on an interstate highway in Utah. The car crashed and caught fire and deputies who pulled them from the wreckage found them dead.
Investigators in North Carolina learned of the deaths as they prepared arrest warrants for Saevang for murder in the North Carolina slayings and for Yang for accessory after the fact to murder. Both were also being charged with conspiracy to sell opium.
The murder charges stemmed from last week's killings of Lisa Saephan and her three children — 20-year-old Melanie, 18-year-old Pauline and 4-year-old Cody — at their home near Conover, about 40 miles northwest of Charlotte.
Investigators have said Lisa Saephan's husband and the children's' father, Brian Tzeo, was at work when his family was killed.
Drugs from Thailand
On Wednesday, Chief Deputy Coy Reid from the Catawba County Sheriff's Office said no charges are expected against Tzeo in his family's deaths, but the investigation could lead to drug charges.
"The information we have suggests the father was a drug distributor," Reid said. "He has cooperated with us. And we're not at liberty to talk about that right now. It's an ongoing investigation."
Asked if the family slaying was related to drug trafficking, Reid said "Yes" but declined to elaborate.
Authorities said Tzeo knew the suspect.
"There was some drug distribution that came out of that house," SBI spokesman Dave Call told a news conference Wednesday.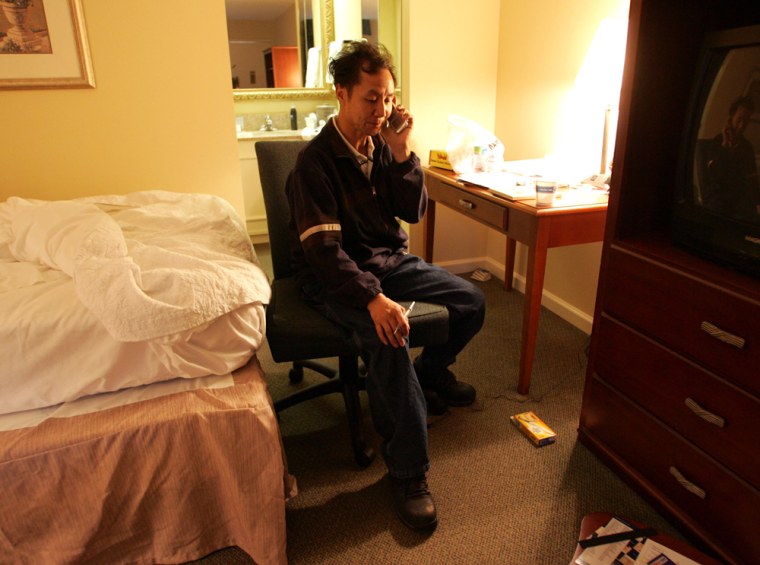 He said investigators believed Brian Tzeo would receive shipments of opium from Thailand, which he would convert to heroin. Yang would then take the drugs to Saevang in Wisconsin, where he lived. Saevang then sold them.
Call said they believed Tzeo recently received a shipment from Thailand.
In Utah, Washington County officials said the green BMW was spotted there seven minutes after a national alert went out from North Carolina investigators, who had learned Saevang may have been driving through the state headed toward California.
Sheriff's deputies tried to stop the vehicle around 11:20 p.m. After a high-speed chase, the BMW hit another car, then drove up an embankment and stopped on a hillside.
The car caught fire while deputies were approaching it. Reid said officials with the Washington County, Utah, Sheriff's Office said Saevang fatally shot Yang, then turned the gun on himself.
'A big puzzle'
Washington County Sheriff Kirk Smith said Wednesday that the Utah medical examiner will determine the cause of death, likely in the next week or so.
Reid said Yang was from Long View, in Catawba County. The deaths leave many questions about the slayings unanswered.
"It's like trying to put together a big puzzle," he said. "They could've finished the rest of the pieces. We still have a lot to tie up and finish in the investigation."
Investigators who searched the slain family's home last week seized a clear plastic bag containing a "suspected controlled substance." They also took away cash, computers, cell phones, a knife and a pistol.
Authorities found the victims after a friend of Pauline's called 911 on Thursday morning, screaming and sobbing as she told the operator Pauline had just been pulled into her home and stabbed by a man. The friend had picked up Pauline for school that morning, but they went back after the friend said she had seen a suspicious man outside the house.
Tzeo has said he and his wife had separated and that he had an affair but they were still living together and trying to work things out.